Fly like a bird above the lush vegetation of a tropical forest on a half-day canopy zipline tour from Mazatlan. Glide over the tumbling Sierra Madre foothills before swooping down to a mescal factory tasting tour. Discover the traditional methods employed by the Osuna family to make the fiery spirit of mescal during your tour of their century-old factory, concluding by tasting a shot of the award-winning liquor.
Highlights
Zipline adventure and mezcal factory tour in the countryside outside Mazatlán
Sail down the Sierra Madres foothills on 12 ziplines and master the art of high-flying fun
Learn about both modern and traditional mezcal-making techniques at Vinata Los Osuna

Taste a variety of mezcals at a picturesque tree-shaded bar

Spot native plants and animals in the semi-desert tropical forest of the Sierra Madre foothills
All zipline equipment provided on this safe and fun tour with expert guides
Hotel pickup and drop-off included
Recent Photos of This Tour
Mazatlan Canopy Zipline Tour plus Mezcal Tasting
What You Can Expect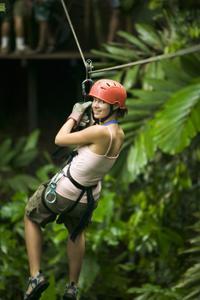 Greet your guide at your Mazatlan hotel to commence your exhilarating excursion. Travel comfortably by coach to the picturesque foothills of the Sierra Madre Mountains, admiring the rugged scenery as you journey to the ziplines. Enter the ecological park in the grounds of Vinata Los Osuna and meet your expert and experienced zipline guides for an informative orientation talk. Don your gear and take a thrilling, mountainside ride in a jeep to your first zipline.
Glide over the verdant canopy of the forest as you embrace the challenge of 12 vertiginous platforms. Admire panoramic vistas and feel your pulse quicken before you propel yourself down ziplines of varying height and length; accommodating guides will ensure your safety and confidence at all times, even offering you the chance to rappel down steep declines.
The ultimate zipline allows adventurers to soar over beautiful blue agave fields, ending at the Los Osuna Blue Agave distillery. Revitalize with a fruit snack before commencing your cultural tour of the region's oldest mescal-making factory.
Wander through the distillery that was established in 1876 by the same Osuna family who run it now, gaining insight into every stage of the mezcal-making process. Discover how the succulent bulbs of blue agave plants are harvested before being roasted in underground brick ovens. When your tour concludes, sample a selection of mezcal's for a traditional taste of Mexico's treasured beverage. Toast your courageous feat and embrace the opportunity to buy bottles on site as a special souvenir.
Return to your Mazatlan hotel by minivan after your adventurous excursion.

May 2016
Fabulous, both my granddaughter and I had a blast and she wanted to go again. The guides were great and extremely helpful. What we liked best was that there was at least 2 guides on each platform to help us on and off the zip line. The lunch was great. My only bad thing to say was the taxi driver we had going to the zip line. He was actually doing 120 in a 70 zone one time and almost hit a motorcyclist. On the way back the ride was good as we had one of the guides talk to him. Also, for 4 people you need a bigger car then a small taxi as I was squished in the back seat with 2 other ladies. All in all a fabulous time and would highly recommend this excursion.
January 2016
This shore excursion was the highlight of our 7-day cruise on the Carnival Miracle! Seven of us took the zipline tour and loved it. Professionalism and safety are evident throughout the entire operation. The delicious lunch and mezcal tasting were an added bonus!
December 2015
crews were very friendly and made it very enjoyable
November 2015
My two daughters and I had a great time. The staff was great! They use quality equipment and the staff is very attentive to safety. This is an activity that I definitely recommend and would do again.
March 2015
Well-organized, friendly guides! We had an amazing time, and the lunch was delicious! We arrived in Mazatlan with a cruise ship and booked this tour on our own. They were accommodating with pick-up and drop-off. Our driver even stopped at a local empanada place and bought us some empanadas for the ride back! The only small con was they packed the big van very full, and with almost an hour drive each way and some large passengers, it was the least pleasant part -- but a very small detail!
January 2015
We had a very fun and exciting day on the Canopy Zipline Tour! All of the guides were very personable and patient as we went through all of the zip lines. The day was very well planned out for us. Robert led the way on the Zipline. We all felt safe with the crew! We recommend this activity!
March 2014
Great staff! Fun and energetic. The lines provided some beautiful views and they were varied enough in length/height and style that it didn't get repetitive. Definitely worth doing.
January 2014
Excellent experience. The staff were just amazing and the zip lines were long and the views were incredible. We did a second zip line with another company that used a different harness and braking system and didn't like it as much at all. Will come back here again on our next visit and recommend it the zip line fully. Also....great tequila after! Bought 2 bottles at a great savings!
October 2013
This was so much fun!! my husband and I were first timers and the guides who work the tour were so awesome, when I go back I want to do this again!!, the Tequilla tour at the end was a nice relaxing walk around the grounds, and the free shots of tequilla at the end was pretty awesome too
April 2016
Had a fun time on this tour.
Advertisement
Advertisement