Sail to the sparkling shore of Matzatlan to uncover the city's rich history on this guided walking tour. Explore the intriguing streets of Matzatlan, discovering cultural highlights and historical treasures, before watching the city's renowned cliff divers jump from exhilarating elevations. Wander the atmospheric Old Town and visit iconic landmarks such as the Cathedral, Municipal Market and Machado Square. Ascend Watcher's Hill to enjoy breathtaking views before strolling back to the port to set sail into the sunset.
Highlights
Mazatlan city tour and cliff diving shore excursion

Visit the famous buildings of Old Mazatlan including the cathedral and the Angela Peralta Theater

Enjoy a spectacular cliff diving show

Covered by Viator's worry-free policy: guaranteed on-time return to your ship

What You Can Expect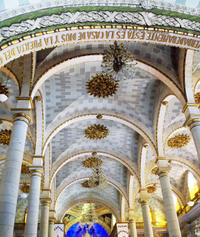 Matzatlan boasts a rich historical and cultural panorama that begs to be discovered. Absorb all of the city's secrets on this interesting and informative tour, which reveals tales of early Aztec settlers, Spanish colonization and French invasions.
Escape the crowded tourist zones and immerse yourself in Matzatlan's delightful downtown, a provincial and picturesque area that harbors architectural wonders. Visit the iconic 19th century cathedral and gaze at its soaring towers before strolling around the ambient Machado Square. Absorb the vibrant atmosphere of the bustling market place while scouring stalls for unique souvenirs and local delicacies.
One of Matzatlan's most famous former residents is undoubtedly Angela Peralta, a famous opera singer considered a Mexican national treasures. The Angela Peralta Theater stands testament to the singer's musical legacy and is one of the city's most alluring attractions. Sip a refreshing drink in a charming sidewalk café before exploring the theater's rich interior.
Experience Matzatlan's renowned cultural expression of cliff diving. Watch with baited breath as death defying cliff jumpers dive from 45-foot (14-meter) platforms into shallow waters below. See, too, panoramic views of the city and the Pacific Ocean from the incredible vantage point of Watcher's Hill.
February 2016
Great tour. It gave a good overview of Mazatlan. Thanks.
Diane B USA
November 2015
This tour was great. We had Chilly Willy and he was awesome
April 2015
Mix up getting started. 45 minutes delay in getting our driver. Extra time going to the office for 1 visitor to use their credit card to pay for the tour. The tour was very nice. Would have liked more time with the divers. Too much time at the jewelry store but others were buying. Felt rushed because the cruise ship was in port for such a short time. Otherwise very satisfactory. We liked our guide.
December 2014
This tour was a shore excursion that gave us a great overall perspective of Mazatlan city. We were able to get out of the bus at several locations and enjoy the scenery, including the famous cliff divers. The tour guide was very friendly and patient at every stop and gave historical information while traveling to each stop. I would definitely recommend this tour especially for first-time visitors to Mazatlan.
September 2015
The tour guide was good. The only thing is that they take you to places that they want you to spend money at, jewelry shops, markets, tequila store, etc.
March 2016
Not family friendly and not what we expected. We got off our ship and found the tour operator. We preceded to wait for 30 minutes apparently for one other couple who never showed. Since it was just us, I think they were trying to sell other people on it to go with.
We piled into the van kids and all and drove into the city. We picked up another local couple who were going on another tour. We then literally drive in circles around the same block 3 times. Not sure what we were looking for. Next we drive to the north part of the city and then back down to the same area we came from. Minimum historic and local information given during this circle drive.
We got to our first stop. A local distillery gift shop. There we could taste local spirits and liqueurs. The kids were bored. We then got into a different van with two other families. This was the real tour group. We made our way through the city to a local market. Quite a culture shock for the kids. Raw meat just out in the open. Pigs heads, tripe, raw fish etc... I liked it but the rest of the family was not expecting to see that. We then made our way to the cathedral. Very nice.
The cliff diving show was interesting. Hard push for tips.
Downtown or Old Town Mazatlan was interesting.
After that we stopped at a Silver Jewelry shop where they provided beverages but no food.
What was to be a 2-3 hour tour turned into 5 hours. All without any food stops, snacks, anything. We made it back to the ship on time but were starving and a little worried we may miss the ship.
Know what you are getting into first. Next time we may opt for a Cruise Ship Sponsored excursion.
Advertisement
Advertisement