Discover the fascinating story of Pablo Escobar, a notorious drug lord hailed as one of Colombia's most famous figures, on a 2-hour historical tour of the city. Delve into the fascinating story of the notorious criminal as you visit three historical sites closely connected to his life and death; the Monaco building, the house upon which he was assassinated and his grave. Learn about complex cocaine operations and the diverse opinions of a man declared both a Robin Hood-type hero and a despicable villain.
Highlights
Historical Pablo Escobar tour in Medellín
Learn about the life and death of Colombia's most notorious criminal
See the Monaco Building, the site of an assassination attempt on Escobar's family
Visit the house Escobar died in and his final resting place

Complimentary round-trip transportation and entrance fees included

Recent Photos of This Tour
Pablo Escobar Historical Tour of Medellín
What You Can Expect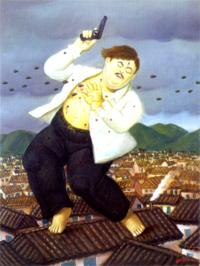 Depart from your Medellin accommodation in a comfortable, air-conditioned minivan to begin your journey to the heart of Colombia's history. Greet your knowledgeable guide and become entranced as you are plunged into a captivating commentary of Pablo Escobar; as one of the world's richest men, worth over $25 billion dollars, Escobar owned luxurious residences, expensive cars and private airplanes because of the illegal drug operations he orchestrated. Gain insight into the millions of dollars he spent improving the poor community in Medellin, when he ran for Congress and how he was responsible for the violent destruction of the city.
Visit three significant historical sites during your intriguing tour; begin with Monaco Building, a stolid structure that was bombed by the Cali cartel in an attempt to assassinate Escobar's family; next, venture to the unassuming house where, on December 2nd upon the roof, Escobar was assassinated by Colombian special forces; and conclude with a visit to Escobar's unassuming gravestone in a local cemetery.
Return to your Medellin hotel at the conclusion of the tour.
April 2016
This tour was not available so Viator placed us in the Don't say that name Tour Our guide was John William and we were very pleased of the change after the tour was done, John was a great tour guide, he is very correct on the information given and neutral, he gives out the information without been from one side or the other, when he took us to the house where Escobar was killed, the TV Series Narcos was been shot right then and there, so it was very exciting seen the actors and some of the process, john took us to the electrical escalator which was a huge desire of us to visit and he made it happen!! in other words if you want to know more about Escobar.. try the DO NOT SAY THAT NAME TOUR
December 2015
If you are intrigued by Pablo Escobar, do yourself a favor and take this tour! Oh my gosh it was far more than we had anticipated. My daughter and I were picked up at our hotel by our Multi-lingual guide, Carlos, right on time. He gave us a brief background about himself and how he came to know, first hand, about the illusive Pablo Escobar. If you could imagine being a police officer in Medellin during the reign of this man, well, that's exactly what Carlos represented. We toured the exterior of the home where Escobar was murdered by the police. We experienced the grave site where he was buried with family and his body guard who also was murdered on that fateful day. It's a fitting resting place for this man, as it is secluded yet the view encompasses the very districts in which he built homes and neighborhoods for those who had nothing. He gave these homes that he built away, sometimes with no strings attached...other times with a favor to pay back. We were able to peer through a chain link fence at some of the airplanes that Escobar used to transport drugs to Miami. These planes are junk now, but you can almost hear the sound of the motors as they lifted off on their way to Miami. The next stop was touring the neighborhoods that Escobar built and gave away. Pretty amazing to see these homes today. We wrapped up the day by stopping at one of Escobar's favorite taverns where the original owner still works on a daily basis. We met him and had a beer there. What a time! Our guide Carlos was awesome. The tour was awesome, unhurried, and every question was answered. I now have mixed feelings about Escobar. He was a bad guy, we all know that. As a matter of fact,our guide Carlos may have easily fell victim to his killings...but this guy was also loved by those who had nothing but the shirts on their backs. What a great tour...thank you Carlos!
December 2015
A great tour. I would highly recommend it to anyone.
November 2015
Tour guide was great, the tour was really interesting and informative. loved it, would highly recommend
November 2015
The escobar house was the best and Albert was a great narrator
May 2015
The tour was excellent. My tour guide Camillo, was very informative and he knew what he was talking about. The tour was very relaxed and there wasn't any fixed timetable. I would definitely recommend this your to anyone visiting Medellin.

April 2015
Great tour, but a little expensive for a ride around the city.
March 2015
March 2015
Very friendly driver. Awesome tour.
December 2014
It's been a couple of weeks since we returned from Colombia (Bogota/Medellin/Cartagena) and by far - the tour Camilo gave us of Medellin was the highlight of our trip! I'm still thinking about the intriguing stories and historical references he shared with us during our tour of Pablo Escobar's hometown. We initially signed up for an Escobar tour out of general curiosity, but what Camilo showed us will stay with us forever. A progressive city ready to explode, so lush and bright and friendly - but with a difficult past that's hard to comprehend at times. Camilo answered all of our questions without hesitation and with a personal touch. He told us where he was when Escobar was killed and what it was like for him and his friends and family. He also warmed our hearts with his hospitality, and we could feel how much he loves Medellin. It definitely rubbed off on us.
Visited November 2014
Advertisement
Advertisement