64 Reviews
Location:

Melbourne, Australia

Duration:

9 hours

(approx.)
Step back in time and experience the Australian gold Rush era. Explore the wonders of Ballarat as well as Sovereign Hill, a replica of an old gold-mining town, where you can tour the underground mines, ride a stagecoach and pan for gold! An optional addition to your tour is a visit to the Ballarat Wildlife Park where you can get up close and personal with the creatures of the Australian bush, and, if you dare, a crocodile at feeding time! Take a chance on striking gold.
Highlights
Discover Ballarat and Sovereign Hill on this full-day tour from Melbourne
Step back in time to the 1850's to the re-created goldmining settlement of Sovereign Hill
Try your luck panning for gold

Visit the gold museum

See native animals at the Ballarat Wildlife Park (option to be selected at time of booking)
Plenty of photo opportunities

Informative and friendly guide

Hotel pickup and drop-off

Recent Photos of This Tour
Ballarat and Sovereign Hill Day Tour with Optional Wildlife Park from Melbourne
What You Can Expect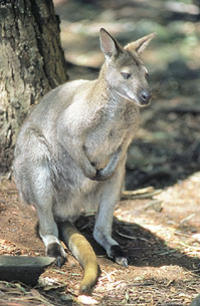 Travel to Ballarat and visit Sovereign Hill, a perfectly re-created 1850s goldmining settlement. Explore the shops and wander the main street to visit goldsmiths and craftsmen at work. Journey through the town and see the Victorian architecture of a prosperous era. Cross the original route of the early horse drawn stage coaches. Try your luck panning for gold, visit the museum or ride a stage coach (own expense). Tour an underground gold mine or catch a ride in a traditional horse drawn carriage (own expense). Discover the turbulent story behind one of Australia's most notorious incidents at the Eureka Stockade Centre in Ballarat. View Ballarats historic sites and beautiful Victorian architecture, a thriving monument to the towns golden era of prosperity. Visit the Gold Museum. Enjoy browsing the unique period style stores along with real life characters and story re-enactments.

Upgrade your tour to include a visit to the Ballarat Wildlife Park. Discover the unique creatures of the Australian bush. Share the Parkers families passion, the family has been involved in caring for Australian wildlife for over four decades. Get as close as you dare to a crocodile at a feeding session, see Tasmanian devils, wallabies, giant turtles, emus and poisonous snakes. Also touch a cuddly koala, encounter kangaroos and meet Patrick, the wombat.
Itinerary
Hotel Pickups:
7:25am Adina Grand Apartments
7:10am Atlantis Hotel
6:50am Bayside Eden
6:50am Bayview on the Park
7:00am Charsfield Hotel
7:15am Clarian Gateway Suites
7:10am Comfort Inn & Suites Flagstaff City(Dudley St)
6:45am Cosmopolitan
7:20am Crowne Metropol
7:25am Crowne Plaza
7:15am Crowne Promenade
7:20am Crowne Towers
7:05am Downtowner on Lygon
7:10am Eastern Townhouse
7:15am Hilton on the Park
7:00am Hilton Southwharf
7:20am Holiday Inn Flinders
7:10am Hotel Discovery
7:25am Hotel Sofia
7:25am Ibis Styles Kingsgate
7:30am Ibis Therry St
7:35am Intercontinental Hotel The Rialto (Collins St Entrance)
7:25am Kings St Backpackers
7:10am Langham Hotel
7:10am Magnolia Court
7:05am Mantra on Jolimont
7:35am Mantra on Russell
7:20am Mantra on the Park
7:30am Marriott Hotel
7:30am Mercure Grand Swanston
7:15am Mercure Treasury Gardens
7:10am Miami Motor Inn
7:30am Novotel Collins
6:40am Novotel Bayside
7:20am Oaks on Market
7:25am Park Hyatt
6:55am Parkview
7:25am Quest On William
7:15am Radisson Flagstaff
7:40am Rendezvous
7:20am Rydges Melbourne
7:00am Rydges on Swanston, Carlton
7:00am Seasons Botanical
7:15am Sofitel Hotel
7:25am Stamford Plaza
7:05am Travelodge Docklands
7:15am Vibe Savoy
7:10am Westin
7:15am Windsor Hotel
7:00am YHA Metro (Queensberry)
June 2015
Great trip will do it again
April 2015
Ballarat is a beautiful city! Had a great time in Sovereign Hill and experiencing the 1850s. Thank you to the Driver Guide and AAT King for a fantastic time!
April 2015
We found our coach driver Con very impressive .The day was great.
April 2015
The trip was great, bus driver hilarious, gave good info.
Sovereign Hill worth the visit, very well re enacted, would have liked to see more period related crafts for women but that's just me
January 2015
Excellent tour. Thoroughly recommended.
December 2014
The trip was very enjoyable. The coach was comfortable and the driver was friendly and interacted with the group. We had a couple of stops along the way and a tour around Ballarat which was very interesting. Sovereign Hill was great, a wonderful look back in time, we had a ball and would recommend the tour to everyone.
December 2014
Its A-Must-Visit place. The tour company team members are friendly. Very informative and knowledgeable coach driver. Price is reasonable from Viator as we travelled using coach bus with bathroom.
December 2014
interesting place to visit, the gold mine tour was amazing, love it so much... food and shopping choices were sufficient... some great role plays too, entertainers walking around the village entertaining visitors... too bad I couldn't find any gold though... cheers...
September 2014
We thoroughly enjoyed this trip. The coach was very comfortable and Mike our coach driver was very nice and gave the most informative commentary on the various sites along the way not to mention the wonderful tour through Ballarat and the history he told of the place, and hints on how to make the most of our day. We did not take the option of the Wildlife Park and we are glad we did that as although we believe the park was excellent we found we needed every bit of time we could get at Sovereign Hill to look at everything that was on offer there. We panned for gold and found some! We went down into the underground gold mine and loved every minute of that experience, although if you don't like confined spaces then don't go down as one lady had to be taken back up again. There was plenty of room to move around down there. We saw the wheelwright doing his work and the blacksmith working on some tools and we bought an old horse shoe from him for $5 to take home as a souvenir, we got to buy the best ever sausage rolls at the Bakery store..yummo were they good and they had cakes and pastries to chose from as well, there was a restaurant there and coffee shop for anyone wanting to eat, we did the horse drawn wagon ride around the town and loved that too, there was a display by one of the 'policemen' of an old 2ring shotgun and later the 'soldier boys' marched through the street and gave a display of shooting the 3ring shotguns. The whole day was wonderful and one we will treasure always. We would highly recommend booking through Viator as we found it easy and we could ring to answer some questions we had the staff on the phone were so curtious and helpful. One of the highlights of our Melbourne trip and we are telling everyone about it. Loved it.
September 2014
We had a fantastic day. From the moment we were picked up, till the we were dropped of. The driver was fantastic. Kept us informed. Gave us plenty of time and info on the tour. I would highly recommend this tour to all, locals, Australians and definitely the overseas tourist. And the bus was sooo comfortable quiet and smooth. Highly recommended
Advertisement
Advertisement