Discover the many delights of the country-chic Mornington Peninsula, just an hour's drive from Melbourne. Enjoy a beach walk, admire spectacular coastal vistas and go berry picking at a local strawberry farm. Visit the charming seaside towns of Mornington, Flinders and Portsea to explore historic homes and unique shops, and savor a gourmet regional lunch in Sorrento. Choose to upgrade your day trip with the relaxing Peninsula Hot Springs where you will have entry to over 20 pools and/or visit T'Gallant Winery for wine tasting.
Highlights
Mornington Peninsula and Strawberry Farm day trip from Melbourne

See the homes of Melbourne's rich and famous in Portsea and visit its stunning back beach

Enjoy a leisurely lunch (at own expense) in the picturesque seaside town of Sorrento, featuring some of the region's best eats

Visit the historic town of Flinders and get panoramic views of Bass Strait and the coast from its vista point

Pick strawberries at Sunnyridge Strawberry Farm or try their locally made desserts and other gourmet food items

Snap photos of Port Philip Bay from Arthur's Seat lookout

Recent Photos of This Tour
What You Can Expect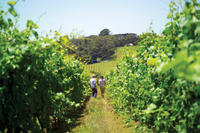 Your full-day country getaway begins with morning pickup from your Melbourne hotel. Relax aboard a comfortable, air-conditioned coach for the 1-hour drive around Port Phillip Bay to the picturesque seaside town of Mornington. Explore the historic businesses that line the main street and get a feel for the slower pace of life on the peninsula.

Continue on to the town of Portsea, nestled at the very tip of the peninsula. Admire the elegant mansions and grand beach houses that characterize this exclusive, well-heeled community, and enjoy a short stroll on the beach.

Next, stop for lunch in the neighboring town of Sorrento, which is known for its excellent eateries. After enjoying a meal of your choice (own expense), explore nearby antique shops and boutiques at your leisure. Visit the historic enclave of Flinders, and ascend to a nearby lookout for stunning views of Bass Strait.

Depart the scenic coast and head inland to Sunny Ridge Strawberry Farm, which produces berries that are enjoyed throughout Australia. Pick ripe, juicy berries straight from the fields (during the summer season), and browse fruit-flavored products like strawberry liquor, cider, jam and honey.

You also have the choice to upgrade your day-trip to include the Peninsula Hot Springs Bath House where you will have access to over 20 pools or T'Gallant Winery for wine tasting.

Finally, soak up panoramic views of Port Phillip Bay from Arthur's Seat lookout before the return drive to Melbourne.
March 2015
Don was a great and informative guide, had a blast of a time with him and enjoyed this trip. picked a lot of strawberries and bought fresh fruits that were very tasty.

March 2014
This tour is by far one of the best tours I have ever done! If you are visiting Melbourne for the first time and want to get out of the city for the day, I would highly recommend you do this.
Our tour guide/bus driver was very informative and really let us take in and enjoy each stop. Mornington was absolutely beautiful and a very peaceful place.
The strawberry picking was the fun part for me and they tasted delicious!
March 2011
I had a wonderful day on this tour. The bus driver Darryl was very informative. The meal at Ashcombe Maze was good.
Anthony S Australia
January 2011
Very enjoyable and scenic day trip. A number of short stops for photo opportunities and longer stops at Arthur's Pass, Strawberry Farm, Gardens and Mornington Pier. The devonshire tea at Arthur's Pass was most enjoyable and sitting there looking across the bay was very relaxing. At the Strawberry Farm we were each given a large punnet to pick our strawberries. Even though the wather in the weeks leading up to our visit had not been the ideal climate for strawberry growing the ones that we picked and consumed over the following couple of days were the sweetest that I have ever tasted. Gardens were good especially impressed by the Rose Garden. Stop at lookout to see across to the entrance of Bass Strait was worthwhile. Driver was very knowledgeable and helpful.
January 2016
This was a great trip led by driver/knowledgeable guide Adrian. We were part of a small group attending that day and Adrian was flexible in allowing us to stay longer at popular stops if we wished. A highlight was the lunch at a welcoming little cafe in Hastings that featured huge sandwiches on fresh bread and excellent fillings. The cider brewery and strawberry farm were also popular.The tour would suit first time visitors to the Peninsula, as we covered a lot of ground over the ten hour day.
January 2014
We had a wonderful time. Really enjoyed the tour and 10/10 for our driver
Gordon. We were taken to some beautiful locations, only disappointment was that the advertised
maze and lavender farm were no longer part of the tour.
David M Australia
February 2010
The tour guidedriver was well organised and new a lot about the Mornington Penninsula. Lovely to have spent time and have lunch at the Lavender farm and we enjoyed morning tea provided at Arthurs seat. Plenty of wine to sample at the wineries.
MANOJ N Hong Kong
February 2010
Bus was not convenient; it was minibus & too tight sitting.
Advertisement
Advertisement