Get an up-close encounter with the amazing animals of Australia on this small-group wildlife tour! Traveling with an expert naturalist guide, you'll explore the bush and grasslands of Melbourne's western plains to spot roaming residents including wild kangaroos, koalas, emus, cockatoos and more. Learn about the natural habitats and behavior of these wonderful creatures, and enjoy a gourmet picnic and tea during the full-day tour. Numbers are limited to eight people to ensure a personalized experience.
Highlights
Enjoy a full-day away from the hustle and bustle of the city and get up close to wild kangaroos and koalas in the wild
Small group naturalist guided tour, maximum of 8 people, ensures a personal and intimate experience
Enjoy a picnic lunch of gourmet sandwiches, fruit and cake
Learn about the research project and the history of the You Yangs Park

Plenty of photo opportunities

Hotel pickup and drop off

Recent Photos of This Tour
Savannah Walkabout Australian Animals Eco Tour from Melbourne
What You Can Expect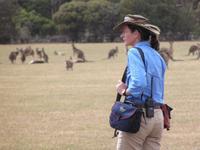 After morning pickup from select Melbourne hotels, travel in an air-conditioned vehicle to a national park in the western plains (see Hotel Pickup tab for details). Follow your guide on a relatively flat and easy bushwalk through a wildlife sanctuary, where you're likely to spot wild koalas in their natural habitat. Learn about the park's ongoing koala research project and conservation efforts to protect the furry critters. Feel free to ask any questions of your knowledgeable guide, who is actively involved in wildlife preservation efforts.
Travel to various locations throughout the park and get out of the vehicle for up to five different walks through grasslands, bush, and watery billabongs. Observe 'mobs' of wild kangaroos, free-roaming emus, and flocks of noisy cockatoos in their natural surroundings. Your guide will share background information on the area, which holds great significance for the local aboriginal people of the Wathaurong tribe.
Midway through your tour, enjoy a gourmet picnic lunch surrounded by the rustic beauty of the park. Top off your meal with cakes, coffee and traditional Australian billy tea — a popular way of refreshing while in the bush.
At the end of your 8-hour wildlife excursion, you'll be dropped off back at the original departure point in the early evening.
May 2016
Mixed reviews here as my husband and I had to book separately due to our son being ill and not being able to go as planned.
I went first and was blown away with the trip. It was everything and more than I had hoped and expected. Carol, our guide, was wonderful and would not give up on finding and getting close to, a mob of kangaroos. It certainly paid off and we got very close to a mob of around 30 of them. Photo opportunities were brilliant. Such a once in a lifetime opportunity and one I will always remember.
Lunch was also brilliant. Carol laid out a lovely lunch of assorted rolls, fruit, cake and of course made Billy tea which as a British tea drinker I must admit I did not like!.
We only found two koalas but the search for them was fun and the pulling up of weeds to help the environment!
My only criticism was the adverts for the trip said that you saw other animals but this was purely a Koalas and Kangaroo trip so do not expect to see any platypus, possums etc as you won't.
Overall, I loved this trip and would recommend it to anyone and was just bitterly disappointed that my husband and son couldn't join me in this once in a lifetime trip. Many thanks to Carol who made it so very enjoyable.
Now, my husband booked this same trip for 2 days after me and has a very different story. After getting up early and making his way to the 9am pick up arriving at 8.30am, and waiting until 9.30am he decided it wasn't going to happen and came back to our apartment. After many emails it was confirmed that the company had no record of the booking. This was only the day before we left Melbourne for the UK so could not be booked for another day. All we got was an apology for any inconvenience! As I said in my review, this was a once in a lifetime opportunity so 'inconvenience' doesn't begin to explain it. Such a big letdown and disappointment beyond words.
May 2016
June was excellent and a wonderful person.
Linda B USA
April 2016
We loved this tour. It was great to see the koalas and kangaroos in their natural habitat. We were only 4 people on the tour plus the driver guide. He was very knowledgeable and served us a delicious picnic lunch midway thru the tour.
April 2016
Really good tour with a great guide. Saw lots of animals and birds. Guide was knowledgeable and enthusiastic. Highly recommended.

March 2016
Our guide, Mike, is so knowledgeable and made everything very interesting. He says, tho, that this tour is called kuala and kangaroo....regardless, we had fun and highly recommend this tour.
January 2016
December 2015
A fantastic day out. We saw koalas, kangaroos, emus and best of all our guide, Rachel found us a pair of possums. Rachel was a great guide, knowledgeable and answered all our questions. Lunch was delicious even though the billy tea had to be served cold due to total fire ban that day. Highly recommended.
December 2015
awesome tour! Marthin is a really knowledgeable and friendly tour leader. If you love nature, definitely have to try this one.
November 2015
A fantastic day with our guide Rachel. Rachel was very knowledgable and was able to locate koalas, kangaroos, emus and possum. A unique and informative day.
October 2015
Wasn't quite what I expected. As I thought we would be out driving along the outback and seeing the animals. Instead we went to a couple reserves with Kangaroo's and Koala's. Which turned out to be a great experience. The fenced in reserves were large. It was fun having the guide show us how to approach the kangaroo's. Fortunate to see a Joey in a poach. That should have been out on its out. Also, enjoyed finding the Koala's. Our guide was great. She was very nice to travel with, showing us things , and did a great job in preparing a fantastic lunch for us.
Advertisement
Advertisement