Swim among sharks, stingrays and other magnificent marine creatures with a thrilling shark dive at SEA LIFE Melbourne Aquarium! Don a wet suit and SCUBA mask, and splash into the massive Oceanarium where you'll be within arm's reach of nurse sharks, sea turtles, and schools of brilliantly colored fish. No SCUBA experience is necessary, and an expert guide will accompany you to ensure a safe and educational dive.
Highlights
30-minute shark dive at SEA LIFE Melbourne Aquarium

Swim in the 2.2-million liter Oceanarium with sharks and stingrays while your friends watch from the viewing area

Choose between first-time dive option or the certified diver option

Enjoy 30 minutes in the water with the sharks and stingrays after a 1-hour briefing and training
All equipment is included
What You Can Expect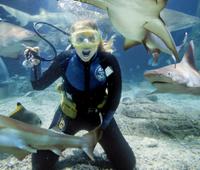 The shark dive at SEA LIFE Melbourne Aquarium is an exhilarating experience that allows you to get up close and personal with the amazing marine life of Australia's oceans. Make your way to the aquarium in the early afternoon, where you'll check in and learn the exact time of your dive. Attend a 1-hour safety training to meet your guide, learn about the technical aspects of the dive and get an overview of the aquarium's layout and inhabitants. No prior SCUBA experience is required.
When it's time for your dive, gear up with a wetsuit, mask and oxygen tank and splash into the 2.2 million-liter Oceanarium. An expert guide and no more than three other divers will accompany you to ensure a safe and personalized experience. You'll receive a regulated stream of oxygen through a breathing tube during the 30-minute dive.
Feel the rush of swimming within reach of nurse sharks, giant stingrays, sevengill sharks, and sea turtles. Wave to your friends and family on the other side of the glass for an unbeatable photo op.
Enjoy time either before or after your guide to explore the rest of the top-rated aquarium, which features beautifully designed habitats representing the diverse ecosystems of Australia. See playful penguins, mesmerizing jellies, huge saltwater crocodiles and the largest seahorse exhibit in the world.
Ali_Hawk Australia
April 2016
The Shark Dive is really great. We spent about 30-45 mins under the water and the sharks, stingrays and fish go by very close. It's marvellous! The Sealife Aquarium provides all the scuba gear, wetsuit and all required with plenty of information on safety, how to use it all and what you'll see. The groups are small and are supported by plenty of dive guides, so as a total beginner I felt safe and informed for the dive. It's an excellent experience.
October 2015
Definitely a must do whilst in Melbourne. Great experienced and friendly staff take you on an ultimate dive in the aquarium. The whole experience is amazing and the fish, sharks and stingrays in the tank are awesome. This is something that once you have done you just want to do again. GREAT FUN
July 2015
It was great! The staff were very thorough with safety and making sure we felt comfortable with the equipment in and out of the water. The staff treated the sealife with respect and it was a wonderful thing to be a part of.
Advertisement
Advertisement