Take a spooky stroll through Memphis on this guided, 90-minute ghost walking tour. Experience the darker side of Soulsville and hear tales of the city's haunted heritage as told by a professional storyteller. Receive a guided tour of Ernestine and Hazel's, a former brothel that is well known as one of the most haunted buildings in Memphis. It's a fascinating, spine-tingling adventure.
Highlights
Memphis Ghost Tours
Hear chilling tales of Memphis' haunted history
Hear about the city's haunted heritage by a friendly, professional storyteller or tour guide
Join a ghostly adventure in Memphis you will never forget
A guided tour of Ernestine and Hazel's, home to several notorious spirits

What You Can Expect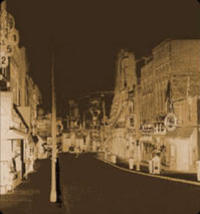 This Memphis ghost walking tour begins on Beale Street, one of the most iconic streets in America. Beyond this 2-mile stretch of blues clubs and restaurants, however, lies a darker history of vice, voodoo, phantoms, ghosts and lost souls. Hear the tales of an eerie past while visiting some of Memphis' oldest sites.
Follow the expert storyteller guide through the town to discover Memphis in a completely different way than the regular tours — in search of its haunted places where a lesser-known history is uncovered.
See the Orpheum Theatre, one of the few remaining movie palaces of the 1920s and home of a ghost named Mary, who has haunted performances here since 1921; the John Alexander Austin House, a Victorian-era mansion said to be haunted by two lovers; the Gayoso House apartment building; and Grawmeyer's, Memphis' oldest German-American restaurant and its haunted piano.
Finally, receive a tour of the notorious Ernestine and Hazel's, well known as one of the most haunted buildings in Memphis. Take a look around this former brothel turned bar, which is home to several ghosts — and a haunted jukebox.
Approximate distance to travel on this walking tour is one mile.
May 2016
This was our first tour our guide was AMAZING! Unfortunately I can not remember his name : He definitely knew his history of Memphis! I would definitely take another tour with him to learn more. Money well spent!
March 2016
The tour was very interesting and our guide Katie, was great. She was very informative and personable. Lots of interesting facts about Memphis. Would recommend.
November 2015
it was a great time. Very information and great time. The best ghost tour I have every been on. Tour guide was Grant mad the experance even better.
November 2015
A great walking tour of Memphis. We did this on Halloween night which added to the fun. Our guide was fun and full of historical and ghostly information!
October 2015
We had a great time, our guide was a lot of fun. If you're in Memphis and looking for something off the beaten path this is it...
October 2015
This was the most fun I had in Memphis. The guide was entertaining and knowledgable and the walk around the town was easy and informative. I got a little spooked.
September 2015
Great tour for the price! Listened to some great ghost stories as we were taken round. Guide was very friendly and answered any questions we had to ask. Great atmosphere, would definitely recommend!
June 2015
October 2014
Fantastic tour and knowlegeable guide
September 2014
The guide was very informative. My niece is very sensitive to these type of ghost tales. When she got close to the radiator at Ernestine and Hazels she all of a sudden felt real funny and ended up throwing up on the steps as she was coming down. The guide said this was the first time he ever made anyone throw up and he is going to mention her on every tour.
Advertisement
Advertisement