90 Reviews
Location:

Memphis, Tennessee

Duration:

Flexible
The Memphis Music Attraction Discount Pass is your passport to the music history of Memphis. You will get entry into four of the most popular attractions in Memphis including Graceland, the famous home of Elvis Presley.
Highlights
Memphis Music attraction discount pass
Entry into four of the most popular Memphis attractions
Take a tour of Sun Studios - the birthplace of rock 'n' roll
Audio-guided tour of Graceland Mansion
Self-guided tour of Elvis' jets, the Elvis Presley Automobile Museum and more

Recent Photos of This Tour
Memphis Music Attraction Discount Pass
What You Can Expect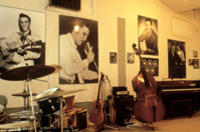 Take a tour of Sun Studios - the birthplace of rock 'n' roll, where Elvis, Johnny Cash and Jerry Lee Lewis recorded and made a name for themselves. Learn about Soulsville USA and the city's influence on soul music at Stax Museum of American Soul Music and Rock 'n Soul Museum.
Immerse yourself in the life and times of Elvis Presley at Graceland. The Platinum Tour package includes the Graceland Mansion audio-guided tour, self-guided tour of Elvis' jets, the Elvis Presley Automobile Museum, a memorabilia museum called "Sincerely Elvis", the Elvis After Dark exhibit and a 22 minute film showcasing Elvis' fascinating career.
Itinerary
Graceland
The home of Elvis Presley. The audio tour of Graceland Mansion is full of music and interesting stories about how Elvis lived in the home he loved so much. You will see the largest privately-owned collection of gold records in the world and Elvis' elaborate stage costumes and jewelry. The mansion tour ends with a quiet visit to the Meditation Garden where Elvis and members of his family are buried. You can also see Elvis' famous 1955 pink Cadillac in the Elvis Presley Automobile Museum and climb aboard his custom jet the "Lisa Marie".
Rock n Soul Museum
Finally, there's a place that tells the story of where the beat began. "Rock 'n Soul: Social Crossroads", a project initiated by the Smithsonian Institution, examines the history of Memphis music and its impact on cultural change. You'll see stage costumes, instruments, recording equipment, rare film footage, photographs and vintage jukeboxes from the 20s - 70s and you can listen to the recordings on your personal audio guide.
Stax Museum of American Soul Music
Located in Soulsville USA at the site of the original Stax Records, Stax Museum of American Soul Music celebrates the birth and life of soul music and its influence. The museum houses the definitive archives and more than 2,000 artifacts of the musical influences and international legacy of the legendary soul music label and its artists, and includes a reconstructed gospel church, records, Tina Turner's clothing, Isaac Hayes's Cadillac and more.
Sun Studio
Sun Studio in Memphis is the birthplace of Rock'n'Roll. Today the studio where Elvis Presley, Jerry Lee Lewis, B.B. King, Rufus Thomas, Howlin' Wolf, Johnny Cash, Carl Perkins, Roy Orbison, and many others launched their careers, is open to the public for tours daily while still operating as a studio by night. Above the cafe is a new museum/gallery featuring hundreds of rare recordings, memorabilia, photographs, and vintage recording equipment.
July 2015
Well worth visiting all the music museums.Really enjoyed the Sun Studio tour and the guide made the tour so enjoyable.Make sure you leave enough time to see everything at the Rock and Soul and Stax museums.The only gripe we had was that the free bus was not running during the week we were in Memphis.
July 2015
the tours were excellent. however when I booked them, the air planes at graceland were supposed to be included in the package, they were not. overall very good tours and very informational.
June 2015
fabulous!! every stop of the way was interesting! did tours on our own schedule.
June 2015
Loved every minute seeing Graceland, Sun Studios, Memphis Rock and Soul Museum, and the Stax Museum. This trip made me appreciate even more the contributions of Memphis to rock, soul, and blues music.
June 2015
If you are remotely interested in music this is an absolute necessity.It might not look like much from the outside but once you enter the studio itselfor the church,as they call it on the tour,I defy anyone not to be moved by the history of it. Don't miss the opportunity to get a photo with 'THAT MICROPHONE ON THAT SPOT!! Absolutely amazing!
June 2015
Lots to see and enjoy - a nice variety and a great way to learn the history of music in this country
June 2015
What a great experience. So much more than I had expected. From the thrill of being in THE Sun Studio to the emotions felt at Elvis' grave, this package hit a home run. Can't wait for our next visit.
May 2015
Great tour! Family loved it, needed more time to do all the tour coupons. We'll be back
May 2015
Do not try to do this all in one day! Graceland, Stax, and Rock and Soul Museum all take at least a good half a day to really enjoy. Sun Studios is the only one we'd suggest trying to combine in one day with any other.
Graceland was the biggest surprise in terms of quality and breadth of experience. We weren't Elvis fans to begin with, but we really gained a great perspective of the man and his achievements, and very much enjoyed the chance to see his home and how he lived. Not what you might expect! And there's a Pirtle's Chicken right down the road.
Sun Studios was the most compelling for it's being preserved in all its original not glory. Such a simple space, and such simple equipment, but such a moving experience to hear the songs in the original studio room while being able to toe the indentation in the floor where the upright bass was parked for all those years.
Stax gets high marks for its rebuilding everything per the original building blueprints, and you could definitely spend an entire day listening to everything there is to hear there, just as with the Rock and Soul Museum downtown. Which puts you right near Dyer's Burgers--did we mention we loved the food in Memphis? No matter how quickly you figure you can see it all, if you enjoy both history and music, you'll find the hours fly by and you still can't get to everything.
Highly recommended!
May 2015
Advertisement
Advertisement