108 Reviews
Location:

Memphis, Tennessee

Duration:

Flexible
The Memphis Music Attraction Discount Pass is your passport to the music history of Memphis. You will get entry into four of the most popular attractions in Memphis including Graceland, the famous home of Elvis Presley.
Highlights
Memphis Music attraction discount pass
Entry into four of the most popular Memphis attractions
Take a tour of Sun Studios - the birthplace of rock 'n' roll
Audio-guided tour of Graceland Mansion
Self-guided tour of Elvis' jets, the Elvis Presley Automobile Museum and more

Recent Photos of This Tour
Memphis Music Attraction Discount Pass
What You Can Expect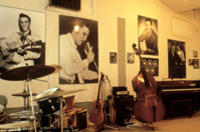 Take a tour of Sun Studios - the birthplace of rock 'n' roll, where Elvis, Johnny Cash and Jerry Lee Lewis recorded and made a name for themselves. Learn about Soulsville USA and the city's influence on soul music at Stax Museum of American Soul Music and Rock 'n Soul Museum.
Immerse yourself in the life and times of Elvis Presley at Graceland. The Platinum Tour package includes the Graceland Mansion audio-guided tour, the Elvis Presley Automobile Museum, a memorabilia museum called "Sincerely Elvis", the Elvis After Dark exhibit and a 22 minute film showcasing Elvis' fascinating career.
Itinerary
Graceland
The home of Elvis Presley. The audio tour of Graceland Mansion is full of music and interesting stories about how Elvis lived in the home he loved so much. You will see the largest privately-owned collection of gold records in the world and Elvis' elaborate stage costumes and jewelry. The mansion tour ends with a quiet visit to the Meditation Garden where Elvis and members of his family are buried. You can also see Elvis' famous 1955 pink Cadillac in the Elvis Presley Automobile Museum and climb aboard his custom jet the "Lisa Marie".
Rock n Soul Museum
Finally, there's a place that tells the story of where the beat began. "Rock 'n Soul: Social Crossroads", a project initiated by the Smithsonian Institution, examines the history of Memphis music and its impact on cultural change. You'll see stage costumes, instruments, recording equipment, rare film footage, photographs and vintage jukeboxes from the 20s - 70s and you can listen to the recordings on your personal audio guide.
Stax Museum of American Soul Music
Located in Soulsville USA at the site of the original Stax Records, Stax Museum of American Soul Music celebrates the birth and life of soul music and its influence. The museum houses the definitive archives and more than 2,000 artifacts of the musical influences and international legacy of the legendary soul music label and its artists, and includes a reconstructed gospel church, records, Tina Turner's clothing, Isaac Hayes's Cadillac and more.
Sun Studio
Sun Studio in Memphis is the birthplace of Rock'n'Roll. Today the studio where Elvis Presley, Jerry Lee Lewis, B.B. King, Rufus Thomas, Howlin' Wolf, Johnny Cash, Carl Perkins, Roy Orbison, and many others launched their careers, is open to the public for tours daily while still operating as a studio by night. Above the cafe is a new museum/gallery featuring hundreds of rare recordings, memorabilia, photographs, and vintage recording equipment.
October 2015
We stayed in Heartbreak Hotel, so Graceland was just a short walk and then a courtesy bus across the road. We were given headsets and allowed to move around as we wished. This was very good.The other attractions we visited another day and travelled by courtesy bus from the hotel and returned the same way. Loved Sun Studios the best.of these. The guide was excellent and made the tour very interesting. Rock and soul was god also, but we did not visit Stax as after enquiring it was quite a distance from there. But opposite was the Gibson Guitar factory which does regular tours for anyone interested.Overall a very good choice at a good price if you do not need transport.
October 2015
This pass was very good value for money and very easy to use. Highly recommended
September 2015
My husband can't stop talking about his visit to Sun Studios , he said it was well organized and learnt a lot about certain music legends
September 2015
great trip. memphis is a wonderful city and the tours we booked worked out perfectly.
September 2015
This was extremely enjoyable. The female tour guide was extremely enthusiastic and knew her subject very well and seemed to love her job. Was very informative about everything. Would highly recommend this.
September 2015
Great pass and attractions. We had never visited Memphis before so booked a city tour by bus to figure out where everything was. We then used the pass over 2 days to visit Sun Studios, Graceland, Stax Museum and the Museum of Rock and Soul, all great attractions if you are into music and why else would you visit Memphis?. We also took the tour of the Gibson guitar factory and store 2 blocks south of Beale Street, excellent. Just like to say also that if you are NOT an Elvis fan don't let that put you off a trip to Graceland which is just amazing.
September 2015
We thoroughly enjoyed the musical venues on this attraction. We saw the 4 sites on different days, so we could take the information at a leisurely pace. Memphis' music history is phenomenal and the music pass enabled us to enjoy and understand that history in a joyous and exciting manner. The musicians and producers were passionate about their music and the music pass displayed that passion and talent. A great trip and a good value!
September 2015
Great value for money . Enjoyed all the attractions but would take a couple of days to do them. There is a free shuttle for Graceland,sunstudios and rock and soul
August 2015
Would be hard to do all 4 attractions in a day. HOWEVER, what I wasn't told when I purchased the tickets, they all have a usse by date of 31st Dec 2015 so I could have planned the visit over multiple days rather than a single day. I managed Gracelands and Sun Studio in a day. Both exceeded expectations.
August 2015
Very good attractions at a good price! Easy to get the tickets after reconfirmation we got the tickets sent in a mail, valid for several months. All of the places faboulus!! Don't miss out on any of them :
Advertisement
Advertisement