Take a full-day adventure to the Andes on a guided coach traveling the famous Pan-American Highway. Head towards Aconcagua, the highest mountain in the Americas, then disembark to take in the area's stunning beauty and fresh air. Along the way, stop at Las Cuevas, Poterillos, and Puente del Inca.
Highlights
Full-day tour of Andes sites from Mendoza
Travel along Argentina's Route 7, part of the Pan-American Highway

Visit the villages of Potrerillos and Uspallata, and enjoy gorgeous views of the Andes

See stunning natural sights like the Puente del Inca, a rock bridge over the Vacas River
Marvel at the peak of Aconcagua, the highest mountain in the Americas
Enjoy comfortable transport by air-conditioned coach and learn about the region from your knowledgeable guide
Recent Photos of This Tour
Andes Day Trip from Mendoza Including Aconcagua, Uspallata and Puente del Inca
What You Can Expect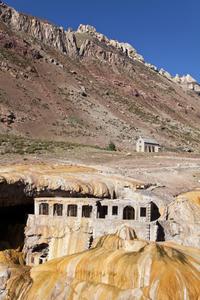 A comfortable, air-conditioned coach will collect you at your Mendoza hotel and head out for the Pan-American Highway. As you cruise towards the Chilean border, learn about the region's cultural and natural features through your expert guide's insightful commentary. The urban architecture of Mendoza will give way to rolling wine country grape vines and eventually mountain peaks as you travel.

Potrerillos will be your first stop, where you can get some fresh air, purchase a snack, and admire the lake, the Embalse de Potrerillos. Your next stop is Uspallata, a charming mountain town with abundant alpine views and an opportunity to purchase lunch. Back on the bus, you'll reach Puente del Inca about 60 minutes later. This natural rock bridge over the Vacas River was once visited by Charles Darwin, and its swirls of colored rock make for great photos. There's a small community living nearby that has handmade native goods for sale.

Continue heading west towards Chile's border and Aconcagua. Argentina is the location of the largest mountain in the Americas, clocking in at 22,840 feet (6,960 meters.) The coach will stop at a scenic overlook for wonderful views and photo opportunities as the guide fills you in on information about the mountain itself.

Pichueta, a site of indigenous Huarpe ruins dating from the 5th century, is your last stop. After that the coach will head back down the Pan-American highway the way it came, delivering you back to your Mendoza hotel around 7 pm.


May 2016
Great tour! The views are fantastic and the stops were all enjoyable. We were not able to see Aconcagua due to weather but there were plenty of great views.
March 2016
This was the highlight of our short trip to Mendoza. We were picked up at our hotel at the appointed hour on a beautiful day, and off we went toward the Chilean border in a clean, modern Mercedes Sprinter bus with about 20 others. This was the same route that my spouse and I drove by bus the day before coming to Mendoza, so we had some concern about having seen it already. No worries necessary - our guide was excellent in explaining the various features of the land, from vineyards to volcanoes. We stopped at various scenic points along the way, including a place to take a nice picture of Aconcagua mountain. But the topper for us was our ride up a steep dirt mountain road with numerous switchbacks to visit the Christ the Redeemer of the Andes on the border of Chile and Argentina, which is at 12,572 ft. The 360 degree view from there was beyond spectacular! It truly made our Andean trip perfect. Afterwards we stopped for an optional lunch at the restaurant at the entry arch. It was a buffet, good portions, and was reasonably priced at US10. We also visited the Inca Bridge and other places on the route program. Our guide was very good. We were the only English speakers on a full bus, and he never failed to provide us with his full commentary, and took time to answer questions for us with his fluent English. Throughout he was careful for his tour group, ensuring all were well-informed at each stop, present before departure, and provided personal attention at the various stops. Our driver was excellent, always maintaining safety on the road. I highly recommend this tour.

March 2016
This was only one of the highlights of our trip to Mendoza. It was truly a bargain at any price. The mountains and scenery were spectacular and not to be missed. The guide was knowledgeable. He spoke English well and was well versed in the history of each stop. I would not bother with the lunch and if you can bring your own, I would do it. And, bring water. But the can was as comfortable as it could be on terrible roads. It was clean, and roomy. The driver was competent on, what was for me, scary roads as well as being very nice. The pick up was on time which is not usual in Argentina which goes on it's own concept of time. All in all, our trip would have been less rewarding had we not taken this tour. Kudos to Viator and the tour leader.

kris Canada
March 2016
Trip was awesome. Tour guide lady was great.

February 2016
Fabolous.This tour is the most important of our travel in Mendoza. Aconcagua is a magic mountain. I recomended.
December 2015
Great way to see the beauty of the region if you don't have the time to hike in the backcountry. Time to ride the Los Penitentes ski lift for the views late spring was an added bonus. The guide was friendly and engaged with both spanish and english speaking groups on board. Good value for the price.
December 2015
This tour is exactly what you pay for. Nothing more, nothing less. Great panoramic views, good tour guide, a lot of information about the Andes and the places you visit.
September 2015
Wonderful experience. Terrific bilingual guide. We were the only English speakers and felt comfortable. Be sure to bring additional money for food , rental of snow equipment, etc.
June 2015
April 2015
The tour was great, the guide was extremely knowledgable and friendly. Was able to communicate very effectively on English and Spanish.
Advertisement
Advertisement