Marvel at thousands of vibrant pink flamingos during an idyllic boat ride on a full-day tour of the spectacular Celestun Wildlife Refuge from Merida. During your excursion, observe some of the 225 mammal species that inhabit the beautiful Biosphere reserve, gazing at pelicans, flamingos and fish as a knowledgeable guide directs your attention. Cruise through atmospheric mangroves and explore a mystical petrified forest before reclining on the soft sands of a local beach. An intimate experience is guaranteed on this small-group tour, with numbers limited to 25 people.
Highlights
Day trip to Celestun Wildlife Refuge, a declared Biosphere Reserve
Ride a boat past mangroves along the estuary and take a refreshing dip in a spring-fed pool
Watch pink flamingos, also known as Caribbean flamingos, flock in the thousands
Visit Tampeten petrified forest and head to a lovely beach in Celestun
Small-group tour limited to 25 people ensures personal attention from your guide
What You Can Expect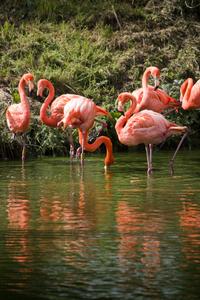 Greet your guide at your hotel and board an air-conditioned minivan to commence the journey to Celestun, located just 60 miles (98 km) southwest of Merida. Enjoy a scenic drive to the wildlife refuge before you reach the picturesque port of Celestun.
Board a boat and begin your tranquil cruise down the Celestun estuary, a natural habitat famed for harboring some of the Yucatan's most diverse species of bird. Drift through mangroves for 1.5 hours and witness a spectacular show of vibrant flamingos frolicking and flying in their local environment.
Observe thousands of flamingos as they feast on the crustaceans that give them their unique color, marveling at the elegance and beauty of the birds. The unique conditions of Celestun mean it's one of the only places in the world to witness such a large concentrations of flamingos.
Listen to your guide's captivating commentary as you scour the landscape for other species of bird; the American white pelican also inhabits the refuge, and boasts a wingspan of up to 9.5 feet (3 meters). Look out for spider monkeys and jaguars before you refresh with a revitalizing dip in the ojos de agua (eyes of water), deep, fresh-water springs secreted among the mangroves.
Wander the mystifying Tampeten Petrified Forest, an area whose ravaged tree stumps are testament to the tempestuous power of a historic hurricane, before sinking your toes into the silken sands of a central Celestun beach. Marvel at the unrivalled beauty of the iridescent water and white sand then purchase a traditional lunch at an excellent eatery on-site. Return to the minivan for the departure journey to your Merida hotel.
February 2016
Perfect day! Courteous mini van driver. Boat tour was amazing.got as close as possible to the flamingos and alligators. Beach and drinks were great finish to a perfect day!
January 2016
Great tour. Not too many flamingos out and about, but the mangroves were great and lunch in Celestun was a pleasure. Would do it again
January 2016
Great experience. Totally unique place.
March 2015
Great side trip. There were perhaps over a thousand flamingoes.
Mangrove tour was very interesting. A nice visit to a beach, and seafood lunch,
(probably in place of the petrified forest) but nobody minded. Wonderful New Years Day.
June 2016
An enjoyable trip with a knowledgeable tour guide Algusto.
May 2016
It was a long ride there, but the flamingos were amazing!
Rima K Australia
June 2015
Good day out if you like to get away from the towns and city. Some beautiful scenery along the way, just be sure to have insect repellent. The beach at the end on a hot day is great.
April 2014
There were only 5 other people on this tour which was nice. We very much enjoyed the boat ride and watching flamingos. There were so many of them! Drive through mangroves was also very nice. We just wish the boat ride was a bit longer. Beach in Celestun was empty compared to beaches in Playa del Carmen and Cancun. There were mainly local families enjoying their beach time together. It had a very relaxing and friendly atmosphere. Very pleasant day trip to escape the heat of Merida.
March 2014
This trip makes a pleasant day out of Merida.
November 2014
This was not a good experience for us. This time of year there were only a handful of flamingos and they were not in the usual place so we walked to a different area. It was mosquito infested and uncomfortable. Tours should not be sold this time of year. When you pay to see 10,000 flamingos and you see 15 it is very discouraging. Our driver, Ivan, was very reckless, drive very fast , and we felt unsafe. After our lunch he told the other person in our group that we wanted to leave (which was not true) and so we left early. The entire day was not at all what we expected and we were very disappointed.
Advertisement
Advertisement