Submerge yourself in the rich cuisine and epicurean customs of the Yucatan on a half-day culinary tour of the beautiful Mexican city of Merida. Purchase ingredients from a traditional market and enjoy a cooking class at the home of a local host. Learn about the exotic ingredients and intriguing processes used in Mexican cooking as your knowledgeable guide narrates. Finally, sample the fruits of your labor during a delicious lunch in your host's comfortable home. Enjoy a personalized experience on this small group tour, with number limits at 12 people.
Highlights
Half-day market tour and cooking class in Merida
Select locally grown food at one of the bustling Merida markets
Prepare Yucatecan specialties at the home of a local host
Discover Mexican cuisine and its culinary heritage
Enjoy local dishes with newfound friends
Small-group tour limited to 12 ensures a more personalized experience
Recent Photos of This Tour
What You Can Expect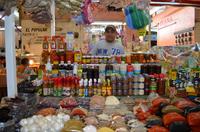 Meet your guide in a central local amid the colonial majesty of Merida and drive by air-conditioned minivan to a local market. Absorb the bustling atmosphere and brightly colored stalls as you navigate this vibrant place, listening to your guide explain the purposes and origins of the exotic fruits and vegetables you see. Become acquainted with unfamiliar ingredients as you navigate the lively labyrinth of stalls.

Assisted by your bilingual guide, chat with vendors as you select prime seasonal ingredients to prepare during your cooking class. Awaken your senses to the animated colors, enticing aromas and energetic chatter of the market, taking a moment to appreciate a place rarely visited by tourists.

Return to the minivan to venture to the home of your local host. Decide upon which signature specialty you wish to cook, choosing from a mouthwatering selection of salbutes (Mayan tacos), panuchos (black bean-filled tostadas), papadzules (enchiladas smothered in pumpkin seed sauce) and codzitos (stuffed and fried tortillas). Also, learn the secret recipe of the sublime drink of horchata, a creamy and delicately sweetened rice drink.

Guided by your host, you'll prepare your Mexican meal as you learn of Mayan traditions and useful Spanish phrases. Learn about the Yucatan region's distinct culture as your guide explains how Yucatan cuisine and customs differ from the rest of Mexico.
As sublime smells fill the kitchen, sample your Mexican dishes while you chat with your group, guide and host around the dining table. Upon conclusion of the tour, your guide will arrange a taxi to return you to central Merida, for a cost of approximately $5.
Victoria G Australia
June 2016
We thoroughly enjoyed this tour and would encourage anyone visiting Merida for a few days to try it. We bought provisions with Eric, our guide, at the central market - a place we wouldn and #39;t have found on our own, then headed to Berthe and #39;s house to help her prepare a traditional Mayan meal. Priceless!
February 2016
We had a wonderful afternoon on our private tour since the other bookings didn't show. The walk through the market was all I could hope for since I really wanted to understand all the spices and produce so I could experiment during our two month stay here. Alejandro explained all and more. He has a real passion for food, his city and culture. Our hosts were wonderful, gracious, inviting and very excellent cooks. I would highly recommend this tour, it is an afternoon well spent since we learned so much about the local food and the wonderful people of this great city. Karen and Rob

February 2016
This tour is amazing! Alejo was very knowledgeable about Yucatecan culture and food. He explained everything and made sure we understood things as we did it. The market was fun and Doñabierta (sure I misspelled that) was a very gracious host and the food couldn and #39;t be better-that we cooked! Do it now!
August 2015
This was one of the highlights of our trip to Merida! We highly recommend The market tour and cooking class. Ricardo met us and took us not only to the market, but pointed out many interesting sites along the way. We shopped and then went to a lady's home and cooked delicious food. It is memorable.
We highly recommend this activity!!
August 2015
Good tour. Friendly and informative guide. Interesting to cook with a local in her home.

May 2015
The tour and cooking class exceeded our expectations. Our tour guide Ricardo is a wonderful guide and historian. He is passionate about Merida and its history. Wonderdul trip to the market, bus trip local style, and then to Berta's house. Berta is a wonderful cook and person!
April 2015
If you're curious about this class, my recommendation is to go ahead and sign up right away. This was the perfect way to experience Merida and classic Yucatan living. Our guide, Ricardo, was friendly and fun, and had excellent skills for teaching both local history and culture. The market was perfect - colorful, friendly and bustling. The host, Senora Bertha, welcomed us into her home as if we were old friends, and shared her kitchen and dining room with warmth and smiles. And while this was not a formal cooking exhibition style class, it certainly taught how to choose and use local ingredients in the local manner. I was fortunate to be staying in a private home in Merida, and 2 days after the class I made dinner for a small group of hungry people, using my new skill. And it turned out delicious and everyone was happy! So I feel very pleased with the whole experience and add my praise to others already written. Relax, enjoy and participate in the Yucatan through the world of food.
January 2015
Overall a delightful day. Our family group of 8 had a tour of all the main sections of the sprawling market, with ample opportunities to ask questions and learn about the vegetables, fruits and spices that give Yucatan cuisine its unique character. The guides from "urban adventures-Merida" - Ricardo and Alberto -- were knowledgeable and enthusiastic and helped fill in gaps in our knowledge about history, politics, culture and cuisine of Yucatan.
What stood out was the experience of all of us being sous chefs with the maestra, Doña Berta, whose calm and good humor, and lightning quick hands helped us all learn how to prepare the foods. With a promise of a later e-mail with all the recipes, we were encouraged to be fully engaged in the experience, not with note-taking.
The final delight was everyone at the host house sitting down to share the meal together in the patio outside the kitchen.
(One slight caveat - be clear when you sign up about transportation to and from the host home, which can be at some distance from the center of Merida. The guides at first proposed the public bus (which may be fine for some) but we needed to go by car and luckily had them handy. )
Again - overall a thoroughly enjoyable immersion in Yucatecan culture and cuisine! Highly recommended.
Peter A USA
March 2014
What a wonderful way to step into the culture and culinary traditions of the Yucatan! Ricardo was a gracious and wonderful guide and the family that invited us into their home for the cooking class was welcoming and friendly. It was a great way to spend a day! Thank you!
March 2014
Our guide, Ricardo, was punctual, informative, friendly and very interesting. He led us on a fascinating tour through the Merida market and asked for our grandsons' help in choosing ingredients for our cooking class. With purchases in hand, we took a local bus to our destination. Cooking in someones home with her family there, made it truly meaningful. Our hostess was most gracious, allowing us to work with all of the ingredients and steps in preparing a delicious meal. We had participated in many other similar experiences over the years in several countries, and this was truly one of the most memorable.
Advertisement
Advertisement