16 Reviews
Location:

Merida, Mexico

Duration:

8 hours

(approx.)
Uncover the mysteries of the Yucatan as you explore two significant archeological sites with a local guide – Kabah and the UNESCO World Heritage-listed Uxmal. Learn about the Puuc architectural styles of the ancient Maya at spectacular pyramids and buildings such as the Pyramid of the Magician, the Governor's Palace, the Palace of Chaac Masks and the Arch of Kabah. Stop by Hacienda Uxmal Hotel for lunch and some free time at the swimming pool before return transport to Merida! Enjoy personal attention on this small-group tour, limited to 25 people.
Highlights
Day tour of Kabah and Uxmal from Merida

Drive down the Yucatan Peninsula and visit two ancient Mayan cities
Admire the archeological wonder of Uxmal, a UNESCO World Heritage Site
See the Palace of Chaac Masks and the Arch of Kabah
Learn about Puuc architecture at the Pyramid of the Magician and Governor's Palace
Small-group tour limited to 25 people ensures a personalized experience with an expert guide

What You Can Expect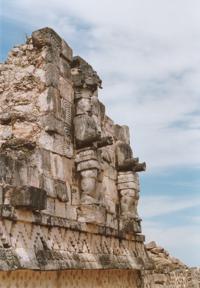 After hotel pickup in Merida by air-conditioned minivan, your first stop on the Yucatan Peninsula is Kabah – archeological site of a Mayan city that flourished around the year 800 AD. Situated in a series of low-lying hills, Kabah is known as the second largest religious center in the Puuc-style.
When you arrive, your guide will lead your small group on a one-hour tour of the grounds and enlighten you about the significance of each feature. See Kabah's beautiful Palace, located on a high esplanade forming a quadrangle, and visit the Codz Pop, or Palace of the Masks, famous for its impressive facade of more than 250 masks of the rain god, Chaac. Admire these figures, as well as statues of Mayan rulers, all finely cut from stone and positioned in a magnificent design.
Follow your guide through the Arch of Kabah, which marks the entrance to the Sacbe, an ancient path that links Kabah to Uxmal. Then, hop back in your vehicle for a short drive to Uxmal, where you'll spend three hours admiring impressive structures designed with geometrical figures and see more masks of the Mayan's most significant deity, Chaac.
At the Nunnery Quadrangle, whose friezes represent owls and serpents, learn about the meaning of the four multi-level buildings arranged around a central plaza. Look up at the oval-shaped Pyramid of the Magician (the Pyramid of the Soothsayer), unrivaled in the beauty of its precise design. View more than 100 images of Chaac on the façade of the Governor's Palace, where a central doorway was built in astronomical alignment with the planets.
You'll also visit the Choco Story Museum. Here, learn about the history of cocoa, its importance to the Mayas, the way it's cultivated and the traditional process to make chocolate. Then, explore the beautiful botanical gardens of the Hacienda Uxmal Hotel as you dine on a delicious lunch. In the afternoon, your guide will gather your small group for the return trip to Merida, where you'll be dropped off at your hotel.
July 2015
Very interesting and beautiful tour. Kabah and Uxmal are amazing places. Lunch was also very good, a big and delicious buffet in a lodge close to Uxmal's entrance. We had a great day, I highly recommend this tour.
June 2015
This is more interesting than Chichen Itza in some ways, depending on your interests. Kalahari is a small site but worth seeing. The views you get from the palace at Uxmal are worth the walk up. Our guide, Agusto, was very good also amiable and knows the sites well.
June 2015
March 2015
The trip was very interesting, educational, and enjoyable.
We were picked up on time, but were joined with another group as our designated guide was sick. In total, we were 5 couples (10 people), joined by Augusto the guide, who was very knowledgeable and answered all our questions. Though his accent was not so easy to digest, he provided us with plenty of information on Kabah and Uxmal and was very interesting to hear.
Lunch was good, transportation was OK, and we kept good time.
February 2015
This was a very interesting and well organized tour.
The guide, Francisco was very friendly and provided all the information about Uxmal and Kabah.
January 2015
It was an excellent tour. Very interesting sites and wonderful tour guide.
these sites are less well known but are well worth the visit.
Having a tour guide who is passionate and knowledgable makes all the difference.
I would highly recommend it
December 2014
Our guide Elias was exceptional. Very knowledgeable, friendly and considerate. Knows the history of the area. If we go back he is the only guide we will use.
September 2014
Small group, mixed nationalities, tour guide good driver, English understandable, didn't hover, informative and nice. Pyramids were great, could actually climb a few of them, saw restoration in progress and it didn't rain, another plus. Sun hat and glasses a necessity. Lunch was good. All in all a great trip.
August 2014
New van. Pickup on time. Fab guide Jose Saul Jimenez added 2 Haciendas as group small and we had time. Best tour I've done here. Booking same tour with Saul for my children. Pure magic. Loved it, loved it. Viator is best service I have used here.
March 2014
Advertisement
Advertisement