Discover the mystical allure of two of the Yucatan's most significant archeological sites on a full-day tour to Kabah and Uxmal from Merida. Learn about ancient architectural styles and Mayan mysteries as you explore the UNESCO World Heritage-listed sites with a knowledgeable guide. Discover legendary buildings like the Pyramid of the Magician, the Governer;s Palace and the Arch of Kabah before enjoying a traditional Mexican lunch at the luxurious Hacienda Uxmal Hotel. Personalized attention from your guide is guaranteed on this small-group tour, with numbers limited to 25 people.
Highlights
Day tour of Kabah and Uxmal from Merida

Drive down the Yucatan Peninsula and visit two ancient Mayan cities
Admire the archeological wonder of Uxmal, a UNESCO World Heritage Site
See the Palace of Chaac Masks and the Arch of Kabah
Learn about Puuc architecture at the Pyramid of the Magician and Governor's Palace
Small-group tour limited to 25 people ensures a personalized experience with an expert guide

Recent Photos of This Tour
Uxmal and Kabah Day Trip from Merida
What You Can Expect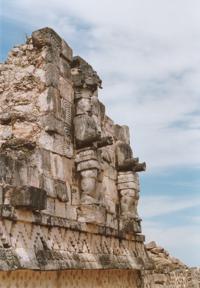 Depart from your Merida hotel in an air-conditioned minivan to the first stop on your archeological adventure. Arrive at Kabah, a prosperous Mayan city that flourished around the year 800 AD, to discover more about the renowned Puuc architectural style.
Follow your guide to a selection of noteworthy structures and listen as he explains the historical and cultural significance of their features. Admire Kabah's picturesque Palace and marvel at the impressive façade of the Palace of the Masks, famed for its 250 strong compilation of rain god depictions. Gaze at magnificent monuments of prominent Mayan figures as your guide directs your attention to the intricate stone carvings of the statues.
Wander beneath the dramatic Arch of Kabal as your guide leads you down the ancient and ambient path that connects Kabah to Uxmal. Return to your minivan for the short drive to the UNESCO World Heritage site of Uxmal to enjoy a 3-hour exploration of the ancient Mayan city.
Note the prominence of the Mayan deity Chaac, god of rain, through the countless masks and sculptures that decorate Uxmal's sacred structures. Visit the Nunnery Quadrangle to learn the meaning behind serpentine symbols and absorb the ethereal atmosphere at the Pyramid of the Magician as your guide unravels a complex and captivating history. On the façade of the Governer's Palace, observe more than 100 images of Chaac and appreciate the astronomical precision of the central doorway.
Continue your cultural enlightenment with a visit to the Choco Story Museum, an enticing gallery in which the history and importance of cocoa is explained; gain insight into the cultivation and collection of cocoa before awakening your senses to the gorgeous sights and smells of Hacienda Uxmal Hotel's botanical garden. Dine on a delicious lunch of regional and international specialties before relaxing on the return-trip to your Merida hotel.
June 2016
This was a great experience! Uxmal and Kabah is not as touristy as Chichen Itza. I would highly recommend this tour as it gives a more different feel than other ruin tours I have been before.
June 2016
This is a highly recommended tour. I have been on many tours to ruins before but Uxmal and Kabah is a wonderful experience. The exquisite architecture, ornamentation and the history that surrounds it is magnificent. This is a must if you are in this part of the Yucatan.
June 2016
Excellent trip. Many thanks to our guide, Wilbert Mayaland Tours for his knowledge and grace.
June 2016
We had an enjoyable experience with our international traveling companions and our knowledgable tour guide.
June 2016
Great trip. Our guide Algusto is excellent.

June 2016
Besides the Mayan temples, we also visited: the Museum de Cacao though not enough time to tour it, an old abandoned sisal factory, and a Mayan home and family. Don't miss the Mayan home and family! It was our favorite part. Our guide said it was optional, and would cost a few pesos. Definitely worth it. Lunch was at the restaurant next to the hotel at Uxmal.
February 2016
Our guide, Wilbert, was wonderful! He was very knowledgeable of the area and the history of the Mayan people. He was patient but also was sure to keep us on pace. I would highly recommend this tour.
February 2016
This was a very good tour. There were only 6 of us altogether. Our guide picked us up and dropped us back to our hotel in Merida as well as showing us around Uxmal and Kabah. He was helpful, enthusiastic and knowledgeable but also let us enjoy the day without overloading us. Excellent and good value.
February 2016
Great day absent of crowds but spectacular guide was very informative and you can climb stairs and get a real feel of Uxmal. Kabah was a surprise small but impressive and the arch is worth the trip.
February 2016
This was a great tour and much better than Chichen Itza. The ruins are much more extensive, you can climb on most of them and there are far fewer tourists.
Advertisement
Advertisement