Experience the best of central Mexico on this action-packed 5-day tour. Start with a great overview of Mexico City on a hop-on hop-off tour, before exploring some of the city's top landmarks on guided tours. Visit the UNESCO-listed Teotihuacan pyramids, as well as the cities of Cuernavaca, Taxco and Puebla. See one of the most recognizable religious figures at the Shrine of Guadalupe. Stay at a comfortable 4- or 5-star hotel for six nights and rest easy knowing that transport details and your itinerary have been mapped out for you.
Highlights
5-day, 6-night tour of Mexico City and its surrounding attractions

Visit the famous Teotihuacan Pyramids and Guadalupe Shrine

Tour Mexico City and see Olympic Stadium, the lava gardens of San Angel, World Trade Center and University City
Excursions to the cities of Cuernavaca and Taxco
Recent Photos of This Tour
6-Night Best of Central Mexico Tour: Teotihuacan Pyramids, Taxco, Cuernavaca and Puebla from Mexico City
What You Can Expect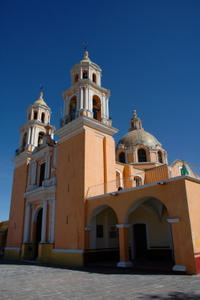 This comprehensive tour provides an excellent and convenient way to see the historical and cultural features of Mexico City, as well as other important destinations in central Mexico. Begin your 5-day adventure with a hop-on hop-off bus tour around Mexico City, where you'll see up to 21 attractions. Stay in a 4- or 5-star Mexico City hotel for six nights, and enjoy breakfast at your accommodations.

During the rest of your five full days, travel to many historical and cultural sites, including the Shrine of Guadalupe and the Teotihuacan pyramids. Take a ride on an Aztec boat at Xochimilco. Discover Cuernavaca, a favorite weekend getaway for Mexico City locals, and pick up fabulous silver jewelry at Taxco. You'll visit one of the oldest monasteries in the Americas before strolling through the gorgeous UNESCO-listed city of Puebla.



See Itinerary below for details of your activities each day.
Itinerary
Day 1: Mexico City Airport – Hotel
Arrive at the Benito Juarez Mexico City International Airport. Transfer to your hotel of your choice (choice of accommodation).

Stay overnight in Mexico City.

Day 2: Mexico City Hop-on Hop-off Tour (B)
In the morning, go on a hop-on hop-off bus tour of Mexico City. The tour features up to 21 stops, and allows you to get off the bus at any time to explore; then get back on when you're ready to see the next attraction! The tour stops at some of the most popular spots in the city, including archaeological, modern and contemporary sites. In the afternoon, you'll have the option to continue on the second part of the hop-on hop-off bus tour or return to your hotel.

Stay overnight in Mexico City.

Day 3: Shrine of Guadalupe – Teotihuacan (B)
After breakfast, you'll travel to the Shrine of Guadalupe, one of the most famous shrines in Mexico. You'll then continue to the archaeological site of Teotihuacan, where you'll admire its monumental pyramids and temples. You'll stop by an arts and crafts center before heading back to your hotel.

Stay overnight in Mexico City.

Day 4: Mexico City – Xochimilco – Coyoacan (B)
In the morning, enjoy a tour of Mexico City landmarks. You'll see many symbolic sites of Mexico City, including the World Trade Center, Olympic Stadium and the lava gardens of San Angel. After the tour, you'll travel to Xochimilco, where you'll ride in an Aztec boat. Next, visit the colonial district of Coyoacan and admire its historic mansions and impressive paintings at the Church of Saint John the Baptist.

Stay overnight in Mexico City.

Day 5: Cuernavaca – Taxco (B)
Following breakfast, tour the city of Cuernavaca, a favorite escape for Mexico City residents. While here, you'll have the chance to see the Palace of Cortes, which was built by Hernan Cortes and is considered one of the most historic buildings in Cuernavaca. You'll also visit the restored Cuernavaca Cathedral. Then continue to the city of Taxco, known for its silver mining. You'll visit the church of Santa Prisca before returning to Mexico City.

Stay overnight in Mexico City.

Day 6: Huejotzingo – Puebla (B)
In the morning, travel to the small town of Huejotzingo, where you'll visit the monastery of San Miguel, one of the oldest monasteries in the Americas. Then, continue to the city of Puebla. Here, you'll see the Chapel of Rosary, Convent of Santa Monica, the Onyx and Talavera ceramic factories, and the majestic cathedral located in the main city square.

Please note: If Day 6 of your tour falls on a Sunday, Monday, Wednesday or Friday, you will instead have the day free to explore Mexico City. Some of the tours are not offered on these days.

Stay overnight in Mexico City.

Day 7: Hotel – Airport (B)
Transfer to Benito Juarez International Airport.

Please note: The itinerary is subject to change.
February 2016
Everything went smoothly from airport pickup to tour arrangements. Though the mix of tourists differed each day, we happened to get the same guide for the 4 escorted trips Miguel - and he was great. We liked the mixture of day trips and time to ourselves. Hotel Hampton Inn was excellent - and location perfect. Tour was an excellent value, costing little more than hotel alone if we had booked it separately.
January 2016
Too wonderful trip. Guides introduced and escorted very kindly, so I could understand about Mexico.
December 2014
The tour was very good. All the guides / drivers were great. They were well organized and the time spent at each site was well used. Some great places to see! Hotel Geneve is fantastic. The only issue is the traffic whichever makes some of the days rather long.
August 2014
This trip was outstanding and well worth the money. The cathedrals and pyramids were spectacular. Silver in Taxco was to die for because of quality and price. The chicken mole was scrumptious in Puebla. The Forklorica Ballet at the Bellas Artes was magnificent. I highly recommend this trip.
August 2014
I and my husband recently came back from this tour. I highly recommend it as a family or a duo get away as it was very well organized, professional, friendly and fun. Daily tours are well balanced so that one can also wander around by themselves to explore the city. The best part of the trip was the friendly staff starting from being picked up at the airport to different tour guides. We could really tell they were all going out of their way to accommodate each and every one of us. We also liked that we were given tours not only inside the city itself, but taken out to other surrounding interesting places very well worth visiting giving us a chance to get a real feel of the country, the people and what it is all about. I am not going to lie we did come back exhausted and a little bit overwhelmed, but it was a good thing given you have only 5 days to a 20 million people populated city and its surroundings. Highly recommend!!
August 2014
Excellent hotel, excellent tours and guides, excellect drivers! I loved it! I will highly recommend Viator to all my friends. Thanks for an unforgettable experience!
July 2014
Absolutely fantastic! Best tour to Mexico I ever took! The tour guides were knowledgeable and courteous! Mexico City has lots to offer, the food was excellent and I definitely want to go back and see more of the cities we visited in detail at a later time! Loved it, loved it , loved it!
June 2014
We found this tour fabulous. Hotel Geneve was superb and in a great location. We had an American breakfast included in the price and that was very nice - eggs or fruit platter, fruit juice, toast, tea/coffee. When we arrived at the airport we were greeted by the tour representative. He was easy to recognise with his company uniform and he had our name on a message board. He drove us to our hotel and was very pleasant. He gave us our itinerary which was very detailed day by day what we would be doing and pickup times. The day tours were done in a slightly different order to that specified on the website, but that was not a problem. The daily tours were really interesting and we were picked up at the hotel within 15 mins of planned pickup times. All tours went according to plan, except for 1 which was estimated at 4 hours but we were away over 6 hours and we had to buy a pricey lunch that we weren't expecting. Each day we were phoned by a tour rep asking how the previous day went and reminding us about pickup time for the next day. They were very attentive. On the day of departure our driver arrived 30 mins early but we were ready and waiting so it was not a problem. The traffic in Mexico City is usually chronic congestion (except for Sunday morning when there wasn't much traffic about) and the tour company ensure they get people to the airport in plenty of time for their flight.The price of this tour was very good value and it is very well organised. I thoroughly recommend it.
June 2014
That's the way to see the Mexico City. Though be prepared to stay stuck in traffic. Guides were really good. English was good too. Tour company is exceptional in service. Hotel Geneve is awesome. This is the way to visit Mexico City and the areas around.
April 2014
Hotel Geneve excellent. Pablo a wonderful guide. However the day we visited the pyramids was a weekend and also a National holiday. We queued for 2 hrs and did not reach the top as our tour group had to leave. Very disappointing. May I suggest the Pyramid day tour be listed on a weekday and not a public holiday in future.? The tour to Taxco Silver City was particularly enjoyable. We did find after 3 very long 10-11 hour days we had to miss the City cultural shorter tour the next day to have a day of rest!! (But I must mention my sister and I are 80yrs - so can be forgiven!) We did the hop on/off bus the next day. Overall a wonderful few days in a lovely city. Thankyou Pablo.
Advertisement
Advertisement