Location:

Mexico City, Mexico

Duration:

8 days

(approx.)
Embark on a Mexican food odyssey, round-trip from Mexico City, with a seven-night journey through Mexico's richest culinary regions. This gastronomic tour takes you through the markets of UNESCO World Heritage-listed Oaxaca and the streets of Puebla to sample local specialties. Learn to make mole in a cooking class, attend a Mexican barbecue and a pulqueria, and enjoy a taco crawl and walking tour of Mexico City. Numbers are limited to 12 people, ensuring an intimate experience with a small group of like-minded food lovers.
Highlights
7-night culinary tour, round-trip from Mexico City
Meander through Mexico City on a taco crawl and explore the Zocalo on a walking food tour
Taste locally produced cheese and chocolate at Abastos Market and Mercado Tlacolula in Oaxaca, a UNESCO World Heritage Site
Sample tasty treats like tortitas de Santa Clara and make mole poblano in a cooking class in Puebla, Mexico's culinary capital
Dine at a traditional cantina, taste tender meats at a pit-barbecue and eat tortillas fresh off the comal (griddle)
Marvel at the mosaics adorning the pre-Colombian ruins of Mitla and admire the Bellas Artes Palace in Mexico City's historical center
Small-group tour limited to 12 people ensures a personalized experience with a knowledgeable guide
Recent Photos of This Tour
7-Night Culinary Tour of Mexico: Mexico City, Puebla and Oaxaca
What You Can Expect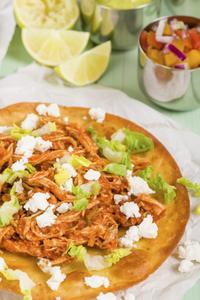 If you're after cultural authenticity and flavorful food tinged with fiesta, then this Mexican food tour is for you! Taste sublime traditional dishes cooked at food markets, street stalls, taco stands, cantinas and other colorful local eateries. See where ancient cultures and modern gastronomy meet as you experience Mexico's delightful culinary heritage that goes back thousands of years.
You'll get a real taste of Mexico in three fantastic cities with seven overnight stays in hotels including breakfast. Fly one-way from Mexico City to Oaxaca, traveling with your expert guide by local bus to Puebla and back to your original departure point for a famed food scene worth discovering!
Itinerary
Day 1: Mexico City (D)
Your Mexico culinary adventure begins with a welcome orientation at 6pm. Arrive at your hotel any time during the day and check with reception for the location of this important meeting.
In the evening, your guide will take your small group on a taco crawl around town for a taste of Mexico City's street food staple, including delicious tacos al pastor (slow-roasted marinated pork). Eat at some of the best taco stands in the city, stopping at one of the many mezcal bars for a sip of this tequila-related alcoholic beverage. If you'd like, devour crunchy and sweet churros (cinnamon-sugar doughnuts) at a celebrated 24-hour stand.
Overnight: Hotel Azores in Mexico City
Day 2: Mexico City – Oaxaca (B, L, D)
After breakfast, board a plane for an approximate one-hour flight to Oaxaca, a UNESCO World Heritage Site. Home to more than fourteen ethnic groups, including the Zapotecs and the Mixtecs, the culturally diverse city of Oaxaca is renowned for its pre-Columbian archaeological ruins, beautifully preserved colonial architecture and – of course – exquisite cuisine.
Follow your guide to the marvelous Abastos Market, one of Mexico's most vibrant markets, where vendors hawk their crafts, flowers and fresh produce as they sing out among the crowds. Get a tour of the Saturday market and an introduction to Oaxacan cuisine as you sample distinct regional specialties. Enjoy a taste of queso Oaxaca (Oaxacan cheese) and sweet cactus fruit, and perhaps try the local specialty – chapulines (grasshoppers).
Complete your morning tour at the less crowded, but equally fascinating Mercado 20 de Noviembre, where you can relish lunch at the pasillo de carnes asadas (grilled meats hall) or try the scrumptious yellow mole empanadas sold just outside.
Spend a free afternoon exploring more Oaxacan markets and culinary delights. Check out the local crafts at Benito Juarez Market or chase down the region's best chocolateria for authentic Oaxacan chocolate among several shops on Calle Mina (just south of Mercado 20 de Noviembre).
Alternatively, visit the impressive archaeological site of Monte Alban, inhabited over a period of 1,500 years by a succession of Mesoamerican cultures. See the terraces, dams, canals, pyramids and artificial mounds carved out of the mountain at this pre-Columbian ceremonial center (own expense).
In the evening, your guide will accompany your small group to a nearby town to sample some of the region's famous barbacoa, or slow, pit-cooked meat. Toast the meal with a glass of mezcal – locally produced from the maguey plant – before sitting down to enjoy your Oaxacan feast.
Overnight: Hotel Las Mariposas in Oaxaca
Day 3: Oaxaca (B, L)
In the morning, visit Mercado Tlacolula to see one of the oldest markets in Mesoamerica come alive with Zapotec cultural traditions and language. Watch the Sunday market erupt with colorful dress and cuisine as the community gathers from neighboring villages.
Enjoy lunch at an authentic old-world Oaxacan restaurant; despite having no electricity and no menu, it serves outstanding traditional Oaxacan fare. Then, spend your afternoon exploring the impressive ruins of Mitla, an important archaeological site that once served as the main religious center for the Zapotec people. Built as a gateway between the world of the living and the dead, Mitla comes from the Nahuatl word meaning 'underworld.'
On your return to Oaxaca, your guide will make a stop at a mezcaleria (mezcal distillery) for another taste of this locally produced spirit whose history traces back to ancient times. Enjoy the distinctive smoky flavor as you make another toast – salud!
In the evening, search out your own food adventure for an authentic taste of the area's specialties. Your guide will tell you about a range of Oaxaca's best kept dining secrets to help you decide on a range of options.
Overnight: Hotel Las Mariposas in Oaxaca
Day 4: Oaxaca – Puebla (B, L)
Enjoy breakfast with your small group at a unique street-side restaurant, where you'll find tortillas made daily with three different types of corn gathered from farmers' cooperatives throughout the state. After devouring Oaxaca's best quesadillas, board a local bus for an approximate five-hour ride, accompanied by your guide.
When you reach Puebla, Mexico's mouthwatering culinary capital and fourth largest city, enjoy a guided food tour including stunning architecture and historical sites. See a wealth of colonial buildings and churches as you explore the city center on foot, including the traditional Mercado de Sabores Poblanos. This great introduction to Pueblan street food offers a multitude of stalls with local dishes cooked up by different chefs.
Here, sample local specialties for lunch like cemitas (stuffed egg-rich rolls) and tacos arabes – Arab-style tacos filled with meat cooked on a large spit, served with salsas and fresh lime. Then make a beeline for Calle de los Dulces (Sweets Street) to sample tortitas de Santa Clara – round, shortbread cookies topped with a sugary pumpkinseed glaze – and camotes, yam-based candies flavored with fruit.
Conclude your walking tour at a pulquería for a taste of pulque, an ancient alcoholic drink made from the lightly fermented sap of the maguey plant, once only accessible to Aztec priests.
With your evening free for you to do as you wish, continue exploring Puebla's gastronomic scene. Relax with a drink under billowing jacaranda trees at the Barrio del Artista, a venue with live music and an electric atmosphere. For something even livelier, check out an optional lucha libre match (own expense) and join fans to watch this national sport that's part wrestling, part theater.
Overnight: Hotel Puebla Plaza in Puebla
Day 5: Puebla – Mexico City (B, L)
Spend your final morning in Puebla in a hands-on cooking class with your small group. Learn the secrets to some of the city's most prized dishes, such as sumptuous mole poblano (spicy, chocolate-tinged sauce), tinga (spicy, shredded chicken tostados) and chiles en nogada (stuffed chilies covered in walnut sauce). Afterward, feast on your creations for lunch.
Later in the afternoon, your guide will accompany your small group back to Mexico City by local bus – an approximate two-hour drive – where you can spend the rest of the evening at your leisure. Enjoy your choice of incredible restaurants, cafes or bars as you explore on your own or with your foodie friends.
Overnight: Hotel Azores in Mexico City
Day 6: Mexico City (B, L)
In the morning, your guide will lead your small group on a culinary walking tour of Mexico City's Centro Historico. Follow your guide down the Paseo de la Reforma – the city's main avenue – to some of the city's most iconic sites, including the gorgeous Bellas Artes Palace.
Along the way, stop for a traditional desayuno (breakfast) of café de olla (sweetened spiced coffee) and pan dulce (sweet rolls). Explore the vibrant Mercado San Juan, Mexico City's main food market, and roam the surrounding streets for hidden culinary treasures.
Watch tortillas as they are freshly pressed on the comal, and try them warm and sprinkled with salt before lunching at a charming food stall that specializes in ceviche and seafood cocktails. End up in the impressive Zocalo, the main square located in the heart of the Mexico City's historical center and the largest city plaza in Latin America.
Spend the rest of the day at your leisure. Relax in Chapultepec Park with a spice-kissed sorbet or visit some of the Mexico City's notable museums, including the renowned Museo Nacional de Antropologia (Anthropology Museum), considered one of the best in the world. Your evening is free for you to explore more of Mexico City's vibrant dining scene. Make a reservation in one of the city's top dining establishments or delve into another local venue around town (own expense).
Overnight: Hotel Azores in Mexico City
Day 7: Mexico City (B, D)
In the morning, visit the leafy environs of Coyoacan, a tranquil neighborhood located a short metro ride away from the bustling city center. Wander through the weekly food market with your guide, strolling past stalls in the square and snacking on cajeta-filled churros (doughnuts filled with caramelized condensed milk) while admiring the array of vegetables, fruits and chilies on display.
After the market, you may choose an optional visit to the Frida Kahlo Museum (also known as the Blue House) and Leon Trotsky Museum, both located nearby in the former residents' homes.
On your final night, celebrate with newfound friends as you feast at a charismatic cantina, located in the heart of Mexico City. Enjoy authentic and delicious dishes that sing of old-world Mexico, and relish the spicy flavors before saying adios to your delectable Mexican food journey.
Overnight: Hotel Azores in Mexico City
Day 8: Mexico City (B)
With no activities planned for your final day, you are free to depart from your accommodation at any time. Ask reception for checkout times and luggage storage possibilities if you plan to extend your stay in Mexico City. In addition to the markets and delicious street food, you'll find a multitude of options to explore, such as museums and galleries along with exciting nightlife.
Advertisement
Advertisement