Why fly from Mexico City straight to Cancun when you can make your way there on this convenient eight-day tour, stopping at some of Mexico's most important historical and cultural sites? From Mexico City, you'll make your way to the famous Mayan ruins of the Yucatán Peninsula, stopping along the way in fascinating places like the ancient city of Palenque and the pretty town of Campeche. End your tour relaxing on the breathtaking Caribbean beaches of Cancun or the Mayan Riviera.
Highlights
8-day tour from Mexico City to Cancun

See many famous attractions including the National Palace in Mexico City and the Mayan ruins in Chichén Itzá
Explore the town of Campeche

Explore the town of Campache

Relax on the white-sand beaches of Cancun or the Mayan Riviera
Complimentary airport transfers included
Choice of 4-star or 5-star accommodation
Recent Photos of This Tour
8-Day Best of Mexico Tour: Mexico City to Cancun
What You Can Expect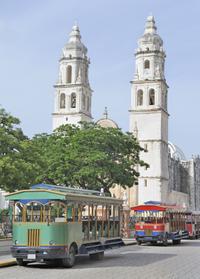 On this 8-day tour from Mexico City to Cancun, you'll see a variety of famous landmarks in Mexico, from the urban oasis of Mexico City to the historic city of Palenque to mysterious Mayan sites to the pristine white-sand beaches of the Caribbean coast.

This tour gives you a chance to see some of the best sights in Mexico without all the hassle of trying to get from place to place on your own. All driving and hotel arrangements are taken care of, so you can simply relax and enjoy the scenic routes and famous historical sites that make up this tour. It's a much more interesting way to get from Mexico City to Cancun than sitting on a plane and missing out on archeological ruins, Mexican towns and beautiful landmarks. Visit the Shrine of Guadalupe in Mexico City, Fortune Teller Pyramid in Uxmal, the beautiful town of Campeche, the Mayan ruins of Chichén Itzá and more!


See the Itinerary section below for details on each day of the tour.
Itinerary
Hotel Options (depending on availability and time of the year)
Four-Star Hotels
Mexico City - Royal Zona Rosa or Zocalo Central (depending on time of the year)
Palenque - Hotel Ciudad Real or Villa Mercedes
Campeche - Plaza Campeche or Del Mar or Ocean View
Merida - El Conquistador or El Castellano
Cancun – Flamingo

Five-Star Hotels
Mexico City - Galeria Plaza Hotel or Sheraton Ma. Isabel (depending on time of the year)
Palenque - Hotel Ciudad Real or Villa Mercedes
Campeche - Plaza Campeche or Del Mar or Ocean View
Merida - El Conquistador or El Castellano
Cancun - Krystal Cancun

Note: Five-star hotel options are in Mexico City and Cancun only. Hotels in Palenque, Campeche and Merida are all four-star.

Schedule:
Day 1:
Arrive at Mexico City's Benito Juarez International Airport. Transfer to four- or five-star hotel (your choice upon booking).

Day 2:
After breakfast, visit the Shire of Guadalupe, the most visited religious site in Latin America. Then, travel to the ancient pyramids of Teotihuacan. Located only an hour outside of Mexico City, you'll have the chance to see great works of the Aztecs. Stay overnight in Mexico City.

Day 3:
Travel day--Fly from Mexico City to Villahermosa. From Villahermosa, drive to Palenque. Dinner included. Evening is free for you to explore Palenque on your own.

Please note: Flight from Mexico City to Villahermosa could leave anytime between 9am and 12pm.

Day 4:
In the morning, discover the ancient Mayan city of Palenque. Explore the ruins of ancient buildings, spread out over 9 miles (15 km). Visit a burial monument, the Temple of Inscriptions, which rises in front of the jungle surrounding Palenque.

Then depart for Campeche. Stay overnight in Campeche. Dinner included.

Day 5:
After breakfast, explore the peaceful town of Campeche. Once a Mayan trading village, Campeche is full of rich history and beautiful sculpted buildings. See its cathedral, fortresses, mansions and plazas.

Next, depart for Uxmal, one of the top Maya archaeological sites. At the site, visit the Fortune Teller Pyramid, the Nun's Square and the Governor's Palace.

Then depart for the cultural and artistic city of Mérida. You'll visit Plaza Grande, the city's main center. Stay overnight here.

Day 6:
In the morning, make your way to Chichen Itza, home to some of the most famous and well- restored Mayan ruins on the Yucatan Peninsula. You'll see the Jaguars' Temple, the great ball court, the Sacred Cenote and more.

After lunch, continue to either Cancun or the Mayan Riviera (your choice). Stay overnight in either Cancun or the Mayan Riviera.

Day 7:
After breakfast, enjoy a free day to explore either Cancun or Mayan Riviera.

Day 8:
Enjoy breakfast. At the indicated time, you'll be transferred to the airport.

Note: You have the option not to be taken to the airport if you choose to extend your trip in Mexico
September 2014
It was absolutely amazing. Lovely country, lovely people and culture. It could not be better than this. We loved and enjoyed every single minutes in this trip. Viva Mexico
May 2013
This is a great way to see different parts of Mexico. Mexico City was nice, and the ruins of Palenque, Uxmal, and Chichen Itza were amazing. I would have liked more time in the colonial town of Campeche - we arrived at sunset, stayed the night, and left at 8:15 the next morning. The guide, Andre, did a great job. I would highly recommend this tour to anyone who wants to see more than just the beach resorts of Mexico.
February 2015
The itinerary was excellent, we were happy with the accommodation selections along the journey with one exception. The exception being in Mexico City. Our hotel was undergoing substantial renovations to the lobby with construction noise present all day and night. This hotel should be avoided.
July 2014
The tour was excellent and the tour guide was very knowledgeable. The hotel rooms were clean and big.We could have stayed one extra day to see Mexico city. The other problem was that the other people on the tour were almost all Spanish speaking tourists so the tour guide was explaining and talking in Spanish 80% of the time while we signed on for an English speaking tour guide.
January 2014
It was really good and enjoyable . The guide was excellent and the hotels were good apart of the hotel in Mexico City ( gallaria plaza ) . Wished to have better hotel although its location was good .
February 2015
Should have more time on visited sites especially Chichen Itza.
January 2015
1 speaking bilingual at the same time makes confusion.
2 speaking without microphone is hard to listen clearly , and the peaked has to shout.
3 Bringing clients into merchandise shop father than the place schedualed is waisting the time.
April 2013
We were put into mixed group therefore guide was forced to speak two languages: Spanish and English, which created a lot of inconvenience and information lost. Guide was not grate, sometime he didn't know the surrounding area. When we come to VilaHermosa nobody told was about we'll be pick-uped from our hotel. Due to information absence we also were forced to pay for our dinner despite it was included.
When we arrived in Cancun we had problem with reservations in Hyatt hotel. No one Mexitours telephones work, including 24/7 (as usual). Therefore we were forced to sleep 4 people in one room.
I am not sure about using Viator in future.
April 2014
The only good things about this tour are the hotels, the fact you get to see all the Mayan ruins, and the bus was of a high standard. Other than that, it is very rusted, the included meals are not good, the tour guide mainly spoke in Spanish and it was generally disorganised.
Advertisement
Advertisement