Discover one of the world's most impressive collections of artifacts from pre-Columbian Maya civilizations through Spanish colonization at the National Museum of Anthropology in Mexico City. An informative guide provides historical and archaeological context to the exhibits, including the Aztec Calendar, reconstructions of Maya tombs and giant Olmec heads. After this 4-hour tour, you'll come away with insight into the influence of Mesoamerican cultures on Mexico today.
Highlights
4-hour tour of the Museum of Anthropology and History in Mexico City
See archaeological artifacts on display, such as an Aztec calendar
Explore cultural exhibits with an expert museum guide
Learn about Mesoamerican societies and their historical contributions
What You Can Expect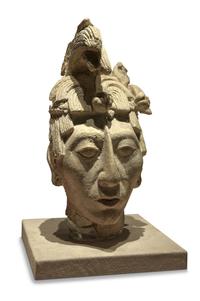 After meeting outside of the Museum of Anthropology and History, your guide will lead you around one of the largest museums of its kind in the world. Along the way, your guide will describe why this museum's collection of pre-Columbian artifacts is the most important in Latin America.
When you reach your destination, meet the museum's cultural interpreter, who will enlighten you about the various exhibits and their significance. As you pore over objects excavated from archaeological sites, covering vast territories in what is now modern-day Mexico, learn about the various cultures that created them.
Explore rooms where small objects such as spear points are on exhibit, used by early hunters on the continent more than 10,000 years ago. See simple clay pieces used in both daily life and as symbolic articles in religious ceremonies.
Admire items that could fit in the palm of your hand as well as impressive objects like the 'sun stone,' or Aztec calendar. Your guide will explain the meaning of these valuable contributions to Mexico, as well as the ways historians have been challenged to rethink the development of the Mesoamerican people — including Mayan, Aztec and Zapotec cultures. You'll have free time to explore the museum on your own after the tour.

November 2015
My tour guide, Sandra, was very good during the time we were together. I misunderstood where the meeting place was so we were late getting started but she is a kind and understanding person.
I wish we had spent time tin the Maya exhibit.
Advertisement
Advertisement