Bellini restaurant in Mexico City offers unparalleled views of the city and is a dining experience not to be missed. The only revolving restaurant in Mexico City and the largest in the world, Bellini boasts an impressive international menu, a great atmosphere and unforgettable 360-degree views. This dining experience will be the talk of your Mexico City vacation!
Highlights
3-course dinner at Bellini, the world's largest revolving restaurant

Enjoy 360-degree views of Mexico City

Complimentary hotel pickup and drop-off included

What You Can Expect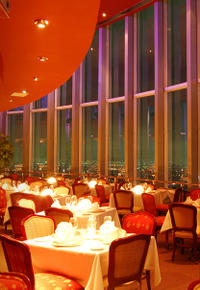 After complimentary pickup from your Mexico City hotel and head to Bellini restaurant. Located on the 45th floor of Mexico City's World Trade Center, this restaurant holds the Guinness World Record for the largest revolving restaurant in the world. This is your chance to dine at this exclusive eatery!

The restaurant is situated on a revolving platform that rotates a full 360 degrees every hour and 45 minutes. You won't feel as if you're moving, but by the time you're done with dinner, you will have seen all of Mexico City! This dining experience is great for a family with kids (they'll love the view) or a romantic date night for two.
March 2015
Although the food is not very good and is derived from a special menu it has a very beautiful view of Mexico City in the trendy Federal District area. Having the private driver to the tower was worth the cost of the meal.
March 2014
Collected on time and transported to the restaurant by friendly helpful staff. The restaurant has stunning views and the environment is good. The food was as described on the menu and was very rich. I would have liked more choice. The service was extremely attentive, this made the meal rushed. I had not realised that the restaurant is under pressure to get in a lot of sittings so the three course meal was over in about an hour. I felt this was a shame as the rush did not create a relaxed atmosphere for eating. We took our bottle of wine home with us as there was not time to drink it.
Advertisement
Advertisement