Experience Mexico City at night in all its rambunctious glory on this 3-hour guided tour. Admire the illuminated monuments of the Zocalo, one of the largest city plazas in the world, before you revel in the festivities of Plaza Garibaldi. Listen to mariachi bands, dance to live music, watch a folkloric show and witness a traditional cockfight in the square. Enjoy a complimentary drink and the convenience of hotel transport.
Highlights
3-hour Garibaldi night tour and show
Experience Mexico City's plazas at night
See illuminated monuments at the Zocalo
Visit Plaza Garibaldi and hear live mariachi bands play
Watch a Mexican-style folkloric show at a local restaurant
Learn about the cultural customs of Mexico and witness a cockfight
Enjoy a complimentary drink plus round-trip hotel transport
Recent Photos of This Tour
What You Can Expect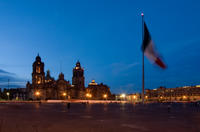 Your guided tour begins with a visit to the Zocalo, the main plaza located in the heart of Mexico City. The Zocalo is one of the largest city squares in the world and is bordered by the Cathedral to the north and the National Palace to the east. You will see both monuments lit up on your night tour. The Zocalo is just one of many astonishing spots in Mexico City.

Continue to Plaza Garibaldi, a meeting place of the most famous Mexican musicians, the mariachis. You'll visit a restaurant in Plaza Garibaldi for a classic Mexican show to learn about the folklore and traditions of Mexico. While here, you'll see a short cockfight, recognized as an ancient form of entertainment in Mexico. Listen to the live music, enjoy your complimentary drink and dance the night away.

Note: Be aware that the classic style of cockfighting practiced in Mexico ends with the killing of one of the roosters. Cockfighting is legal in Mexico and yet has been heavily debated both locally and internationally. It is considered a blood sport by its opponents, but its followers believe it to be a cultural tradition in Mexico. We are sensitive to the issues surrounding cockfighting and recognize that this tour is not suitable for everyone.

Marija N Macedonia
July 2011
It was a wonderful night, lot of music and dancing, I enjoyed the show.
January 2014
Hutch USA
September 2012
Overall positive feeling about this tour, and glad we did it. Garibaldi plaza is fun, but it is good to be in a group as you don't want to face 1000 mariachis and their drunken following alone. The show was simply hokey but still fun. My only complaint would be that once the show was over, we were put in the van and taken home. My suggestion would be to allow everybody another 30 minutes to drink/talk/socialize before going home. Guide was a likable energetic guy. Positive experience - glad we did it.
Nevione C Canada
November 2013
Good guide. Viewing statues in dark was a i bit pointless.Didnt have English guide as expected
September 2013
August 2012
The show was awesome! Music was great and food was okay. Felt a little rushed though, plus be careful in the restaurant the waiter added 300 more pesos to our bill but, we caught it!
March 2011
Too expensive for what you get, future travelers should just take a taxi from the Hotel and head to "Garibaldi de Noche" where the show takes places.
March 2011
It was a good tour, but to short because it was thursday.
ijessvip United States of ...
June 2016
very disappointed as the guide just took us to the night club with a very mediocre mariachi show that lasted only 1 hour
November 2014
Not as expected at all!! I felt at a Tourist Trap! The mariachis at the plaza were much better than the ones in the restaurant! The drink tasted really bad. I do not recommend this tour at all! Nevertheless, the guide was very gentle and attentive.
Advertisement
Advertisement