Special Offer
Book by August 26, 2016 and travel by December 31, 2016 to save 15% off our previously offered price!
This Iztaccihuatl Volcano hike is a must-do for outdoor enthusiasts visiting Mexico City. An experienced guide gets you ready from start to finish on this adventure-filled day. After fueling up with breakfast (own expense) in Tlalmanalco, huff up for 3 hours on an intermediate trail that ends a few thousand feet below the snowcapped summit 17,000 feet high. The air may be thin up there, but the views are not — soak up stunning views of Popocatepetl and the Valley of Mexico before descending the dormant volcano. Hotel transport included.

Highlights
Full-day trip to Iztaccihuatl Volcano from Mexico City with an expert guide
Drive through the picturesque Valley of Mexico and the Paso de Cortés
See the 'Sleeping Woman' in the snowy peaks of the dormant volcano
Hike an intermediate trail up the steep slopes of Iztaccihuatl Volcano
Enjoy panoramic views of nearby Popocatepetl, 'Smoking Mountain'
Round-trip transport by comfortable car included
Great for avid hikers and nature lovers!
Recent Photos of This Tour
What You Can Expect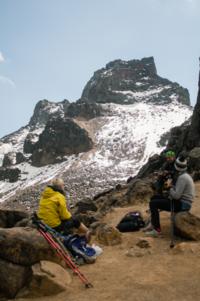 After early morning pickup from your downtown Mexico City hotel, head with your guide about two hours east of the city to Tlalmanalco, located at the base of the dormant Iztaccihuatl Volcano. You'll be burning some calories ahead, so chow down on breakfast that typically a choice of tamales, quesadillas, birria (spicy meat stew) or other tasty dishes.

Back in your transport, travel through the Valley of Mexico, a highland plateau in the Trans-Mexican Volcanic Belt, and the mountain pass of Paso de Cortés, before getting out at La Joya.

Start your hike up Iztaccihuatl Volcano, beginning at an elevation of 12,000 feet (3,700 meters). The volcano is also called 'The Sleeping Woman' or 'White Woman' for the four snow-covered peaks. While there are various trails ranging in difficulty, your guide will take up on an intermediate-level trail that both novices and those with more hiking experience will enjoy.

You may ascend as high as 13,800 to 15,800 feet (4,200-4,800 meters), depending on the members of your group, and reach tantalizingly near the snowcapped peaks and glaciers. After you catch your breath, admire views of the Valley of Mexico below, as well as the active volcano of Popocatepetl, aka 'Smoking Mountain,' located south of Iztaccihuatl.

Enjoy ample time at the summit to snap pictures and generally soak in the tranquility of the mountaintop. When you're ready, make your descent and then board your transport that takes you back to Mexico City. Arrive at your hotel in the evening, with plenty of bragging rights to share.
June 2016
Javier was well informed and attentive. And the lunch was well chosen, an authentic Mexican experience!
April 2016
Perfect day trip with a cool team and a perfect guide! I really enjoyed it!
Please keep in mind that it's mountain hiking in advanced height! Take care of correct clothing and shoes!!!

January 2016
A nice climb. The altitude slows you down if not acclimatized, but take it slow, the views are awesome.

December 2015
It was a very enjoyable hiking experience. It is a must if hiking is your interest. The guide was very friendly and knowledgeable. The itinerary was followed just as expected. Simply put, I encourage you to consider this attraction when visiting Mexico City.
November 2015
I really enjoyed it as it was extremely challenging. I was glad that one of the guides took a faster group as I would not have enjoyed it as much if we had to have kept stopping and waiting.
The food stop after the climb was also excellent and a good way to replenish the used up energy.
November 2015
Wonderful guides -- an overall great experience. Bring a small backpack, water and a few snacks for the journey.
November 2015
Excellent experience! really worthwhile, we did not have much luck in the morning because when we arrived there was a lot of fog and the park ranger would not let us go up, but our guide suggested that we walk up the road to the base camp where we were supposed to start our climb. After a casual 6km walk up this dirt road the weather changed and we were able to climb the volcano afterall. In total we walked 11.3km but this is not typical for this tour if its a nice day. The view was definately worth the effort to get up there.
October 2015
Great tour, really tough hike. Only problem was the weather wasn't great the day we went.
October 2015
Great day, well organised

June 2015
Tour was very good...Luis the tour guide led us up the mountain, giving great explanations of the surroundings. Even gave us an impromptu tour of mexico city on the way back in. Armando the driver did a great job too on the difficult roads up the mountain!
Special Offer
$47.99 Save $7.00
Advertisement
Advertisement