From street vendors to fine restaurants, uncover the rich heritage behind Mexico's diverse cuisine, designated a UNESCO World Heritage, on this 5-hour tour. An in-the-know guide takes a small group, limited to just 12 foodies, to taquerias, a restaurant specializing in pre-Columbian cuisine, the historic La Merced district and the longstanding Café Tacuba. Sample indigenous dishes and regional specialties, as well as some of the best tacos and quesadillas you'll ever taste, and finish with a decadent chocolate drink.
Highlights
Enjoy the best of Mexican cuisine on a walking tour of Mexico City's culinary delights
Check out a variety of eateries as your guide shares insider knowledge of great food spots
Taste favorite regional dishes and learn about modern and pre-Columbian food traditions
Follow your guide through atmospheric downtown streets lined with colorful historic buildings that are architectural gems
Try the tasty chocolate drinks at La Tacuba, a popular restaurant that has been open for more than 100 years
Small group limited to 12 people for a more personalized experience
What You Can Expect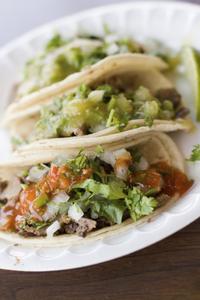 Meet your guide in the late morning at Amigo Zocalo, a downtown Mexico City spot where you kick off the food festivities with delicious tamales. Once all the members of your small group arrive, follow your guide through the bustling streets for delicious tacos and quesadillas. Vegetarians can order quesadillas prepared with squash blossom and huitlacoche (a smoky-flavored delicacy often called corn smut); meanwhile meat eaters can select beef or pork tacos made from a huge variety of juicy cuts and seasonings. Try the famous al pastor tacos found at the highly recommended Taqueria El Huequito before biting into tacos made with cochinita pibil, a slow-roasted pork recipe that dates back to the ancient Maya on the Yucatan peninsula.

Continue to Restaurante Chon, which specializes in pre-Hispanic dishes made with exotic (and nutritious!) ingredients such as grasshoppers and other insects. These foods were important in the diet of ancient Mexico and are now delicacies served in the finest restaurants. Sample some of these unusual treats, or enjoy items made with quintessential ingredients such as corn, squash, chili, tomatoes, beans, avocado and chocolate.

Save room for a visit to the historic La Merced district where colorful buildings with wrought iron balconies give the area a memorable ambiance. Turn onto a pedestrian street and enter Roldan 37, a charming restaurant known for authentic Mexican fare such as enchiladas, stuffed poblano chiles, garlic shrimp and grilled skirt steak.

Finish the tour at the celebrated Cafe Tacuba and order the praiseworthy chocolate drinks from the extensive menu. At the end of the 5-hour tour you can stay at the restaurant and soak up the festive atmosphere or your guide can walk you back to the starting point.

June 2016
Great - highly recommended if you want to taste a few different things from street vendors and want to make sure you choose the right ones.

Roberth R USA
August 2015
If you came to Mexico hoping to try as much of the local cuisine as possible, this is the tour to take! We had zucchini blossom quesadillas, cheese and bean stuffed tortillas called tlacoyos, cow's brain, eye and tongue tacos, Mexico's famous cochinita pibil, Spanish style tapas at the local market and finished it off with a stop at the famous Cafe Tacuba for chocolate and buñuelos. The walking is welcome to settle the food and burn off some of the calories you're putting on. Plus, the tour does not run until too late giving you the opportunity to return to one of the stops for dinner!
May 2015
This was a super trip. My guide and his delightful family walked me around the streets, we sampled lots of different foods and a delicious chocolate drink. From street stalls to fancy restaurants, this is a tour that should always be included whilst in Mexico City.
January 2014
The tour guide was amazing in her knowledge and pride of the city and food of Mexico. Before the tour I was indifferent to Tacos, now I am a Taco gourmet! My whole family enjoyed the tour and that is saying a lot given our differing tastes. We also got a Metro (subway) ride, dispelling all of our US fears about Mexico City public transportation and saving us a bunch of cab fares. Very Highly recommended.
December 2015
Per our voucher we were told that the tour would begin at the Hostel Amigo on Isabel Catholica, yet the tour guide was told to pick us up at the Hostal Amigo Zocalo. The tour guide called the Hostel Amigo where we were at and then asked us to meet him at the Cathedral, about a 20 minute walk. The frustrating thing is that we had just been there prior to walking to the Hostal -- so 40 minutes extra walking. We did enjoy the tour and again the tour guide was pleasant and informative, but we ended up walking a total of eight miles on the tour, which was tough for our 83 year old traveler. Again, we should have been notified just how much walking was involved.
Advertisement
Advertisement