Spend a morning with an in-the-know guide as you discover three popular Mexico City markets: Sonora, San Juan and La Merced. Wander city streets and take public transportation to visit the hot spots where locals pick up spices, produce, herbal remedies and flowers. Learn about the origins of the markets in Mexico City dating back to the Aztec Empire, and meet vendors as you enjoy this 3-hour feast of the senses.

Highlights
4-hour market tour in Mexico City with an informative guide
Visit three diverse public markets selling an array of goods
Shop for produce, housewares and Mexican spices at La Merced Market, the city's largest
Find herbal remedies and spell castings at Sonora Market, the 'witches' market'
Discover imported cheeses and other groceries at San Juan Market

Make contact with city dwellers as they buy and sell their merchandise
Recent Photos of This Tour
What You Can Expect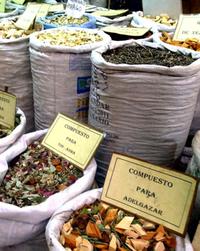 After meeting your guide at a central location in Mexico City, take public transportation to Mercado de la Merced (La Merced Market), one of the largest markets in Latin America and the biggest in the city. Along the way, your guide will tell you about Mesoamerica's street market tradition since pre-Columbian times, and how Spanish conquistadors were amazed by the Aztecs' displays at the Tlatelolco market.
From the zócalo (public square), located just 13 blocks west of the La Merced's main building, zigzag your way past crowded streets filled with small shops. When you step inside this colonial market, enjoy the bustling activity and energy of local vendors selling their wares. Follow your guide through a maze of colorful Mexican spices that activate all your senses.
As you wander, delight in smelling and tasting all kinds of produce, including varieties of corn and tomatoes native to the 'new world'. You'll find a huge assortment of kitchenware — from juicers to decorative spoons — as your guide enlightens you about Mexico's food culture and cuisine.
Next, head to Mercado de Sonora (Sonora Market), known as the witches' market for its herbal remedies, as well as magic potions and spells, to cure every ailment — from physical illness to heartbreak.
Here, weave past aisles filled with ordinary items like pottery, pets and party supplies to find plants with medicinal and magical properties. Your guide will point out garlic bulbs woven to ward off evil, as well as candles, lotions, oils and amulets that spell casters use for cleanses and cures.
Finally, head to Mercado de San Juan (San Juan Market), which is housed right in the center of the downtown district. Follow your guide past stalls selling groceries and meat, and discover imported cheeses, baguettes and more!

December 2014
Our guide Ligia was terrific--knowledgeable and fun. The market tour was the perfect introduction to Mexico City. It set the tone and adventure for our week here in D F. I'd recommend it highly to everyone.
December 2014
We did not realize that this was a walking tour when I booked it. It was a good walk and you get to see a lot of things you would never get to in a car. You also get to ride the subway. Roberto our guide was amazing and very helpful if you want to go shopping. You basically just have to tell him what you want and he'll help you out. Got to eat a lot of Mexican street food staples and see a lot of unusual things especially in La Merced. We enjoyed our tour with Roberto so much we also booked him (not thorough Viator) for his Xochimilco, university and Freda Kahlo museum after our tour with him. We were a group of three in my booking and we were the only ones on this tour. It was a fun day at the markets.

February 2014
The guide Alexandro did a good job. You get to see local markets, travel on the subway and local buses. All the three markets are very interesting and gets you up close with the real city. We would highly recommend this tour.
December 2013
I had an amazing morning at the markets with Alejandro. This is truly a travel-like-a-local tour. I'm not sure I would have found my way through the markets myself, but he guided us like a pro and gave us an inside look at all of the colorful, delicious and exciting aspects of life in Mexico City.
September 2014
Great! got to see the markets in action and the last market where the tour ended had lots of Mexican art, jewelry, pottery, etc. to purchase at great prices.
May 2014
So glad we chose this tour! Our guide was very good, friendly, perfect English and provided great information. So interesting to see a more local side of Mexico City.
Only administrative things kept this from being a five star - 1) The site should note the public transit tickets are not included in the fee. The metro is very inexpensive so we did not mind the cost but were not prepared with the small change they like. 2) One meeting location for the tour start would be best. We met at the location we were provided, then walked 20 minutes to the other meeting location, only to have the people we were suppose to pick up cancel. Thankfully we still saw everything we wanted despite the delayed start, but avoiding the extra walking on a long walking tour would help.
October 2014
Too fast for me. The guide was knowledgeable, but I felt like I didn't have true browsing time.
LH United Kingdom
April 2014
The tour guide was great. Information about food or stuff used for different traditional festivals could also be provided during tour. The option of using email to confirm pick up time should be provided as tourists may not be able to find phone to contact the local agent.
September 2014
Today's tour was very disappointing. To start with, the meeting place for this tour was different to the one given on your printed ticket. When I finally confirmed the meeting place (Amigo Hostel Mexico City) and arrived 15mins prior to departure, I was told to take a seat and the tour guild will be by at 10am to collect me. I remained in this room until 10:25 (25mins after the tour was suppose to commence.)
After we had confirmed I was in the right place for the right tour, I then found out I was the only person paying for the tour. Everyone else participated for FREE!!!
Finally we set off to enjoy what was suppose to be a 4hour tour, it lasted for 2.5hours. What was suppose to be a 3 market tour (La Merced, Sonora and San Juan) was a 2 market tour. There was NO history about the markets and how they began shared with us. We simply followed the leader.
I have been on the road travelling for the the last 3.5years and without a doubt this has been the worst tour I have ever done.
I'm a very unhappy customer.!
I hope you take the time to read this.
Advertisement
Advertisement