Experience Xochimilco, a marine ecological reserve and UNESCO World Heritage site, located just south of Mexico City. Step aboard a 'trajinera,' a colorful flat-bottomed boat, and drift through waterways dotted with floating gardens of flowers. Learn from an informative guide how this former agricultural canal network once fed the Aztec capital that lined the shores of Lake Xochimilco. Then, stroll through the National University of Mexico on a brief tour, where you'll see an outdoor art gallery and a bullfighting ring. Hotel transport included.
Highlights
6-hour sightseeing tour of Xochimilco by boat
Ride a trajinera through stunning floating gardens and canals with a local guide
Learn about the cultural history of UNESCO World Heritage–listed Xochimilco
Visit the National University of Mexico and its outdoor art gallery
View the bull-fighting stadium and the university library
Pickup and drop-off from most downtown Mexico City, Reforma and Polanco hotels included

Recent Photos of This Tour
Xochimilco and National University of Mexico
What You Can Expect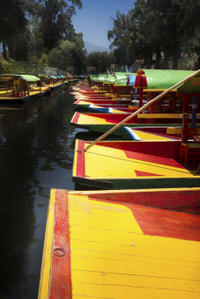 After hotel pickup by air-conditioned coach from downtown Mexico City, travel 17 miles (28 km) south of the city to an agrarian area called Xochimilco (pronounced 'so-chee-MIL-co'). Upon arrival at the UNESCO site, board a flat-bottomed trajinera with your guide and drift through beautiful floating gardens amid a system of canals that once connected many settlements of the Valley of Mexico.

Pass by artificial islands with floating reed mats loaded with soil, used as gardens called chinampas. Learn about how these mini-landmasses were developed during Aztec times to get around the scarcity of arable lands. Today, many of Mexico City's floral blooms are cultivated and grown in Xochimilco.

Your driver moves the trajinera along by pulling a pole through the water. Hear about the traditional boats, originally hollowed from logs and formerly used for transportation throughout Mexico. Relax under the shade of your boat's roof as you gaze at other vibrantly painted vessels carrying passengers and goods. Hungry? Enjoy tacos with beer for lunch (own expense), picked up from one of the boat-vendors.

After Xochimilco, you'll be taken to the National University of Mexico, founded in 1550, for a short but entertaining tour. Check out the university library, massive outdoor gallery of murals and sculptures, and then the stadium and bullfighting ring where the classic sport takes place on Sundays.

Your 6-hour tour ends with transport back to your hotel.
September 2015
While it was difficult to see some of the shared items and I thought we would spend more time on the actual campus of the University we stopped on the highway for photos since our focus and desire was to see Xochimilco, that was excellent.
Our guide, Francisco was fabulous and went above and beyond to make sure we saw and understood more about various areas of Mexico City than we had expected. Turned out quite well. I think a focused comida time slot would have helped but we carried snacks so we were okay.

August 2015
The wife and I always wanted to do this. The Mariachi was great and the people were all happy,festive, singing and dancing. The food and drinks were great. My wife The Queen of Barter got a great deal on a silver pendant of Our Lady of Guadalupe.Great shops before and after the boat ride. We got some great eats and tried dried crickets, minnows, with peanuts! The crickets were surprisingly sweet and the combo was awesome...it went well with my mechata! Great with place with about three couples or more. Make sure you go to the restroom before you go on the boat or you'll be hurting! LOLs
The University of mexico I always wanted to see since I first encountered reading and seeing photos of it in an old Golden Book Encyclopedia my Godmother bought me from 'Safeway when I was a young boy of 5. I saw then for the first time a photo of the Mosaic Library and read about what is done at a University. To see it for real along with my wife was a great experience. Loved this tour.
March 2015
February 2015
June 2014
I loved it. For a little extra more, they included me on their tour to La Casa Azul of Frida Kahlo. They also took us first to just pass by the bullfight arena, biggest in the world.... was interesting to see it. Then to the National University of Mexico. But the highlight of the tour for me was the Xochimilco boat ride. When we got there, all of us was given a fresh rose flower. Then on our way to the middle of the waterway. It was quiet first, then all the vendors came out, selling food from boiled corn, to blankets, jewelry. So mayhem, it seemed.... but it was exciting to see all these happening around us. There were mariachis in their uniforms who were ready to serenade us. Even without hiring a mariachi band, we could hear the other mariachi music everywhere, so it seemed like we had them too. Then the food - was ordered on the boat, was cooked beside us on another boat, then served hot .... most delicious tipico comida I ever ate. With the drinks, it was only $150. Nice, I would go on this trip again. Our guide, Paloma, was very considerate, and spoke in both English and Spanish. I was the only English speaking person on the trip, and she made me feel very special, always asking if I was enjoying myself.
June 2014
Fantastic excellent guide Mildred
January 2014
We spent Christmas Day on the canals. Met some amazing people, had lunch, listened to mariachi music as we floated through the canals. Our guide was great. I would highly recommend this tour.
May 2013
This was an excellent way to see many of Mexico City's sites that are not centrally located downtown. The guide, Eduardo, was great and took us by Mexico City's World Trade Center, to the bull fighting ring, to the University of Mexico to view the exterior of the library, by the Azteca Stadium, to the Coyoacan neighborhood, and finally to Xochimilco where we took a boat along the canal. We enjoyed beer and marriachi music during the boat ride.
Hutch USA
September 2012
Very positive review overall. The sights speak for themselves (Coloyoacan, Frida, Xochimilco). You felt safe. The guides were good guys, and informative. Pick-up drop off at your hotel is great. Suggestions: 1) establish and clarify when the group meal will be; 2) Include the Coloyoacan market as part of the tour. Again, glad we took this tour.
August 2012
Thoroughly enjoyed this tour - Xochimilco is a must see! I was in Mexico two years ago and didn't manage this tour ,so delighted I got to see it this time.
Advertisement
Advertisement