Plan a 'daycation' to paradise with this round-trip excursion from Miami to Freeport, Grand Bahama. Enjoy a smooth, comfortable, 4-hour ferry ride to one of the most popular islands in the Bahamas. An upgrade to first-class seating is available. Then spend the day at the luxurious Grand Lucayan Resort. Soak up the Bahamian sun on the private, white-sand Lucaya Beach. Lounge by one of three swimming pools. Or go shopping at the neighboring Port Lucaya Marketplace. Miami Beach or downtown Miami hotel pickup and drop-off are included. Passport is required.
Highlights
Full-day excursion to Grand Bahama from Miami
Ride in a comfortable ferry to Freeport on Grand Bahama
Enjoy the fast ferry's onboard amenities including slot machines, a duty-free shop and full bar
Upgrade to first-class seating on the ferry for more space and service
Includes hotel pickup and drop-off
What You Can Expect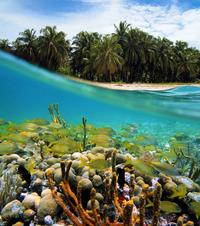 This full-day adventure to paradise begins with an early morning Miami Beach or downtown Miami hotel pickup. A state-of-the-art motor coach will provide transportation to Port Everglades in Fort Lauderdale. Then climb aboard a 1,000-passenger ferry, complete with casino slot machines, a full bar and a duty free gift shop, for a relaxing 4-hour journey to Freeport, Grand Bahama, one of the most popular islands in the Bahamas.
Upon arrival in Freeport, travel to the luxurious Grand Lucayan Resort and experience the hotel's facilities with a 1-day pass. Enjoy access to the private, white-sand Lucaya Beach or lounge by any of the three resort swimming pools. Then visit the neighboring Port Lucaya Marketplace, a vibrant, open-air shopping hub overlooking the waterfront. See one of the largest straw markets in the Bahamas, plus duty-free and handcrafted items galore. Also, don't miss Retail Street for jewelry and souvenirs.
Hungry? Savor the local flavors — from classic Bahamian fare like conch fritters, benny cake and guava duff — to an abundance of international cuisine, from the Mediterranean to the Pacific Rim. There's something for everyone.
After approximately six hours, return to the ferry for the voyage back to Florida and a Miami-area hotel drop-off.
Notice: Please provide the following information at the time of booking: hotel location, traveler names, nationalities, passport numbers and expiration dates and dates of birth. Reservation cannot be guaranteed without these details.

October 2015
Nice hotel, well organised, make sure you take your own beach towel or its 20 deposit for each towel
August 2015
I relaxed on the cruise there and enjoyed the Bahamian food once I got there. Once I got to the Grand Lucayan I was amazed. The beach and pool was amazing! Food was great the drinks were great and the staff was funny and helpful. I will take this trip again!
July 2015
November 2015
Should not have to pay for wifi
July 2015
Decent trip. Only had about 3 1/2 hours in the Bahamas...but it was enough time to:enjoy the beautiful beach, get some local food and do some souvenir shopping.
There is a lot in close proximity of the hotel (restaurants, rum shops, souvenir shops, corner store etc) so just make the most of it.
Ba
June 2015
I enjoyed the cruise but was disappointed with the amount of free time we got. The inclusions said 6 hours. It is more like 3/3 and a half which was definitely not enough. But all in all the resort and beach were beautiful.
December 2014
It was nice but never again on Sunday because half of the shops were closed.
September 2014
Definitely worth doing. Viator team communicated very well prior to and confirming tour. Bus driver 20 mins late, but fine as often due to passengers not being ready. Lots of waiting for the ferry and processing, but beautiful on arrival. The access to the Hotel was ideal - note a towel was not included in cost of resort fees, so worth checking prior to the trip. We went to Agave for lunch - good food and at the right price. The maps and booklets on the ferry were worth picking up. Overall a great day
Halin. Roy United Kingdom
February 2016
Again no hotel pick up had to pay over 80 for taxi service - very disappointed!!!!
It was cold in the Bahamas and there was nothing to do so overall a very disappointing trip!!!
April 2015
Dont always trust other reviews , just do it if you want the experience . These excursions are what you make of them and we had a great time .
Advertisement
Advertisement