Get up close for a personal experience with dolphins at the Miami Seaquarium, a world-class marine-life entertainment park. In the Dolphin Encounter, stand in a few feet of water as a dolphin swims around. Spend approximately 30 minutes shaking hands, sharing a friendly kiss, even trying some training signals. Upgrade to the Dolphin Odyssey to add an unforgettable swim on the back of a dolphin. A wetsuit (Dolphin Odyssey), towel, locker and day pass to all Miami Seaquarium shows and exhibits is also included.
Highlights
Miami Seaquarium dolphin experience
Choose between two different dolphin encounters
Shake hands, pet and feed a dolphin and even learn some training signals
Upgrade to the Dolphin Odyssey and swim on the back of a dolphin!
Both dolphin encounters include same-day admission to the Miami Seaquarium
What You Can Expect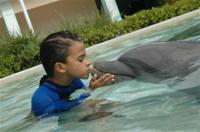 First, on the Dolphin Encounter, enjoy an informative classroom session to learn more about these intelligent and fun-loving mammals. Then during the program, stand in a few feet of water while the dolphin swims around. Spend approximately 30 minutes doing things like shaking hands, sharing a friendly kiss, even trying out some training signals. There is no swimming involved, so simply enjoy a relaxing and comfortable experience.
Upgrade to the Dolphin Odyssey and take an unforgettable ride on the back of a dolphin. It's a great way to experience the power of these magnificent creatures. This 30-minute, deep-water experience also includes kisses, handshakes, rubs, training techniques and time for feeding the dolphin.
Also included is a day pass to the Miami Seaquarium's shows and exhibits. The full-day admission ticket provides access to the 38-acre tropical paradise, featuring a variety of marine life, like dolphins, killer whales, sea lions, endangered sea turtles, manatees, stingrays and much more. Watch eight different marine animal shows and experience more than 10 interactive and educational exhibits.
June 2016
June 2016
May 2016
Experiencia unica, muy bonito. las Fotos que venden en Seaquarium demasiado caras 130.- Mas vale tener acompañante y q te hagan fotos.
March 2016
The Miami Sea Aquarium is a great trip.... The park is filled with fun things to do and see. The Dolphin Experience was wonderful. about 90 minutes and lots of fun. You learn a lot and spend some great time with the animals. It is clean, bright, comfortable , and all the staff is pleasant and so very kind....
July 2015
This was awesome! Surprised my husband for his 30th birthday and we both really enjoyed it.
August 2013
This experience was a highlight of my partner and my holiday! It was exhilarating and a beautiful experience. We were in a group of 6 people and had 30 minutes with the trainer and dolphin. There was a lot of 'hands on' the dolphin and a park member takes numerous photo's of you while you are at the poolside with the dolphin. The moment you took hold of the dolphins fin and it took you from one end of the pool to another, will stay with me forever!
We bought a CD with 36 photos of myself and my partner and the dolphin for $60. There was not a DVD but I was not too unhappy about this because I have heard form other people who have swum with dolphins elsewhere that the price of a DVD was over a £100 to purchase.
This was good value at Seaquarium and also the bonus of seeing all the attractions in the park was included in the price of the swim.
June 2013
February 2013
A dream come true!! Spent the whole day at the Seaquarium watching shows and seeing some amazing animals before taking to the water with the most friendly creatures in the world! Made memories that I will treasure forever! My dolphin experience was surreal, smiled all day long! Note: wear sunscreen!
January 2013
This is truly a once in a lifetime experience. The staff was very kind and showed lots of enthusiasm. You actually get to swim on the back of a dolphin and there are plenty of other interactions with the playful dolphins. This is definitely a highlight of our vacation.
trudman United States of ...
February 2016
The water was freezing because it was Ocean water. The Dolphins were very friendly.
I wished for more one on one with the dolphins but they seemed to be interested in
the instructors because they had the food.
Advertisement
Advertisement