Avoid the hassles of driving through South Beach and explore Miami for a day by bike. With this full-day bike rental, cruise down Ocean Drive, head to the beach and check out vibrant neighborhoods. Breathe in fresh air as you bike through South Beach and enjoy unique views of the city that you wouldn't get inside a car. Plan your route with a complimentary city map on your fun two-wheeled adventure!
Highlights
1-day bike rental in South Beach

Enjoy the fresh air and outdoor views of the city while getting a little exercise
Explore the city at your own pace

Complimentary maps of Miami Beach and South Beach

What You Can Expect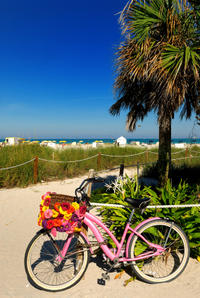 Take to the streets of South Beach by bike! With a full-day bike rental (a deposit is required), you can experience the attractions of South Beach and surrounding areas at your leisure while soaking up the sunshine and fresh air.

So put on your helmet (provided) and pedal off! Explore the Art Deco district, ride along the beach promenade and stop at some of the many boutiques for a shopping break. Best of all, no expensive parking rates to worry about.

For your convenience, you'll receive a map of Miami Beach, South Beach and downtown Miami to help you plan your itinerary.

May 2016

July 2015
Though old, gearless and only one equipped with basket, still best price for one day rental in SOBE.
When booked on line - the price was for same day return, but at rentall office we were informed that
price was for 24 hrs, even better!
December 2013
Just sorry that I have to give back bicicle at 18:30 I wanted have it more (In the night too)
March 2013
Nice bike, nothing fancy but not needed. So flat there. Price by far the very best in the area
April 2013
It's certainly a good idea to tour Miami beach on bikes; except the bike trails weren't nicely set up and observed.. The bikes were heavy duty, but difficult to maneuver (back paddle to brake only, without any speed)..
July 2015
We rented two beach cruisers from the venue and were given the "best" bikes in their inventory.
There were at least 20 or so bikes in the store that were all broken with flat tires, broken wheels, missing chains and broken seats. This was an obvious warning that we failed to heed.
We started off slow and noticed that both the tires on my bike needed air and the seat kept moving, I should have turned back right then. We made it half way to the south beach peir and boom the chains pops of my daughters bike. I fix the chain. We finally make it to the peir after riding slow and barely applying any pressure to the pedals. We then decide to make or way back up the beach and bam the chain pops again. At this point we decide to return the bikes to the venue, after fixing the chain yet again, we head back to the venue. Seeing that we are about a mile or so away, my daughter tries to ride the bike and sure enough the chain pops and her knee his the handle bars splitting her knee open. HORRIBLE!!
We walked the entire way back and turn the bikes in only to be met by the most volatile customer service I have ever had.
I explain my situation to the girls at the counter and the blame game starts. "Who checked the bikes out?" "Not me, wasn't me, not me either" no one wanted to take responsibility for doing a safety check. The manger was no where to be found and when the girl called him she told me "my manager doesn't care, I'm sorry." They refused to refund my money, they refused to fix the issue or even try to make the situation better.
Please take this review as solid advice and DO NOT DO BUSINESS WITH BIKE MIAMI/HALF PRICE TOURS! Their bikes are old, dirty, broken and dangerous the customer service is a wreck. Run far away from this venue. You are better off renting a art deco bike.
July 2015
Terrible. Bikes in poor condition. Service bad.
February 2015
old bikes, very dangerous to ride. try other vendor even more expensive will be safer. they charged me US$ 4,00 and still dont know why??? and is not for the locker this one i paid separetly
June 2013
We didn't do the activity in the end as when we went to the shop to rent the bikes there were none available!! We would have had to walk 30 mns to the next shop to get some. Disappointing!
Advertisement
Advertisement