Discover the remarkable beauty of Miami on a full-day electric bike tour to Key Biscayne or South Beach! This unique outdoor excursion takes you to islands, dramatic white-sand beaches and vibrant Miami neighborhoods full of colorful Art Deco architecture. Along the way, stop to buy refreshments and snap photos of the breathtaking scenery. See more of this dynamic city with ease on a zippy electric bike!
Highlights
Electric bike tour of Key Biscayne or South Beach, from central Miami
Cover more ground when traveling by electric bike, without getting tired!
Ride along the scenic Rickenbacker Trail on a tour around Key Biscayne
See landmarks of Key Biscayne including the Cape Florida Lighthouse, Stiltsville, and the old zoo
Visit South Beach and listen to an audio tour with narration by local celebrities, historians and artists among others
All instruction and equipment provided
What You Can Expect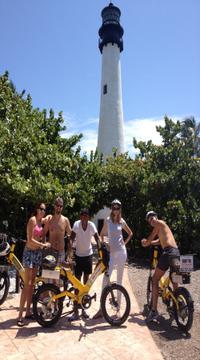 Choose the South Beach or Key Biscayne electric bike tour and head to the bike shop near Collins Avenue at the designated start time. Before setting off, your guide will get you a helmet and offer a safety introduction to the intuitive and easy electric bike. Fit with pedals and a small motor to propel you forward, this modern ride travels up to 20 mph (32 kph) and allows you to see more of Miami in less time.
Head out into eclectic and historic Miami, a city with a rich multicultural heritage and spirited social scene. Depending on your tour, ride to Biscayne Bay for a look at sites like Crandon Gardens and the lighthouse at Cape Florida State Park, or to South Beach to see the Venetian Islands. (Full itinerary listed below.) Along the way, listen to your guide's fascinating stories and insider tips about where to visit in the city.
Your tour ends back at the bike shop.
Itinerary
Key Biscayne (approximately 4- to 4.5-hours)

Follow your expert guide on a bike tour from Miami over the Rickenbacker Causeway to Key Biscayne Island. Traveling on the Rickenbacker Trail, you will cover much of the length of Key Biscayne. Admire beautiful views of Biscayne Bay, pristine beaches, and swaying palm trees along the way, with stops for cold refreshments (own expense) as you go.
Your guide points out landmarks such as the old Crandon Park Zoo, now open as Crandon Gardens with many local animals still present. Breeze through the shade of mangrove trees to reach the lighthouse in Cape Florida State Park. Dating from 1825, the lighthouse is one of the oldest buildings in south Florida.
Continue your ride along an oceanside trail that takes you past Stiltsville, a group of wooden houses constructed on pilings, so that they appear to float above the water. The area has a colorful history dating from the 1930s when the first house was built by Crawfish Eddie Walker.
After another refreshment break, your guide takes you on the scenic ride back to your starting point where your tour ends.
South Beach (approximately 1.5-hours)

Visit the famously glittering scene of South Beach on your electric bike tour with an accompanying guide. Make your way through the neighborhood and learn about the mix of old and new in this celebrated area, with trendy and quirky sights to go along with excellent people-watching. Ride past many of the Historic Art Deco period buildings and the Holocaust Memorial on the way to a beautiful ride over the Venetian Islands and a ride along gorgeous South Pointe Park. Cover more of the neighborhood with ease on your electric bike before returning to your starting point to end your tour.

May 2016
Did the south beach tour, very fun/interesting. The bikes are great! Very nice guide!

November 2015
This was the best tour I've ever taken. You get to see all of Miami in a different kind of way. I highly recommend it!
August 2015
This was such an awesome experience. Our tour guide was so great and funny and just great company. This was a part of my surprise anniversary vacation with my partner and she was unbelievably excited when we walked up to the bikes. It was easy to learn how to ride and once we got going, we were zipping through the city, learning about everything we wouldn't have about Miami. My partner wants to buy an electric bike now. I think it's good to know that you can also rent the bikes without the tour. it's a fairly good price and they drop off and pick up the bikes at your hotel. I would definitely so this again.
August 2015
Wonderful experience....highly recommend this tour
March 2015
This tour was absolutely fantastic . We had the most enjoyable afternoon seeing down town Miami, historic Miami and on to Key Buscayne! Our tour guide was fantastic , we stopped at a Cuban cafe for lunch!! I would highly recommend this electric nike your!! Thank you Ray!! Kathy
Advertisement
Advertisement