Kick back and relax while cruising around the islands off Miami's sunkissed coastline! The 6-hour island-hopping cruise takes in several Florida islands and includes snacks and soft drinks plus 1-2 hours of free time in each place. Bask on Bali-esque beaches, ogle jagged shorelines or snorkel around pretty island enclaves; how you enjoy your time is up to you!
Highlights
6-hour island-hopping cruise from Miami Beach
Explore the islands around Miami's coastline by boat
Enjoy ample free time on each island to sunbathe, swim, snorkel or stroll
Soak up the sun on deck while cruising from island to island
Savor light snacks as well as chilled water and juices while on board

What You Can Expect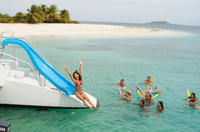 Start your day trip with a pickup from the Miami dock nearest to your hotel, and then travel by air-conditioned minibus to Miami Beach Marina to board your boat. Two boats travel on the same route at the same time, each holing a maximum group of ten people. Help yourself to water, juice and a selection of light snacks from the onboard bar, and then settle in — perhaps on the sun deck — for your lazy day of island hopping around the sunny coast.

Boasting surf-lapped shores with dreamy sand beaches and oversized palms, the islands off the Florida coast are perfect for a laid-back day out in the sun. While the exact islands visited are subject to change, your day trip typically includes three public islands in total, with between one and two hours of free time at each one.

Use your free time to swim in the shallow waters or maybe snorkel around the islands' hideaway coves. Some of the islands offer great opportunities for fishing, and the onboard crew can point you in the right direction for the best places to fish. Alternatively, soak up the sun with a book on a secluded beach, or visit a beachside bar for a meal (own expense).

After roughly six hours of cruising around the picturesque islands, return to Miami Beach Marina, and then finish the experience with a drop-off at your start point.
Advertisement
Advertisement