Discover your wild side on Jungle Island! Step into a lush, tropical jungle and mingle with birds, monkeys, and the worlds most rare creatures. Jungle Island is home to animal wonders like Hercules, a 900-pound liger, and Peanut and Pumpkin, twin orangutans. See spectacular animal shows including Winged Wonders, featuring the most lethal bird on the planet, and Tale of the Tiger, highlighting the world's most rare cats.
Highlights
Jungle Island Miami

At Miami's Jungle Island see a 900-pound liger, twin orangutans and some the worlds most rare creatures
See spectacular animal shows
For a more interactive experience upgrade to the Lemur experience

Take a swim at Parrot Cove, Miami's only private, swimmable beach!

Recent Photos of This Tour
What You Can Expect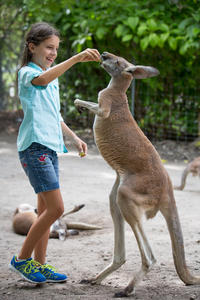 You can come "face-to-beak" with more than 200 parrots and macaws in the Manu Encounter, the world's only aviary replicating the clay cliffs of Manu, Peru. The Everglades Habitat recreates South Florida's unique "river of grass" and its wildlife. The park's huge collection of reptiles and amphibians, are housed in the Serpentarium.
The magic of Jungle Island really comes alive at the 1,200-seat Parrot Bowl, where you can be entertained by the park's world-famous bird shows, featuring the hilarious and amazing antics of trained parrots, cockatoos and macaws.
Bring your swimsuit and cool off from a the Miami sun at Parrot Cove, Miami's only swimmable beach (included in your admission).

Lemur Experience:
You're invited to enter the world of lovable Lemurs, the baby Lemurs from Madagascar. Only at Jungle Island will you have the opportunity to interact with these furry, golden-eyed primates. The 45-minute Lemur Encounter includes an educational session with the animal trainer and a chance to play with and hold these charming little rascals! The lemurs often make themselves right at home either on guests' laps, shoulders or heads. (Don't worry – they don't charge for their hair styling services.) After a lemur has leaped off of your head, you'll never be quite the same!
Itinerary
Winged Wonders
— Spread your wings and discover some of the world's most fascinating birds in this world-famous show, including a very rare Andean condor, a 6-foot-tall Cassowary, stunt-performing macaws, singing and talking cockatoos, and many other amazing feathered friends.
Wild Encounter
— Wild Encounter is an unbelievable interaction with some of the world's most fascinating felines and their human companions. And there is always a variety of cuddly cubs who are sure to bring a smile to your face?
Wild Adventures — Meet Doctor Wasabi as he heads out on safari, and discover some of the jungle's most rare and unusual residents.
July 2015
I love this place! Some ticketing errors on my part were quickly resolved and traded so there was no hassles.
December 2014
A very good zoo park with lots of handling opportunities. We enhanced our day with a private lemur handling experience, complete with photos and video, which we felt was worth the extra cost. We also bought a photo key, entitling us to copies of all the other pictures of our group that were taken by the park staff that day.
Lee M New Zealand
July 2014
Great day got up close and personal with many creatures. Only 10 min drive from south beach. The lemur experience was well worth it we were the only ones in the room and had plenty of time for cuddles, highly recommend!
June 2014
Great place to go with kids. Really enjoyed it. Paid for lemur experience as extra, very good.
March 2014
September 2013
This place was amazing! We got the Lemur experience and we were there just the two of us. The lemurs were so cute and they were climbing all over us and we got to hold a baby lemur...she was so cute! Also the birds around the park are amazing. I would go here again!

August 2013
Meeting the Lemurs was fantastic! Such amazing animals, and such an incredible and unique opportunity to get up close and personal with black and white ruffed lemurs (critically endangered) and red ruffed lemurs (endangered). Take a hair brush with you for afterwards - they love to sit on your head! You also get to spend a nice amount of time with them. Jungle Island is very interactive, and the bird show is lots of fun. Be sure to check out the Liger - amazing! We were lucky enough to see two newly hatched Flamingo chicks. All in all a really fun day with lots going on.
September 2011
Anonymous
June 2009
This was one of the coolest things I have EVER done! The Lemurs are so friendly and lovable that I wanted to spend the whole day playing with them.
Anonymous
June 2009
I loved feeding the penguins and being able to pet them, surprisingly they are very soft. The experience was very unique and memorable.
Advertisement
Advertisement