Experience the dynamic Cuban heritage of Miami on this 3.5-hour bike and food tour of Little Havana. Explore this lively Cuban neighborhood and learn about its fascinating history and culture, with stops at some of the best family owned and operated Cuban restaurants in the area. Sample the local cuisine, like a delicious medianoche sandwich or croquetas. All food tastings are included. Also, visit the Freedom Tower, an iconic Cuban landmark and the El Credito Cigar Factory, where skilled Cubans still roll cigars by hand today.
Highlights
Bike and food tour of Little Havana
Enjoy an easy bike ride through this bustling Cuban neighborhood of Miami
Get a taste of local Cuban flavors at several family-run restaurants
Sample Cuban dishes such as a Medianoche and croquetas with all tastings included
Visit the Freedom Tower, an important Cuban landmark in Downtown Miami
Learn about local culture and history from your guide
Recent Photos of This Tour
What You Can Expect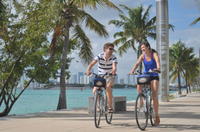 This 3.5-hour bike tour of Miami's Little Havana neighborhood begins at the Bayside Marketplace in Miami Beach. After a meet and greet with the guide, get fitted for the proper ride, strap on a helmet and take to the streets.
The easy eight-mile trek passes by several family owned and operated Cuban restaurants to sample the fresh flavors of the local cuisine, like a delicious medianoche sandwich, croquetas and more. Learn about the history and culture of the area's Cuban heritage.
Visit the iconic Freedom Tower, an ex-newspaper office and immigration facility where thousands of fleeing Cubans were received into the United States in the 1950s, forever changing the demographic makeup of this part of the country. The tower now houses the art exhibits of Cuban immigrants. There's also the El Credito Cigar Factory, where skilled Cubans still roll cigars by hand today.
The tour concludes back in Miami Beach.
September 2015
Tiago was an excellent host. His knowledge of the city, Little Havana, the culture and the food was outstanding. The ride was easy, not long and not strenuous. The bikes were in great shape. We stopped frequently so Tiago could explain about areas and their significance. We rode to Little Havana were we had out picture take by the Rooster, and then on to sample food and walk around Little Havana. The food was excellent. Tiago was able to explain the significance of each dish and how to eat it like a native. We left Little Havana with smiles on our faces and full bellies. If you like food and are interested in the history and culture of Little Havana you cannot miss with this tour and Tiago.
June 2015
It was a long bike ride but the tour guy was amazing. The food was spectacular. It's definitely worth the bike ride; the scenery was great to look at while riding
May 2014
This is a great way to explore a mix of the tourist and non-touristy areas of Miami. We called ahead of time to confirm our reservation. The staff is young and really great. Shawna was our guide and very helpful. She was very kind and made a couple of stops so we could catch a breath and take some pictures. The bike ride isn't 8 miles, it is more close to a 22 mile round trip, which takes approx. 5 hours depending on the size of group and number of breaks. So it isn't for someone who just wants a joy ride without physically challenging yourself. We rode over some pretty tall bridges and were sore by the end of the evening. We stopped at a Cuban restaurant in Little Havana and the food was amazing. I would recommend them if you want to do something different on your trip to Miami. p.s: they have different locations that you can start your ride from. We walked 10 blocks to one of their stops, only to later realize that there was one right behind our hotel. So ask them what is the closest location to your hotel when you confirm your reservation.
February 2014
This was one of the best things we did on our vacation in Miami. Be warned, Bike and Rolls computer system is not properly synced up with Viator's tour booking. When I arrived they has no record of my appointment. However they were able to accommodate me on time. Make sure to call confirm after u book
February 2014
What a great way to spend the day in Miami! Our tour guide, Oasis, from Bike and Roll, was a wealth of information about the art deco architecture and the history of Miami and Little Havana. Our small group was expertly guided for almost 6 hours, including a fabulous lunch in Little Havana (plus icecream for dessert). We felt safe, at all times, and well taken care of. Bikes were comfortable and well maintained. Because of what we learned on this tour, we were able to rent bikes again, later in our stay, and self-navigate all over Miami Beach and Miami, all the way to the Coconut Grove Arts Festival, and other sights. Highly recommend this tour.
February 2014
Everything was fantastic. Great guides, beautiful day, good food and friendly people.
February 2014
We had a wonderful trip with our guide Oasis. From 9 to 52 years everybody had a blast.
January 2014
Great experience. This is a great opportunity to see the city, have fun and work out at the same time. Take the tour with Oasis, you wont regret it.
December 2013
We had an amazing tour!! Best thing we have done in Miami..
April 2014
This was a very interesting tour and the best way to see Little Havana. Our tour guide was interesting. The food in Little Havana was quite tasty. We really enjoyed the Domino stop. The only issue with the tour was that it was much longer than advertised. Much closer to 20 miles than 8 miles. It wasn't a difficult ride at all but those who don't bike much might find it a little taxing. This is my second Viator Bike Tour. I wouldn't want to see a city any other way.
Advertisement
Advertisement