Discover the best of Miami and its most popular neighborhoods on this guided, 4-hour bus tour around the city. Admire the sun-splashed skyline of downtown Miami, stop at the Bayside Marketplace and visit the popular and glamorous South Beach neighborhood and famous Art Deco District. Enjoy the vibrant, Cuban atmosphere of Little Havana. Drive through Coconut Grove, the oldest continuously inhabited neighborhood of Miami. Learn about Miami's history and culture from the local driver/guide and make several stops along the way for photos. Miami Beach hotel pickup and drop-off included.
Highlights
Bus tour of Miami including stop at Bayside Marketplace
See Miami's best-known neighborhoods including the Art Deco District, South Beach, Coconut Grove and Little Havana
Learn about Miami's history and rich culture from your knowledgeable guide

Savor Miami's relaxed atmoshpere at the open-air Bayside Marketplace, featuring more than 100 shops and 30 restaurants
Upgrade to take a 1-hour cruise on Biscayne Bay and capture photos of the sprawling homes on 'Millionaire's Row'


Recent Photos of This Tour
What You Can Expect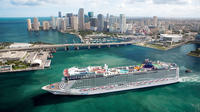 This comprehensive bus tour around Miami and its surrounding neighborhoods begins with a Miami Beach hotel pickup. Sit back, relax and take in the sights as the driver/guide talks about Miami's rich culture and history.
See the towering skyscrapers that make up downtown Miami's beautiful skyline. Check out the colorful buildings in the Miami Beach Architectural District, aka the historic Art Deco District. There's popular and glamorous South Beach, affectionately known as the American Riviera. Drive through Coconut Grove, the oldest continuously inhabited neighborhood of Miami, and Coral Gables, home to the University of Miami. Visit the Little Havana neighborhood, where an abundance of Cuban immigrants and many others from Central and South America reside.
There will be a 1-hour stop for a bite to eat (own expense) at the popular Bayside Marketplace, a festival destination for shopping, dining, and entertaining plus additional brief photo opp stops at top landmark locations.
As an additional option, instead of spending time at the Bayside Marketplace, hop on a 1-hour cruise (own expense) along beautiful Biscayne Bay, to see Miami from the water.
The tour concludes with a Miami Beach hotel drop-off.
Eduard K USA
April 2015
March 2015
Really good tour! The driver told us lots of history and made it very interesting. Worth the price!
October 2015
The trip was very nice. We visited different sections all over the city of Miami. My mother really enjoyed it. There just needs to be more clarification as to which bus you are getting on and the itinerary.
April 2015
audio on tour bus was below quality. Guides were friendly and knowledgeable. Bus was clean and in good condition. First time in Miami, saw lots of interesting places to later visit.

December 2014
The tour guide "JP" was knowledgeable and personable. The tour though seemed to be lacking in substance. We parked outside of a walled house for fifteen minutes while he told us that Sylvester Stallone and Madonna had lived in this neighborhood....(who cares about that?). Then when we got to Little Havana, we had just enough time to go to the bathroom, then back on the bus...so we really have no idea of what Little Havana had to offer. We really just felt that it was not worth the money. Plus we signed up for an English speaking tour, and it part English and part Spanish, which took away from the time available for the tour. I would not recommend this tour to any of my friends visiting Miami.
September 2015
Our experience encapsulated most of the other one star comments and more. Our pickup was almost a half hour late. We booked and got the confirmation that we were on an air conditioned mini bus with an English guide. They did put us on the mini bus that was pictured in the ad, but then pulled us off after we had driven about a block and asked us to walk back to another bus behind them. It became clear then that they had put us on a Spanish speaking bus. The second bus was not an air conditioned mini bus, but a double decker open air on the top. That tour guide was a little confused as to why they put us on his bus, but was accommodating and pleasant. This was a mixed English/Spanish tour and although it did go to the places on our original itinerary, it was not what we paid for and we felt taken advantage of, but decided to make the most of it and have a positive attitude during the ride. The other comments about the Miami management of these tours being very subpar are too too true.
February 2015
We waited and waited, no tour bus came . We called every tour company and no one had our reservation. We were left with no way to contact Viator or any other company. If we ever make a reservation and Viator is the billing company we will not use it and advise all of our friends of our upsetting experience. I chose this tour because my husband has walking troubles.
February 2015
very little history/info on this tour, some confusion between online description and reality on how the time would be spent, told where to eat and didn't stop and see things that were noted on web site
September 2014
we only saw little havana and a small area outside there and were collecting people unitl 10.10am I was then taken back to the marina/shopping mall at midday and told to wait at the bus stop unitl 12.30 for my ride back to the hotel. Quite disappointing really and unfortunately I cannot acutally prove this but it has put me off using that particular company again
July 2014
My reservation was messed up the first day. i bought the English 4 hour bus tour from 9 - 1. the directions said to be ready 15 minutes before tour start time. i have done several Viator city bus tours in multiple cities. no problems. at 9:20 we contacted the number on our reservation. it was sunday so we left a couple of messages. when they got back to us they sent the wrong tour to pick us up (everglade tour) and at that time the bus tour was already on its way. we rescheduled to following day. they told us to be ready by 9:20 for the 9 AM tour. this is where the tour went downhill. on monday after we were picked up at 9:25 we drove around to multiple resorts picking up people and pulling to the side to wait and switch buses. by 10:20 we had everyone for the 9 - 1 tour. during all of that driving to pick up people not one word was said from the bus guide. we had two at that time because we had to switch buses once. we drove all through South Beach, too. not one word. we drove to little havana after a brief drive through the south beach area (maybe 10 minutes spent driving through there). driving to little havana took some more driving time. Not much was said during that drive on the highway. we went to Coral Gables and then we went to Bayside. on the way to little havana we learned that our tour was also going to be dropping off for a boat ride. at that time we notified our driver that we didn't pay for that upgrade. at bayside they dropped off at 12:25 (you see that we drove from 10:25 to 12:25 for the bus tour). the boat was picking up at 2:15 PM. Our guide arranged for us to go back to our hotel at 1 PM. we had a quick lunch at the bay (Subway). so we spent more time driving to 3 locations - stayed in little havana for 30 minutes at a cigar shop where we tasted the cuban coffee. coral gables another 20 minutes to see biltmore hotel property. this tour was really bad - save your money and time.
Advertisement
Advertisement