Soar high above Miami's beautiful waterfront on this guided, 30-minute or 1-hour, small-group flyboard excursion. Rise to 45 feet above the turquoise waters of Biscayne Bay, propelled by the power of this water jet pack, providing a one-of-a-kind view of Miami Beach and the surrounding area. Get personalized attention and professional instruction, then grab the throttle and ride the flow. It's a thrilling experience unlike any other. Boat transport, safety equipment and bottled water included. Free parking is available in Coconut Grove.
Highlights
1-hour or 30-minute Miami flyboard experience
Cruise from Coconut Grove along beautiful Biscayne Bay
Strap on a water-powered flyboard and soar 45 feet above the water!
Certified instructors ensure safety through training – no experience necessary
Small-group tour limited to six people ensures a more personalized experience
What You Can Expect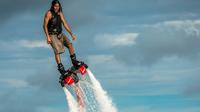 Meet the certified instructor in Coconut Grove where this tour begins. After a brief training session that will clearly explain how to operate a flyboard (don't worry, it's simple), climb on board a boat and set out along the sparkling waters of Biscayne Bay.
Enjoy the view of Miami's sun-splashed skyline, plus Fisher Island, Miami Beach, the Port of Miami's cruise ship and cargo districts and much more. Check out the high-rise hotels and condos plus the spectacular multi-million-dollar ocean front homes that line Miami Beach. And don't forget to look down into the crystal clear water for the exotic marine life, like manatees, dolphins, manta rays and more. Miami offers a breathtaking view no matter where you look.
Out on Biscayne Bay, feel the rush of adrenaline as the flyboard surges into the air under the steady stream of the water jet pack. The instructor will be close by, communicating with a wireless, waterproof radio and fly-by wire throttle control. As each "student" boarder is able to show their sense of balance and control on the flyboard, the guide will surrender control of the throttle. Most people can fly on their own in approximately six to eight minutes.
Practice the art and sport of flyboarding — steering, elevation control, deep-water landings and walking on water — or try more complex moves like low hovers and donut turns. Ask the guide about these once the basics have been covered.
The tour ends with a return cruise to solid ground at Coconut Grove.
May 2016

July 2015
It was amazing, super friendly team, very patient! It was an unforgettable day!!!
the only detail of the person answering the phone does not speak very well English and Spanish! but i really enjoy it!!! thank you
September 2014
Fantastic fun well organised would recommend a try. Whole experience lasts an hour that includes speed boat ride out to the ocean and instructions, plenty of time for perfecting your moves on the fly board .

September 2014
Fantastic tour the boys loved the experience. Would definitely recommend it. Be warned though you have to pay $30 if you want to go along to film and take pics. I wasn't doing the flyboarding but had to pay if I wanted to go on the boat.
March 2014
Was awesome had a great definitely plan on doing it again on my next trip to miami. :)
February 2014
This was an amazing, 'must try' experience. The training was superb, friendly and supportive. Lots of fun!
December 2013
The most fun and excitement ever! Wonderful instructors including a world class winner. Whatever you think you need to do in FL, make sure you put this at the top of your list. Didn't think I'd have so much the first time out, but I did! There is nothing like it. So amazing. it was the highlight
November 2015
Advertisement
Advertisement