Travel from Miami to Key West in a convenient, stress-free way! Leave the driving to the professionals and relax in a comfortable bus as you make the picturesque trip down the Florida Keys to Key West. This is a great way to get to Key West, where you can stay a night or two (or 10!), enjoy the great restaurants and nightlife, and enjoy return transportation back to Miami. Hotel accommodation is not included.
Highlights
Round-trip transportation from Miami to Key West

Enjoy the relaxing and scenic drive through the Florida Keys
Stay as many nights as you'd like in Key West (hotel accommodation excluded)
When you're ready to go back to Miami, enjoy the same convenient transportation!

What You Can Expect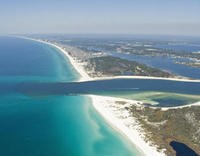 The scenic drive from Miami to Key West is made for looking out the window at the islands of the Florida Keys, not keeping your eyes on the road. This round-trip transfer from your Miami hotel to Key West allows you to sit back and enjoy the views from a comfortable bus; there will be one rest stop on the way.

At approximately 12 pm, you will arrive in Key West and be dropped off downtown at the Mel Fisher Museum at 200 Greene Street. Stay in Key West for as many nights as you'd like -- just remember to provide your desired return date in the Special Requirements field when you book this transfer.

Enjoy your time in Key West, strolling down the leafy streets, touring historic houses, relaxing on the beach or enjoying water sports. When you're ready to go back to Miami, you'll enjoy the same convenient transportation.

Important: Please advise of your preferred return date at the time of booking in the 'Special Requirements' field. You will need to reconfirm with the local operator to obtain your departure time from Key West.
November 2015
Everything was on time and on plan. The guide was very friendly and informative. You see a lot more from a bus than from a car and you don't have to pay for parking. Well worth the money.
February 2013
Although there were issues re confirmation, partly my fault, the Gray Line Express bus from Miami Key West is an excellent option. Taking the iconic Highway 1, it is fast, reliable.
June 2013
The tour started off well: the Key West Express bus arrived early. However, some later customers didn't turn up so we wasted half an hour waiting for them. On the way, we passed another bus (Half Price Tours) which had broken down and, since we had empty seats, we gave some of them a lift. However, later on, a tyre burst and we were delayed two hours waiting for someone to come and fix it. This was annoying but not anybody's fault . The day visitors were compensated by the guide extending the return time to give them the full stay of six hours. We were staying overnight in Key West so, whilst being annoying, it didn't really affect us. While we were waiting for the tyre to be fixed, a replacement Half-Price Tours bus arrived and picked up the 24 passengers whom we had helped out. We asked about the pick up arrangements for our return the next day and were given a phone contact to ask the following afternoon. When we phoned we were told that the bus would start boarding at 5.40 to leave at 5.45. We duly arrived in good time at 5.15. By 5.40 no Key West Express bus had turned up (although another chap was waiting for the Half-Price Tours bus). We phoned the contact again and then were told that we would be picked up by the Half-Price Tours bus with the driver Louis. Shortly afterwards, a driver came along looking for Half-Price Tours customers (he had parked his bus round the corner). He didn't seem to have a record for us but when I mentioned the phone contact and driver Louis he said it was OK. However, when we reached the bus we found that some people were standing outside saying that there was not enough room for everybody. Eventually we got on, but the driver had to leave two people behind. The bus seats were more cramped than the Key West Express and there was no guide. Moreover, we have found out subsequently that Half-Price Tours price was two-thirds that of the Key West Express, so I think we need to have some compensation for our hassle and inconvenience.
Advertisement
Advertisement