Enjoy the last few days of living the carefree bachelor lifestyle with this South Beach Bachelor Party Package. Get a Miami Party Pass and enjoy instant access to the hottest clubs in South Beach. There are no lines and there's no waiting. Just get the pass and visit the clubs on four consecutive nights. Also, receive a party guide listing the best parties in town, plus the types of music and crowd at each club. A personal party consultant and complimentary admission to Tootsies Cabaret included.
Highlights
4-night South Beach party package, perfect for your Miami bachelor party!
Get VIP access to 10 of the hottest nightclubs in Miami, Miami Beach and South Beach
Enjoy personalized attention from your personal party consultant, who'll get you anything you need
Gain insider tips on the best places to party
Receive special discounts on select tours and activities in Miami
What You Can Expect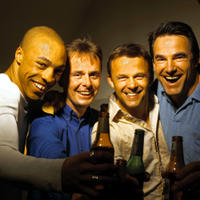 Wondering where to hang out and party in Miami for a bachelor party? And where the best clubs in the city are? Look no further than the versatile Miami Party Pass. Choose the 4-day pass, then visit any of the clubs in the program on consecutive nights. Some of Miami's hottest clubs are listed, including:
Purdy Lounge
Rooftop Lounge at Townhouse Hotel Miami
Kevin and Caruso Magic Comedy Show
Gemma Lounge
Club Space
Jazid
B.E.D.
Mango's Tropical Cafe
Monty's on South Beach
Tootsie's Cabaret
Also provided with the Miami Party Pass is the "Where to Party" handbook, listing the top parties of the week as well as the type of music and crowd at each nightclub. Don't keep guessing where to party in Miami. This handbook lists the best parties and clubs in town. And enjoy access to a personal party consultant with complimentary admission to Tootsies Cabaret included.
Finally, for some added daytime fun, receive great discounts on select tours and activities around South Beach, including scooter and WaveRunner rentals.
Advertisement
Advertisement