Hop on a Segway and explore the Art Deco District, beachwalk and attractions of South Beach at your leisure. This two-wheeled personal vehicle can take you places that a car can't and do so at a faster pace than walking! It's the perfect way to sight see. Pick up your Segway in the Miami Beach area and spend your choice of one or two hours exploring the scenic sights of South Beach!
Highlights
Segway rental in South Beach
Explore at your own pace
Choice of either a 1-hour or 2-hour rental
Map of South Beach included
Cover more area than you would on foot!
What You Can Expect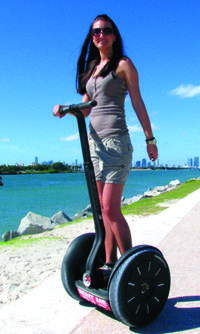 Explore as much of South Beach as you want and at your own pace with a Segway rental. On a Segway personal transporter, you can cruise down Ocean Drive, South Point Park in South Beach.

Combining the ease of a Segway, with South Beaches navigable streets makes renting a Segway a great way to explore. Highlight the points of interest you want to see on your complimentary map of downtown, Miami Beach and South Beach, and set out on a fun Miami city adventure.
June 2015
Really great afternoon with Ricky. It's very relaxed as in don't bother with pads and stuff but I prefer it that way. I've done 3 Segway sessions and this one was by far the best. 2 hours of sight seeing. We would only have seen a fraction of Miami without the Segway. So easy to master.
March 2015
It was an awesome experience for grandparents and our granddaughter! The pre-instruction was terrific, and we felt safe when we took off. Seeing South Beach by Segway was so much fun! And the price was fantastic! Thank you Viatar!
December 2014
The entire experience was awesome. SBSR was very helpful and courteous. We had a great time and would do it again.
August 2014
The experience was fantastic. Really enjoyed. My wife and I tried it for the first time and we we're thrilled with the ride. The tour company renting out the Segway were professional and provided very good service, making the process of learning for first timers very simple.
April 2014
Husband and daughter really enjoyed using the Segway and were surprised how easy it was to use. They took then down Ocean Drive -fantastic.
March 2014
Great fun and super way to explore south beach.
December 2013
We LOVED this experience! It rained during our scheduled time so it was postponed until the next day and because of the weather we were given an additional 30 minutes to enjoy the segways! Highly recommend this to everyone!!!
September 2012
These segways were better than ones my son tried in other places. It was my first time - I was a bit scared but we had a lot of fun. Going on our own made it extra fun.
July 2012
Great Staff, GREAT service, Great service. GO, GO, GO, GO!!!
November 2015
Gordon was a good guided and he guided us well. I have one suggestion, please match the speed of the customers. My wife was very slow and could not catch up with both of us and i would prefer the guide to be match the pace of customers if they are unable to increase the speed. She fell down and hurt her backbone very badly and we both were ahead of her and both of us didnt notice. It wasnt his fault but as a precautionary measure it would be better if guide matches our pace and be with us. Additionally i would suggest them to provide helmets, We both were not given helmets. If by chance our head hits somewhere it is risky.
Advertisement
Advertisement