Don't have time for a walking tour but still want to get out and see the sites of South Beach? There is no better way than on a swift and sleek Segway. Choose from either a 1- or 2-hour rental, then proceed at any pace. See Miami's sun-splashed skyline and explore the Art Deco District, the beach walk and all the attractions of beautiful South Beach, one of the most popular hot spots in the world. Instructions and training, plus a map of South Beach included.
Highlights
Segway rental in South Beach
Explore at your own pace
Choice of either a 1-hour or 2-hour rental
Map of South Beach included
Cover more area than you would on foot!
What You Can Expect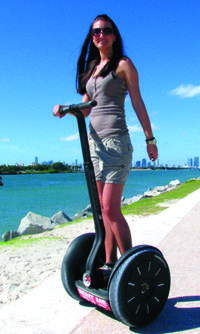 There is plenty of terrain to cover in the Miami neighborhood of South Beach. Rather than be confined to the parameters of a tour group, explore at any pace or direction desired with a 1- or 2-hour Segway rental starting in Miami Beach.
After some basic instruction, if needed, it's time to hit the open road.
Cruise down bustling Ocean Drive, the major thoroughfare in South Beach. Glide by the Villa Casa Casuarina, aka the Versace Mansion, the famous Art Deco District and the Lincoln Road Mall, all the way to the edge of beautiful Biscayne Bay. Along the way, enjoy stops for photo opps of the Miami skyline and other landmark locations in this popular part of Miami.
If there's time, glide along the Miami Riverwalk, extending along the north side of the Miami River and Biscayne Bay through Bayfront Park. This is where the Atlantic Ocean, Miami River and Biscayne Bay all merge together into one beautiful body of crystal clear water. See the luxurious high-rise condos, the multi-million dollar yachts and the mammoth cruise ships.
This Miami Segway adventure concludes back at its starting point in Miami Beach.
June 2015
Really great afternoon with Ricky. It's very relaxed as in don't bother with pads and stuff but I prefer it that way. I've done 3 Segway sessions and this one was by far the best. 2 hours of sight seeing. We would only have seen a fraction of Miami without the Segway. So easy to master.
March 2015
It was an awesome experience for grandparents and our granddaughter! The pre-instruction was terrific, and we felt safe when we took off. Seeing South Beach by Segway was so much fun! And the price was fantastic! Thank you Viatar!

December 2014
The entire experience was awesome. SBSR was very helpful and courteous. We had a great time and would do it again.
August 2014
The experience was fantastic. Really enjoyed. My wife and I tried it for the first time and we we're thrilled with the ride. The tour company renting out the Segway were professional and provided very good service, making the process of learning for first timers very simple.
April 2014
Husband and daughter really enjoyed using the Segway and were surprised how easy it was to use. They took then down Ocean Drive -fantastic.
March 2014
Great fun and super way to explore south beach.
December 2013
We LOVED this experience! It rained during our scheduled time so it was postponed until the next day and because of the weather we were given an additional 30 minutes to enjoy the segways! Highly recommend this to everyone!!!
September 2012
These segways were better than ones my son tried in other places. It was my first time - I was a bit scared but we had a lot of fun. Going on our own made it extra fun.
July 2012
Great Staff, GREAT service, Great service. GO, GO, GO, GO!!!
November 2015
Gordon was a good guided and he guided us well. I have one suggestion, please match the speed of the customers. My wife was very slow and could not catch up with both of us and i would prefer the guide to be match the pace of customers if they are unable to increase the speed. She fell down and hurt her backbone very badly and we both were ahead of her and both of us didnt notice. It wasnt his fault but as a precautionary measure it would be better if guide matches our pace and be with us. Additionally i would suggest them to provide helmets, We both were not given helmets. If by chance our head hits somewhere it is risky.
Advertisement
Advertisement