Create an epic road trip with a convenient and comfortable multi-day campervan rental from Miami. You can travel to the Everglades, Key West, Daytona Beach, Walt Disney World in Orlando, beaches on the Gulf of Mexico and other destinations around Florida. Rentals last for seven or 14 days, with 24-hour roadside assistance and 100 miles (161 km) of mileage included each day. Your fully equipped campervan rental comes with bedding, kitchen gear and picnic chairs — you simply choose your itinerary and enjoy the drive!
Highlights
Campervan rental from Miami
Select either a 7- or 14-day campervan rental depending on your time frame
Plan a custom itinerary that suits your interests
Drive to top attractions such as Walt Disney World, Key West, the Everglades, the Gulf of Mexico, and more!
Relax in the comfort of a van that is specifically designed for overnight excursions
Equipped with bedding, kitchen accessories, picnic chairs and heaters
Includes 100 miles of mileage each day and reliable 24-hour roadside assistance
What You Can Expect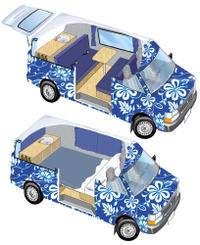 You have two choices of fuel-efficient campervan to rent in Miami for a period of 7 or 14 days: the Malibu or the Maverick.

The Malibu is a Chevy Astro that sleeps as many as three people. It is a great choice for longer rentals or for those people that are on a budget.

The Maverick is a Ford E150 that sleeps up to four people. Equipped with larger beds and more roomy storage, this campervan works well for families or those who want more space.

Both models come equipped with the essentials for multi-day exploring, including bedding, compressor fridge (Maverick) or cooler box (Malibu), kitchen accessories, heaters and picnic chairs. You can opt to add tents, bike rack, GPS, snow chains, and more at an additional cost.

After cruising around the vibrant neighborhoods of Miami, follow your own itinerary to a variety of destinations. From the Magic City, head north to Orlando where you can spend time at Universal Studio's Islands of Adventure or Walt Disney World. Or make the short drive to explore the great outdoors of the Everglades National Park and glimpse the gators and egrets. Get into the laid back groove of Key West, catch a wave in Daytona Beach, or learn about historic Saint Augustine — North America's oldest continuously-occupied European settlement.

With 100 miles (161 km) worth of mileage included each day, you'll have a head start on your choice of destinations. When you come to the end of your road trip, you'll drive back to Miami to drop off your campervan.

Rentals are seasonal and only available from October 1 - June 30.
Advertisement
Advertisement