See the best of beautiful Italy on this 9-day tour from Milan! With an expert guide at your side, visit Rome, Umbria, Tuscany, Veneto, the Italian Lakes and Milan, taking in world-class attractions like Rome Pantheon, Florence Duomo and Venice's Basilica di San Marco. Hotel accommodation in the top cities of Rome, Florence, Venice and Milan are included, plus guided walks and a free departure transfer to Rome (should you need it), ensuring you have everything you need to discover Italy with ease!
Highlights
9-day highlights of Italy tour from Milan with an expert guide
Visit the Eternal City of Rome and see top attractions like Trevi Fountain on a walking tour
Explore the UNESCO-listed town of Assisi in Umbria and then head to Tuscany to visit Siena and Florence
Discover the charms of the Veneto region during trips to Venice, Verona and Padua

Relax on the shores of Lake Garda and Lake Como before visiting the urban metropolis of Milan
4-star hotel accommodation in Rome, Florence, Venice and Milan included
What You Can Expect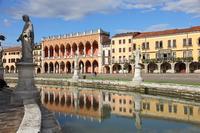 Start your tour with a visit to Italy's mighty capital, Rome, to see the place that was once the heart of the Roman Empire. Aptly known as the Eternal City, Rome has timeless appeal, and during your visit you'll be bowled over by its collection of grandiose monuments. Spend two nights here, enjoying independent sightseeing time plus a guided tour and experience the best of this world-class city.

Head north into Umbria, visiting the UNESCO World Heritage town of Assisi, and then delve into Tuscany – a region typified by its lush countryside of rolling hills and sun-drenched vineyards. With the area's capital, Florence, as your base for two nights, your tour takes in the top cities in this gorgeous region; relax in Siena, see Renaissance art and architecture in Florence and go on an excursion to Pisa if you wish.

Venture east from Tuscany into the Veneto and spend two nights in beautiful Venice, getting to know its myriad of canals and Gothic palazzos. Soak up the ambiance on a walking tour, visit the islands of Murano, and then discover the neighboring city of Padua.

The last part of your tour includes a day in the Italian Lakes, visiting Lake Garda and Lake Como, before staying in Milan overnight. See top attractions in this glamorous northern city, and then finish your tour with a drop-off at Milano Centrale station. Alternatively, make use of a complimentary transfer back to Rome.

Please note: The listed price does not include a city tax, payable at the time of hotel check-in. The tax is required by the hotels and is not within our control.
Itinerary
Day 1: Milan (D)
Arrive in Milan independently and meet your guide at your Milan hotel Antares Concorde. Enjoy your dinner at the hotel and the rest of your evening at your leisure.

Overnight: 4-star Hotel Antares Concorde in Milan

Day 2: Milan - Rome (B)
After your buffet breakfast at the hotel get ready for a panoramic tour of the city which including the shopping Gallery Vittorio Emanuele II, the Sforza Castle and the Duomo, one of the world's largest and most striking Gothic cathedrals.
Leave the city by air-conditioned coach. With few stops throughout the day to stretch your legs and buy meals, your tour heads south in the direction of Italy's Lazio region. Arrive in Rome by late afternoon, check into your hotel and then relax at leisure. Perhaps take a leisurely walk to Villa Borghese, Rome's tranquil park, or explore the city's vibrant neighborhoods like Trastevere or Testaccio.

Overnight: 4-star Hotel Gioberti in Rome

Day 3: Rome (B)
After breakfast, head out on a 3-hour walking tour with your guide to discover Rome. Starting from Largo di Torre Argentina – a quiet piazza boasting Roman temple ruins – your route continues to Campo de Fiori, Rome's louder-than-life central square. Stroll to Piazza Navona with its Baroque fountains and pavement-side cafés, and then see unmistakable monuments like the Pantheon. Amble past the Spanish Steps and throw a coin in Trevi Fountain for good luck!

Your walking tour ends in the center of Rome – perfect for sightseeing independently if you wish. Return to your hotel in the evening, and spend the rest of your night in Rome at leisure.

Overnight: 4-star Hotel Gioberti in Rome

Day 4: Rome – Assisi – Siena – Florence (B, D)
After breakfast, leave Rome early, traveling north by coach to the Umbrian town of Assisi. On a walking tour of the village, see sites frequented by Assisi's patron, St Francis of Assisi, and hear about his life here – first as a young man of wealth and then later as a poor street preacher. Visit the Basilica of St Francis to see incredible early Renaissance masterpieces by Giotto and Cimabue, and then enjoy free time for lunch (own expense).

Continue to Siena, one of Tuscany's most popular towns, to spend your afternoon at leisure. Perhaps explore its UNESCO-listed historic center or relax in Piazza del Campo, the beautiful square that featured in the James Bond film Quantum of Solace. Leave Siena in the late afternoon and travel north to Florence. Check into your hotel in time for dinner.

Overnight: 4-star Hotel Rivoli in Florence

Day 5: Florence (B, D)
After breakfast, meet your guide for a morning walking tour around the city. Concentrating on Florence's countless Renaissance-era sites, your tour takes in city highlights like Florence Duomo (Cathedral of Santa Maria del Fiore), Giotto's Bell Tower and Santa Croce – a 13th-century Franciscan church that's home to Cimabue's famous Crucifix painting.

Stop for lunch (own expense) and then spend the rest of your day sightseeing independently. Perhaps stroll along Florence's eye-catching medieval bridge -- the Ponte Vecchio -- or arrange an excursion with your guide to nearby Pisa (own expense).

Overnight: 4-star Hotel Rivoli in Florence

Day 6: Florence – Padua – Venice (B, D)
Enjoy breakfast and then travel northeast by air-conditioned coach. Your first destination is Padua – Venice's lesser-known (but just as charming) neighbor – which you'll get to know on a walking tour.

Stroll around Padua center and head inside St Anthony's Basilica – the city's most celebrated monument. Admire its extravagant high altar, decorated by early-Renaissance artist Donatello, and then admire the Equestrian Statue of Gattamelata (another Donatello masterpiece) from outside.

After a break for lunch (own expense), continue to nearby Venice by coach. Check into your hotel and then set out to see its most famous sights. With your guide, stroll through Piazza San Marco and marvel at historical monuments like Basilica di San Marco. Learn of the doges who once ruled Venice by dastardly means, and then visit the Bridge of Sighs where prisoners were led before being locked away. Return to your hotel for dinner, and then spend the rest of your evening at leisure.

Overnight: 3-star Hotel Continental in Venice

Day 7: Venice (B, D)
Relax over breakfast and then take a boat ride to Murano – a colorful cluster of close-knit islands in the Venetian lagoon. Once a commercial port, Murano gained a reputation for glassmaking in the early 13th century – producing items that were (at that time) either rare or non-existent in Europe.

Watch a glass-blowing demonstration inside a Murano workshop and see local glassmakers in action. After some free time here to sighsee or to shop for quality Murano glass souvenirs, return to your hotel by boat for dinner and then spend your evening at leisure.

Overnight: 3-star Hotel Continental in Venice

Day 8: Venice – Verona – Italian Lakes – Milan (B, D)
After breakfast, leave Venice and travel west by coach to Verona. Famously the setting for Shakespeare's Romeo and Juliet, this enchanting Veneto city has gained UNESCO status for its collection of monuments from eras dating back to 1st century BC. On a walking tour, see top Verona attractions like Piazza della Erbe and Juliet's House, and lose yourself in the setting of the world's most tragic love story.

Continue to Sirmione at Lake Garda, and explore the little peninsula town with your guide. As you stroll, admire its colorful streets, Roman ruins and the 13th-century Scaligero Castle – all set against the picturesque backdrop of Italy's largest lake. Enjoy free time for lunch (own expense), and then continue by coach to Lake Como, in the foothills of the Rhaetain Alps. Walk around one of the lake's waterfront villages and soak up the laid-back atmosphere of Italian lakeside life.

Leave the lakes in the late afternoon and travel by coach to the city of Milan, roughly 1.5 hours away. Check into your hotel, enjoy dinner, and then relax at leisure.

Overnight: 4-star Hotel Executive in Milan

Day 9: Milan (B)
Enjoy breakfast in your hotel. Your tour finishes here or you can hop aboard an air-conditioned coach for a transfer to Rome Termini train station. Simply advise your guide on the day!
June 2015
We took the 9 Day Best Of Italy Tour from 24 April 2015 and overall were happy with the tour. It was a small group tour in a 25 seater bus and while it is called a 9 Day Tour it is basically 6 full days of touring ie Day one is simply arriving in Milan, Day two is mainly travelling from Milan to Rome with just one stop on highway for lunch at your expense and day three is departure from Milan. It does say that there is a tour of Milan on Day two but this is minimal because it is about a seven hour trip to Rome. Depending on what time you arrive or leave Milan determines how much of Milan you can see. The accommodation at all cities was quite good but hotel in Venice was a stretch to call it 3 star. The Hotel was beside the grand canal and s hard to get a reasonably priced hotel in this location no doubt. Driver Stephano and Tour Leader Pierre kept every thing running like clockwork and if any problems arose the Tour Leader was able to solve them. Some points to note maybe are as follows. In each city a city tax of around five euros per person is payable and this is not included in the tour price. Secondly no drinks are included with the evening meals that are provided and it would have been nice to have had a complimentary drink at the beginning of the tour or be told about the drinks before tour commenced. Thirdly the tour involves a reasonable amount of walking and one needs to be aware of this plus you are responsible for taking your suitcases to and from the bus and your hotel room. Breakfast at all hotel was excellent and all diners was of an acceptable standard. A tour guide is provided at all cities and towns but one may want to determine if this is needed in Rome and Florence as it takes up quite an amount of time and you may wish to see specific things yourself. Overall we enjoyed the tour.
July 2014
Pier was a very good guide, it was his efforts that kept this score from being lower. Rome's guide was great, she came with whisper technology transmitter and personal receivers which gave all of the group the ability to hear her excellent incite on Rome. The other city-based tour guides worn a microphone and a single speaker hanging around their necks. Unless you were in the front of our pack of ~ 45 people (way more people than I expected in the group), you could not hear what was being described. Add to that our city-based guide in Venice really came across as not liking tourists. (without tourists what would she be doing?) Again Pier was great, well organized and able to pretty much keep our large group on pace.
August 2013
Wasn't happy with any of the hotels and the meals included in the tour. The tour guides didn't have my name on their lists, I have never received messages in the hotels where and when I would be picked up next morning or where the tour is starting. I called on the numbers given in the voucher (the local operator phone), to no avail, no one ever answered. The beginning of the tour wasn't planned well. They picked me up from Milan on the first day of tour to take me to Rome by bus. The distance is a bit too long for a bus, the journey took 8,5 hours. I would prefer to go by train in the evening and spend 2-3 hours on the road and stay the whole day in Milan instead of spending it in the bus, wouldn't mind to pay extra for the train. In a few words - bad organization, wrong choice of the local operator
May 2015
Very efficient tour. Nicole was an excellent tour leader. But our tour leader for the first 3days of our trip, Pierre, was very unorganized.
Many of the dinners are of very low quality, particularly in the hotel antares best western in milan. You are better off having dinner on your own.
Also in rome, the morning tour leader left us in the middle of rome by the spanish steps - without any transportation or direction on how to get back to the hotel. We were not provided any maps either - the leader in fact told us she didnt know how to get back - we had to figure it out on our own.
Other than that it was a very good well organized tour. Call ahead to see who the tour leader will be - if it i Nicole - you are in excellent hands - but if anyone else I would be careful. Also be wary of any of the included meals.
September 2014
Too many places in too short a time. Tour guide always rushing us. Not much explanation, interesting information given to us while touring. In short quite lackluster.
July 2015
I am glad that this review will be read by your travel team . I intended to write about this tour as in my 30 years of touring, I have never wrote to a company until now. So, this is a first. I know that there is no perfect vacation, but your local provider did not do a good job and this reflects on your company VIATOR. I took this tour because I had good experience with VIATOR in Arizona a few months ago. Also the travel is by bus which is convenient and not trains since I have recent problems with my knees And of course, because it is Italy. By the way, I had been to Italy 2 previous times.
This company is not organized . On the first day of our arrival in Milan, at the Antares Concorde Hotel, the reception had no idea about our involvement with GAR tours. From 10 AM until 7:30 PM there was no message nor posting from GAR tour . We thought that we may be in the wrong hotel until a guide came in at around 7:45 PM from a bus returning from Rome.. The next day, off to Rome. The trip took the whole day. You may want to look into this. A better plan would be to start in Rome as a whole day is wasted.
The Rome hotel was convenient but definitely not 4 stars . In fact all the hotels were subpar and in the category of 2 or 3 stars except for the Hotel Rivoli in Florence, which deserves 4 stars. The hotel was clean, the reception people were congenial and helpful and the food was very good. The Hotel Antares Concord in Milan is particularly egregious. The food offered was not edible , french fries and chicken that was so dry, our table had to ask for olive oil and vinegar to make it palatable and most finally just did not eat it at all. The hotel in Venice, the Continental, also advertised as 4 stars was not clean. The rooms smelled as if it has not been aired for several weeks and and the air conditioning did not work well.
I save my last comments on our tour guide Pierre. He may have been a good guide 30 years ago, but this time he is tired, old ,irritable and cranky. It is obvious he did not like what he was doing as even before you can ask him a question, he is already irritated. I call him an escort and not a tour guide. The guide in Sienna, Lucia was texting most of the time, gave little information and could not wait to finish the tour so she can join Pierre and eat gelato.The best tour guides were Laura in Assisi and the tour guides in Rome and Venice.
The bus was clean and the bus drivers were good and drove safely.
By the way, my comments are shared by the others in our tour and this, you can verify.
I think that your agency do better with the one day tours which we enjoyed,
I suggest that you have one of your staff take this 9 day tour and experience what it was like.
I regret to say that I probably will not take multiple day tours with your company for a while. This tour did not enhance your company at all.
September 2014
Hotels were very nice. Rome, location at train station was sketchy at best, but rest were very nice.Beautiful area but very rushed 1 1/2 hours in Siena and Verona, more time needed. Guide was called tour escort and gave very little info. When asked about places said she couldn't tell us against the law. I think she just wasn't informed. First day to get tour we were not even notified about the time. We met people in lobby who said we had 5 minutes to board bus at 8:00. We had no idea. I had asked at hotel desk night before if we had any messages from GarTour and they said no. Nicole the previous guide who just rode with us on bus to Rome could have given us some info. Drove 9 hours to Rome from Milan to pick up tour with little touring info. We could have taken train on our own. Guide fair at best, was snippy at times. People joined and left at different times so inconsistent. Would not recommend disappointing for the price and for your reputation.
July 2014
This is a 7-day tour, not an 8-day tour. If you start the tour in Milan as I did and the other reviewer, the first day is a half-day tour of Milan and then a bus ride to Rome. You get into Rome quite late in the evening. The very last day is an exact copy of Day One, which I don't understand, and the tour company and Viator do not recognize as a duplicate day. The rest of the tour is OK, but I would not recommend any tour that is advertised as being something that it is not. The description of this tour is, in a word, deceptive. Stay away.
Advertisement
Advertisement