Get out of Milan for the day and explore the Italian Riviera, seeing the seaside port town of Genoa and prettied-up Portofino on this action-packed guided tour. Learn about the history of both towns, as you take a guided walking tour of Genoa and then take some free time to discover Portofino on your own.
Highlights
Full-day trip to Genoa and Portofino from Milan

2-hour Genoa walking tour with your knowledgeable guide

Roundtrip boat ride from Santa Margherita Ligure to Portofino

See Portofino at your own pace, and enjoy its stunning Mediterranean scenery and chic ambience

Transport by air-condioned, luxury coach

What You Can Expect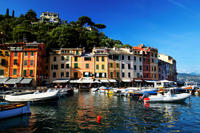 Head out of Milan in the morning and relax on the comfortable coach for the 2-hour ride to the coast. Once in Genoa (or Genova as the Italians call it), begin an information-packed walking tour, as you learn about the history of this fascinating history. Let your guide regale with historical anecdotes that include native son Christopher Columbus. Learn about how just a couple of decades ago the historical center of Genoa was a dangerous no-go zone but today it's been cleaned up and is now a safe and fun place to hang out.
When the tour is finished, take some free time to explore independently. Sit down at a restaurant and have lunch (at own expense) or stroll along the sea. Visit the Palace of the Doges or linger for a while in attractive Piazza de Ferrari.
Later on, meet up with your guide again and ride to Santa Margherita Ligure, just to the southeast of Genoa. This diminutive and charming seaside town sits on Dolphin Gulf, named for the abundance of dolphins that inhabit the area. Switch from coach to boat here and cruise through the sea over to Portofino.
Then take some free time in Portofino to explore on your own, strolling the narrow cobblestone streets and going past colorfully painted houses on the waterfront and soaking up the Mediterranean scenery. Head to Castello Brown, the city's 16th-century castle. If you visit on a clear day, you'll be rewarded with views across the Mediterranean Sea of the lush mountains of Corsica.
October 2015
great tour, organized, left on time.
Portofino is beautiful!
October 2015
all was very well organized.
September 2015
Both Genoa and Portofino are lovely cities and the buildings are so colorful. Our guide gave some history and was very good at keeping us all on time. I didn't know what to expect when I booked this tour but am so glad I did. The tour company is very organized. This was the 2nd tour I had booked with them and I was happy with their customer service.
September 2015
Genova and Portofino are very different but very interesting for visiting cities. Local tour guide in Genova was very informative.
September 2015
I can't express enough about this trip, Totally amazing. Genoa has so much history and Portifino is breathtaking. Do yourself a favour and take this trip .. My rating is 5 out of 5.
September 2015
August 2015
very good tour. Most of the tour was at Genoa and we had a local guide who was extremely passionate about her city. We then drove to Santa Marguerita Ligure where we took a ferry to Portofino. Portofino is everything you imagine it to be. Picture perfect. Could have spent extra time in SML and Portofino instead of so much time in Genoa which really was a very grotty city.

August 2015
this tour was amazing we enjoyed our time .. although they should mention that there is a time that you can swim at santa margharita .. as they told us when we reached there so we werent ready
but overall nice experience and very beautiful places
August 2015
I would highly recommend this tour, we had a wonderful time, it was worth every cent. We absolutely loved it we also had a wonderful tour guide and great transport ! Great day!!

August 2015
We loved this tour. Great way to see a lot in one day! Loved the boat ride!
Advertisement
Advertisement