Get out of Milan for the day and explore the Italian Riviera, seeing the seaside port town of Genoa and prettied-up Portofino on this action-packed guided tour. Learn about the history of both towns, as you take a guided walking tour of Genoa and then take some free time to discover Portofino on your own.
Highlights
Full-day trip to Genoa and Portofino from Milan

2-hour Genoa walking tour with your knowledgeable guide

Roundtrip boat ride from Santa Margherita Ligure to Portofino

See Portofino at your own pace, and enjoy its stunning Mediterranean scenery and chic ambience

Transport by air-condioned, luxury coach

What You Can Expect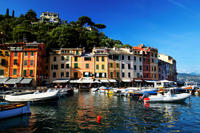 Head out of Milan in the morning and relax on the comfortable coach for the 2-hour ride to the coast. Once in Genoa (or Genova as the Italians call it), begin an information-packed walking tour, as you learn about the history of this fascinating history. Let your guide regale with historical anecdotes that include native son Christopher Columbus. Learn about how just a couple of decades ago the historical center of Genoa was a dangerous no-go zone but today it's been cleaned up and is now a safe and fun place to hang out.
When the tour is finished, take some free time to explore independently. Sit down at a restaurant and have lunch (at own expense) or stroll along the sea. Visit the Palace of the Doges or linger for a while in attractive Piazza de Ferrari.
Later on, meet up with your guide again and ride to Santa Margherita Ligure, just to the southeast of Genoa. This diminutive and charming seaside town sits on Dolphin Gulf, named for the abundance of dolphins that inhabit the area. Switch from coach to boat here and cruise through the sea over to Portofino.
Then take some free time in Portofino to explore on your own, strolling the narrow cobblestone streets and going past colorfully painted houses on the waterfront and soaking up the Mediterranean scenery. Head to Castello Brown, the city's 16th-century castle. If you visit on a clear day, you'll be rewarded with views across the Mediterranean Sea of the lush mountains of Corsica.
June 2016
Totally amazing! Genoa is just sensational with its history, scenery and renowned dish of trofie al pesto, it's just delicious. Portafino and San Margherite are both stunning, although Portofino is a playground for the extreme wealthy. Would highly recommend this long day tour.
June 2016
June 2016
Franco was fantastic - happy informative guy with a lovely disposition. Tour was great and covered all that was described if I had to be critical I would say less free time at each place would have allowed to enjoy the areas as well as getting home a little earlier. Many thanks!
June 2016
Here again, I did not know what to expect with this location as you don't hear about it much as other cities. We had great weather and Francisco our guide was a joy to listen to the whole day, we had a local guide walk us around in Genoa. To see some of the city and to hear of the port town and it's history was enjoyable. A very nice time. We also went to Santa Margharita before going to Portofino which were both show stopper visits in my opinion, gorgeous towns and villas to look at. Another sunny day highlighted it's beauty and it was great to be on the sea once again! Another worthy visit.
June 2016
Love this tour! and the tour guide was awesome!! : highly recommended

June 2016
Its amazing tour!!! Verry nice and beautiful place you must see...
October 2015
great tour, organized, left on time.
Portofino is beautiful!
October 2015
all was very well organized.
September 2015
Both Genoa and Portofino are lovely cities and the buildings are so colorful. Our guide gave some history and was very good at keeping us all on time. I didn't know what to expect when I booked this tour but am so glad I did. The tour company is very organized. This was the 2nd tour I had booked with them and I was happy with their customer service.
September 2015
Genova and Portofino are very different but very interesting for visiting cities. Local tour guide in Genova was very informative.
Advertisement
Advertisement