See the largest collection of Leonardo da Vinci's original sketches and notes, his Codex Atlanticus. The exhibition at the Pinacoteca Ambrosiana features pages from da Vinci's Codex Atlanticus dating from 1478-1519. You'll visit the exhibition independently.
Highlights
Ticket to Leonardo da Vinci's Codex Atlanticus (Atlantic Codex) exhibition in Milan
Admire Da Vinci's extraordinary collection of original sketches, drawings and writings
View Renaissance masterpieces at the Pinacoteca Ambrosiana, inside the Biblioteca Ambrosiana
What You Can Expect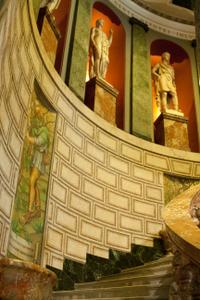 Leonardo da Vinci was a meticulous note-taker, giving us an intimate look at the mind of a master with the pages of his Codex Atlanticus. The entire collection consists of a dozen volumes and more than 1,000 pages spanning more than 40 years, a selection of which is on display in two different spaces in Milan.
The Pinacoteca Ambrosiana is inside the Biblioteca Ambrosiana, one of the oldest libraries in the world and not typically open to the public.
Codex pages on display are changed every few months. The Pinacoteca Ambrosiana is an art gallery inside a library, and you can see both the Codex exhibit along with other paintings by great masters, such as Caravaggio's The Basket of Fruit, Raphael's Cartoon for the School of Athens, Titian's Adoration of the Magi, and Botticelli's Madonna del Padiglione. Give yourself about 1.5 hours to visit this exhibit.

August 2015
' A THRILL We were fascinated by da VINCI'S mind and abundant works . Plus the Bramante and the
Pinacoteca were perfect settings and wonderous themselves.
June 2015
This tour was exceptional and amazing. Enjoyed it and learned a lot.
Nancy, Jane, and Debra from Tulsa, OK USA
PATRICK C United Kingdom
April 2015
Beautiful buildings and fascinating exhibitions. Close to many other Milan sites.
March 2015
November 2014
A remarkable exhibit spread over two venues...easy to walk. We were humbled by the genius.
September 2014
Self directed tour but staff were most helpful and we got to see a lot of art without the crowds.

Tammie P USA
September 2014
Despite it being rushed for me and my mom, (on our end) I saw the whole museum in less than two hours. We had walked to the museum, and was a little confusing trying to find the actual da Vinci site. We had found the back of the building first then we had to walk around to the actual front finally locating entrance. I bought an audio with headset for about 3 euros, and they give you a Samsung phone which tells you about each room. The paintings are gorgeous, and the place is pretty big. Bring comfy shoes, and a backpack if you're carrying water and such for all the tours. A sweater would be good just in case. Thank you!
June 2015
A great tour. Short but great experience - got to a lot in a short time.
April 2015
Leonardo never ceases to inspire
March 2015
Advertisement
Advertisement