19 Reviews
Location:

Milan, Italy

Duration:

30 mins - 1.5 hours
See Leonardo da Vinci's largest collection of original drawings at the incredible Codex Atlanticus exhibit in Milan. Spread over two venues — the Pinacoteca Ambrosiana in the Biblioteca Ambrosiana and the Bramante Sacristy in the Convent of Santa Maria delle Grazie — this fascinating exhibition includes works from 1478 to 1519, showcasing Da Vinci's entire life as an artist. Select from one of three entrance ticket options and admire the artwork independently.
Highlights
Ticket to Leonardo da Vinci's Codex Atlanticus (Atlantic Codex) exhibition in Milan
Admire Da Vinci's extraordinary collection of original sketches, drawings and writings
View Renaissance masterpieces at the Pinacoteca Ambrosiana, inside the Biblioteca Ambrosiana
Visit the Bramante Sacristy, an architectural gem in the Convent of Santa Maria delle Grazie
Choose from three ticket options
What You Can Expect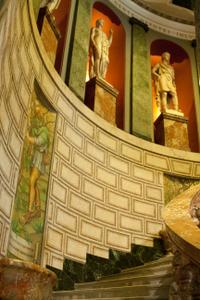 Da Vinci's entire life as an artist and a scientist is documented in the Codex Atlanticus (Atlantic Codex), an extraordinary collection that has been preserved and turned into an exclusive exhibition in Milan. Dating from 1478 to 1519, the 12-volume set of drawings and writings by Da Vinci — his largest set — consists of some 1,119 sheets that covers a variety of subjects including mathematics, mechanics, astronomy, botany, weaponry and musical instruments.
The exhibition is displayed across two exclusive venues in Milan: the Bramante Sacristy in the Convent of Santa Maria delle Grazie and the Biblioteca Ambrosiana. The latter is one of the world's oldest libraries, open to the public for this exceptional occasion.
The sheets are displayed in different themes and rotated every three months, with the aim of creating an ideal tour of Da Vinci's most important works.
Choose from the following ticket options:
Pinacoteca Ambrosia:
Inside the historic Biblioteca Ambrosiana is the Pinacoteca Ambrosiana art gallery, home to 22 drawings on display in the Federiciana Room. View some of the greatest masterpieces of all times, such as Portrait of a Musician by Da Vinci, The Basket of Fruit by Caravaggio, Cartoon for the School of Athens by Raphael, Adoration of the Magi by Titian, Madonna del Padiglione by Botticelli and the magnificent Vases of Flowers by Brueghel. Allow approximately 1.5 hours for this visit.
Bramante Sacristy:
The Bramante Sacristy is located in the convent of Santa Maria delle Grazie, and is considered by many to be a jewel of Renaissance architecture. The monumental complex of the sacristy, which also includes the cloister, is one of Milan's most fascinating hidden corners, still very much unknown to the greater public.
Da Vinci's great masterpiece, The Last Supper, is also located in the convent of Santa Maria delle Grazie, but it is not part of the Codex Atlanticus collection and requires a separate entrance ticket.
Admire 22 original drawings on display in this exhibition. Allow approximately 30 - 45 minutes for this visit.

Combination:
Visit both the Pinacoteca Ambrosiana and Bramante Sacristy for a full look at Da Vinci's largest collection of artwork. Allow approximately three hours in total for these visits.
August 2015
' A THRILL We were fascinated by da VINCI'S mind and abundant works . Plus the Bramante and the
Pinacoteca were perfect settings and wonderous themselves.
June 2015
This tour was exceptional and amazing. Enjoyed it and learned a lot.
Nancy, Jane, and Debra from Tulsa, OK USA
April 2015
Beautiful buildings and fascinating exhibitions. Close to many other Milan sites.
March 2015
November 2014
A remarkable exhibit spread over two venues...easy to walk. We were humbled by the genius.
September 2014
Self directed tour but staff were most helpful and we got to see a lot of art without the crowds.
September 2014
Despite it being rushed for me and my mom, (on our end) I saw the whole museum in less than two hours. We had walked to the museum, and was a little confusing trying to find the actual da Vinci site. We had found the back of the building first then we had to walk around to the actual front finally locating entrance. I bought an audio with headset for about 3 euros, and they give you a Samsung phone which tells you about each room. The paintings are gorgeous, and the place is pretty big. Bring comfy shoes, and a backpack if you're carrying water and such for all the tours. A sweater would be good just in case. Thank you!
June 2015
A great tour. Short but great experience - got to a lot in a short time.
April 2015
Leonardo never ceases to inspire
March 2015
Advertisement
Advertisement