Hit Milan's greatest sights as well as some of its hidden gems in this entertaining and informative 2-hour guided walking tour. Get skip-the-line access to Leonardo da Vinci's masterpiece, 'The Last Supper.' Then step inside the 16th-century Church of San Maurizio al Monastero Maggiore to marvel at the amazing artworks on the walls and ceiling. Visit the Church of Santa Maria presso San Satiro and see the controversial 'L.O.V.E.' sculpture.
Highlights
2-hour Milan art and architecture walking tour
Gain fast-track entrance to The Last Supper mural painting by Da Vinci
Admire the interior of the Church of San Maurizio al Monastero Maggiore, dubbed the 'Sistine Chapel of Milan'
Discover Milan's lesser-known sights including the Church of Santa Maria presso San Satiro
Choose from three different start times to suit your schedule

Recent Photos of This Tour
Milan Art Tour: Da Vinci's 'The Last Supper' and the Church of San Maurizio al Monastero Maggiore
What You Can Expect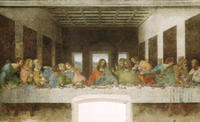 Choose between multiple different start times for this tour and then meet your guide at the set time and place to start this entertaining and informative 2-hour tour. Let your guide lead you through central Milan, discovering some must-see spots as well as some hidden gems you might not have found on your own.
Stroll down Via Torino to the Church of Santa Maria presso San Satiro, built on an ancient sacred ground and a popular place for pilgrims in the late Middle Ages. The church was partly redesigned by famed Renaissance-era artist Bramante as well as Giovanni Antonio Amadeo.
Move along, walk down Via Spaderi to Piazza Affari to view the controversial 'L.O.V.E. sculpture by Maurizio Cattelan. The sculpture depicts a 36-foot-high (11-meter) middle finger that is facing the Italian stock exchange. After giving some love to the sculpture, continue on to the Church of San Maurizio al Monastero Maggiore, an erstwhile Benedictine convent that today is an archeological museum. Note the plain facade and how it gives way to an ornate and colorful interior. Often referred to as the 'Sistine Chapel of Milan,' the 16th-century structure is a riot of murals and paintings, many of which were made by former students of Leonardo da Vinci.
The last stop may be the highlight of your time in Milan: skip-the-line access to get an up-close look at Da Vinci's 'The Last Supper.' Seeing this painting in person is like seeing it for the first time as you get a better context for it. The painting is in the former dining hall in the convent of Santa Maria delle Grazie and depicts Jesus eating with his disciples.
After lingering in front of the painting and listening to your guide tell you the history of it, head back to the starting point to conclude the tour.
June 2016
Absolutely fantastic tour! Fabio was a wonderful guide. He was very knowledgeable and friendly and made sure we got the most out of the tour. Very highly recommended!
June 2016
Not just a tour of the last supper, this tour stops at another interesting church and some artworks along the way. Purchasers should know this tour covers a lot of ground, so anyone with mobility issues should check in advance. Great guide!
June 2016
Incredible tour! The Last Supper was of course an incredible experience, but the tour included some truly gorgeous locations off the beaten track. And our tour guide was fantastic!
June 2016
My wife, grand daughter and I took part in this tour during our recent holiday in Milan. I have to say we all enjoyed it very much. Our tour guide, Fabio, was fantastic. He is very knowledgeable and enthusiastic about Milan, his willingness to share his knowledge and his sense of humour made the tour extremely interesting. I would recommend this tour to anyone.
June 2016
Excellent tour guide.informative and genial Really helpful to have explanations of the artworks strongly advise if you are going to see the last supper use this tour.
June 2016
The person guiding the tour arrived on time, at the neeting point, with the radios totally ready. He was totally prepared con the subject, providing ver y good information about the paintings and the background information. He take us to another interesting places and madre the tour quite enjoyable
June 2016
Our tour guide Fabio was fabulous! He brought our tour to life and we saw and learned things about Milan that we would have missed had we done the sightseeing alone. Da Vinci and #39;s Last Supper was amazing and a highlight of our visit to Milan. Highly recommend !!! Viator made it all so easy.
June 2016
Don't do this on your own. Go with a guide and learn lots more about The last supper and the history of the church and architect The long walk in the hot Milanese sun was worth every minute of it. Great work Fabio!
June 2016
Fabio was fabulous! We really enjoyed this guided tour. Highly recommend it - not too much walking and we got to see things that we never would have found on our own.
June 2016
Great tour - loved it all. The tour guide Christina was incredible. Very knowledgeable and so personable. I would definitely recommend this tour - learned so much
Advertisement
Advertisement