Sightseeing in Milan? Check out Leonardo da Vinci's 'The Last Supper' and La Scala opera house with a local guide, and learn the history behind each of the sights. With a prebooked ticket, you'll avoid the main entrance lines to see the 'The Last Supper' — a painting that attracts scores of visitors. After spending time with the masterpiece, explore La Scala and the glamorous shopping arcade of Galleria Vittorio Emanuele.
Highlights
3.5-hour tour of Milan with admission to see da Vinci's The Last Supper
Visit Santa Maria delle Grazie — a UNESCO World Heritage site
Admire da Vinci's exquisite The Last Supper mural that depicts Jesus' last meal with his disciples
Listen to commentary from your expert guide
Recent Photos of This Tour
Milan Half-Day Sightseeing Tour with da Vinci's 'The Last Supper'
What You Can Expect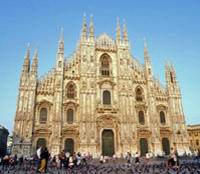 Milan is a city of sights. Its highlights include one of the oldest churches in the world, an acclaimed opera house, fashionable boutiques aplenty and, of course, Leonardo's mural The Last Supper. See all this and more on your 3.5-hour tour of Milan.
A nearby refectory is home to The Last Supper, a work widely touted as Leonardo's pièce de résistance. Head inside to see the famous depiction of Jesus' last meal, and learn about its conservation issues and ensuing visitor restrictions from your guide. To keep the painting in its restored glory, all Last Supper tours are limited to 15 minutes.
After admiring the art, continue your Milan tour with a stroll, and learn about the city's history and rep as a fashion capital. A sight that combines both history and style with such Milanese flair is Castello Sforzesco: the next stop on your route. Explore the public areas, with stories of its 15th-century owners ringing in your ears, and then continue to nearby La Scala.
The prestigious Milan opera house is a decadent site so prepare to be wowed as you check out its ornate stage, which glistens under crystal chandeliers. Gaze down at the orchestral pit from the public box, and take a quick look inside La Scala Museum with your guide.
Finally, hit the shops and browse the voguish boutiques for which Milan is famed. Stroll through the Galleria Vittorio Emanuele arcade with its luxury outlets, and admire the chic goods on display.
Your tour then finishes back at the start point.
Please note: the order of the itinerary is subject to change. If a rehearsal or show is taking place during your La Scala visit, you will not visit the public box.
April 2016
Really worthwhile tour and would definitely recommend it. Our Guide was extremely knowledgeable and approachable and ensured that he answered everyone's questions. He also ensured that the pace on the walking tour was suitable for all, so that everyone had the opportunity to enjoy the experience. After taking this tour, I will definitely book on future ones when visiting other cities!
April 2016
Wonderful tour - definitely the way to see The Last Supper. Guide was very knowledgeable.
April 2016
Emma was amazing! She is super knowledgeable and knows all the hidden gems of Milan's greatest attractions. She was patient with all of slow-pokes, but also kept the tour on schedule. This tour is an amazing way for one to see the best of Milan in one tour. There is a good combination of bus-riding and walking so you don't feel like you are walking for miles. Very comfortable pace and distance. The bus driver was incredible, and I'm not sure how he navigates those tiny streets so easy with a large bus. I can't recommend Emma enough! Great tour with a great tour guide!
April 2016
The tour guide was very knowledgeable and very informative during our sightseeing tour. Very glad we've done this.
April 2016
Well worthwhile whistle stop tour of Milan, excellent guide. Best and most reliable way to see The Last Supper and La Scala Opera House.met a few people who had booked cheap tours online and were scammed, no guide ever showed up! Well worth the money.
April 2016
OMG the Duomo Cathedral is one of the best anywhere in the world!! Not only is inside specular but the outside is just as wonderful if not better. We were limited on time in Milan so we did the afternoon tour since my hubby also wanted to see the Last Supper. The later was a bit disappointing especially after seeing the Sistine Chapel in Rome so unless you really want to the see this painting then I would skip it and do the Duomo only. The elevator ride included to the top is a must and you have 72 hours to go on top at your leisure on another day for free if you buy the tour. You can buy tickets yourself to save money but the line is long to get inside go early and buy them behind the Duomo which is less known and not as crowded especially during the weekends or high tourist season. Otherwise it is 13EU for the top and 15EU to both the Duomo inside/outside. Do buy some sandwiches and dine al fresco on top of the Duomo for the best view in all of Italy!! Note: Backpacks are not welcome so travel light and be sure to cover your knees and shoulders in all the Cathedrals in Italy.
April 2016
If you are new to Milan, this is a great way to see the city. Our guide not only was knowledgable about the sights where we went, but all along the ride, told of parks, museums and other sights worth visiting. She knew the hours of operation of those sights and had information about their exhibits.
April 2016
March 2016
Really the only way to see The Last Supper is to get tickets like this in advance. Our tour guide was extremely knowledgeable and approachable.
March 2016
We were very pleased with this tour. Our main objective was to see the Last Supper and our tour guide's explanations added to this experience. We had an extra treat at La Scala as there was a ballet rehearsal on the stage. Also, the guided tour of the Duomo was instructive although we had already been there by ourselves in the morning. It was just the ticket for our one day in Milan.
Advertisement
Advertisement