There are hop-on hop-off bus tours and then there's this one: cruise through Milan in style with this hop-on hop-off tour in a vintage street car. Get discounted admission to some of the city's best attractions and enjoy 24-hour free access to public transportation via the MilanoCard. On the tour, visit Milan Cathedral, known as Il Duomo, and then hop back on the tram to see the Sforza Castle and the Pinacoteca Ambrosiana, among other attractions. In the mood for shopping? Hop off at Quadrilatero della Moda shopping district and shop 'til you drop. Or just stay on the street car and enjoy the running on-board audio commentary.
Highlights
Explore Milan by vintage tram with your MilanoCard
Hop on and off at your leisure and visit Milan your way
Enjoy free or discounted entry to more than 25 museums and 500 attractions
Marvel at the magnificent spires of Milan Cathedral, one of the largest in the world
Explore Sforza Castle and the world-famous La Scala theatre
Hear full audio commentary on board your vintage tram
Tram rides every 10 minutes, every day from 8am until midnight
Enjoy free access to public transportation in Milan for 24 hours

Why Our Insiders Chose This Tour
This is a great way to discover Milan! Not only are you traveling by vintage tram, but you are doing your bit for the environment, too. CO2 emissions are greatly reduced when sightseeing by tram instead of a coach!
What You Can Expect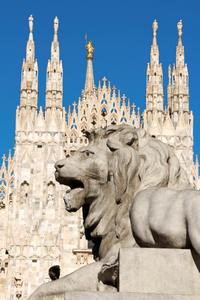 Hop on the vintage street car to begin this exciting day of exploring Milan. This city of 2.5 million people is a bustling and diverse metropolis boasting a thriving fashion scene, a cosmopolitan culture and ample amounts of history. Thanks to your MilanoCard, you can experience Milan at many different levels and many different ways.
Hop off the tram at the Duomo, Milan's gorgeous Gothic cathedral. Spend some time lingering in the interior, gawking at the stained glass windows and sculptures of the saints. And don't miss heading up to the roof where you'll get an incredible view of the city. Back on the tram, consider hopping off at the Sforza Castle, a 15th-century fortress that is one of the largest of its kind in Europe. The castle houses some of Milan's finest art collections.
When in Milan, one thing that cannot be ignored is fashion. So hop off the tram to wander around the Quadrilatero della Moda. Pop into shops of established and up-and-coming designers, chic boutiques and luxury shops.
If you stay on the street car the entire time, the circuit takes one hour. Listen to the onboard commentary to get a sense of the history of the city and each place you pass by.
Save on Entry to Select Attractions with MilanoCard 24H:
Leonardo 3D Exhibition (50% savings)
Leonardo da Vinci's The Last Supper at Santa Maria delle Grazie (free entry subject to availability)
Pinacoteca Ambrosiana and Codex Atlanticus (from 13% savings daily and 33% savings on Wednesdays)
Saving for restaurants/events in Milan
Save on Select Milan Services:
Navigli canal sightseeing cruise (10% savings or free)
Free access to every public transports for 24 hours
Milan Hop-On Hop-Off Tour Recommended Stops:
Piazza della Repubblica (Milan Central Station)
Piazza Cavour
Royal Villa and Public Gardens
Montenapoleone (Guiseppe Verde Hotel and Via Montenapoleone)
Piazza Scala (Teatro La Scala)
Piazza Duomo (Milan Duomo and Pinacoteca Ambrosiana)
Piazza Castello (Sforza Castle)
Piazzale Cadorna (Torre Branca, La Triennale di Milano)
Piazza Virgilio (Santa Maria delle Grazie: home to the Last Supper)
Arco della Pace (Sempione Park)
Please click on 'view additional information' to download a map of the departure point
Astrid M Australia
March 2015
It was very easy to use the tram to get around and save our feet. The Milanocard was just any added extra.
September 2015
maps should be more specifics very confusing at time
April 2015
Nice experience, just slow
Sara Mar United States of ...
October 2015
I wish I had a rout map of the hop-on-off to tell where I am and where I want to get off. The map provided didn't have this rout. I ended up loosin ours going through the city and away from the touristic area.
October 2014
This was a bit of a disappointment. The office to get to just to redeem the coupon was a bit difficult to find and overall it wasn't as impressive as a Hop On/Off Bus tour which we eventually purchased. I found the audio box very difficult to synchronize with where we were actually at.
September 2014
Bit of a rip off. Could have done the same with A 4.50 Euro metro card for the day
April 2016
We went to six lines in central station and never found where to pick up our card or tram pass! We gave up after an hour and a half of being shuffled around. We did try to call you first but Of course there is no free wifi and we were put on hold with Viator with a 10 minutes plus wait, so we we ate our loss. Great first day with Viator

March 2016
Highly Discouraged!!!! It is a total waste of time and the MilanoCard is not worth its promise. Ita also only 7 euros of you buy it separately. What was my worst experience ever is the Vintage Tram. No one in the whole Milan knows or has seen it, it appears. We wated cab rides chasing for nothing!!!
October 2015
We did not use this voucher. The location was elusive to redeem the ticket and no one seemed to know where the tram was even
October 2015
We could not made it ,because lack of information on the place we pick up the tickets for the tram.No one explain what it was abd that was a regular Tram ,even they didnot said that was the Tram 1 in that corner the regularsTram were several..
Advertisement
Advertisement