After shopping and sightseeing in Milan, why not treat yourself to ultimate relaxation at the QC Termemilano luxury spa? Let your stress, tension and discomfort melt away and make use of up to 30 wellness experiences including the use of thermal baths, whirlpools, saunas, steam rooms and salt rooms. Complete your spa session by upgrading to include a 25-minute massage. Alternatively, opt to visit the spa in the evening and enjoy an 'aperitivo' of a drink with a light buffet, too!
Highlights
Spend a day at the QC Termemilano spa and wellness center in Milan
Relax and rejuvenate with luxurious thermal baths, steam rooms, sauna treatments and more
Towel, robe, slippers and body care products provided
Enjoy a light buffet and refreshments
Select an evening visit when booking and enjoy a classic Milan aperitivo of wine, snacks and more

Upgrade to enjoy a 25-minute massage
What You Can Expect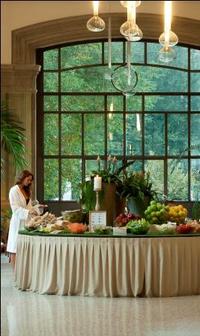 The QC Termemilano luxury spa and wellness center is an oasis in the heart of Milan, blending enchanting Roman-style architecture with superb, state-of-the-art facilities.
Enjoy complimentary use of a towel, robe, slippers and a variety of body care products for your session at QC Termemilano. Take advantage of more than 30 wellness experiences including steam rooms, saunas, whirlpool baths with massaging water jets, salt rooms, therapy pools and showers.
Soak up the fresh air among the outdoor greenery, or kick back in one of the many indoor relaxation rooms. In between your spa treatments, snack on a light buffet of fruit, yogurt, pastries and juices.
Complete your spa experience by upgrading to include a 25-minute massage, focusing on the body part that needs it most, such as your back, neck or legs.
Spend as much time at QC Termemilano as you'd like — the spa is open all day. If you book an evening visit, help yourself to an aperitivo of traditional and regional wine, fruit juice, cheese, salad, bread, jams and fruit. No matter what time of the day you choose to visit, your spa experience will leave you feeling more relaxed, refreshed and revitalized than ever!
April 2015
Very relaxing. We booked this on the evening of our arrival...was a great way to decompress from the flight. Had fun trying all the various water relaxation options at the spa.
December 2014
Amazing Spa Day, more than what we expected. Excellent massage too.
October 2014
Unfortunately I never got to this excursion due to loss of passport etc and had to go to the consulate on day of booking.
I wanted to say how amazing Viator are though. Very professional and helpful. I will certainly be using them again on my next trip. Their website is very informative and gives complete information. Prices are very affordable and there are so many options to choose from. I recommend them with total confidence.
September 2014
This is definitely worth doing one day if you are seeking for a beauty therapy/relaxation day and wanting a break from museums. The spa building is 3 storeys high, with the spa treatment or 'therapy room' located at the bottom floor containing several spas and sauna rooms. The second floor is where the all day food buffet is located, with a delicious aperitivo presented at 6pm. the third floor is where you can have a massage. It was a great place that you can either spend an afternoon or whole day at. One thing I must point out though, the directions you are given need to be more detailed! This is mainly for those who use the public transport while travelling in Milan. this is not the easiest place to find, as it is not situated on a building lot, and is completely covered in bushes and a big tall fence with no signage allowing you to see what exactly it is. perhaps look at the exterior online so you know what it looks like when you arrive!
April 2015
I went on a Saturday evening. Most of the people there were couples on a date or part of a 'hen' party. At first there was plenty of room in the different pool areas and other rooms, but it soon became crowded. As a single who came just to relax and unwind, I was a bit uncomfortable. The facilities themselves were nice. There were many different options. The food was generous and they keep replacing trays when something ran out. The staff was helpful and polite. I would try again, but at a different time/day.
Advertisement
Advertisement