Soothe your body and soul with an evening at the spa in Milan, followed by an Italian-style 'aperitivo.' Check into QC Termemilano to soak in one of the warm-water pools, detox in one of the saunas, or book an essential-oils massage. When you're completely relaxed, have some aperitivo - a drink and buffet of light snacks - just like the Italians do. Sample from a selection of fruit, cheese, bread, and salad with your choice of wine or juice. Rejuvenated and re-energized, you'll be ready to enjoy a night on the town in Milan.
Highlights
Evening Milan spa session at QC Termemilano with aperitivo
Make the most of the many spa and sauna facilities at your leisure
Explore the tranquil gardens in between enjoying the spa experiences

Enjoy a traditional Italian aperitivo of wine, cheese, fruit and more

Leave feeling refreshed, invigorated and ready to continue your evening in Milan

What You Can Expect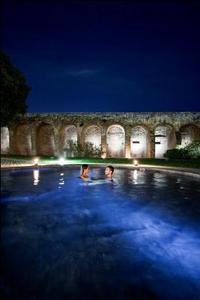 There's nothing like an evening at the spa to revive a traveler's spirit and body. The QC Termemilano spa is especially elegant, located in a restored 19th-century building, allowing visitors to escape the buzz and hum of the city outside.

After being welcomed by the attentive staff, you're free to use the spa and wellness facilities as you like during your 1.5-hour visit. There are more than 30 spa treatments and experiences to choose from, including saunas, steam baths, massage treatments and the spa's private gardens. The water in the pools is all kept at a temperature believed to be the same as ancient Roman baths were kept - a little under 100° F (36° C). You need only to bring a swimsuit, as footwear, bathrobes and towels are all provided for you.

When your 1.5-hour spa visit is complete, begin the evening's meal the way the Italians do, with aperitivo. A buffet of light snacks such as cheese, fruit, bread and jam accompany a selection of wines and fruit juices. It's the ideal way to finish your spa trip, giving you the energy you need to head back into Milan for dinner.
Jules United States of ...
June 2016
Really SO nice. Our experience was similar to the others' who have rated this. This is why we went, and we weren't disappointed.
June 2016
Best 40 Euros I spent Beautiful spa.
November 2015
I would highly recommend visiting this spa. The facilities were excellent, and there were far more things to do and more rooms than we anticipated very relaxing and quite different in some elements too compared to British spa's several different rooms with different features e.g. the water room and silence room. The aperitivo was also great with plenty of fruit, yoghurt, cheese bread / breadsticks to go around. With refreshments of wine, prosecco, water, fruit teas, juice. Lots of people there but overall excellent experience and really good value.
July 2015
OMG, this was awesome! We are two expat Londoners originally from New York, and had no idea what to expect. It exceeded any expectations we had. It was everything you would hope for in a spa activity, a gorgeous building with higher than cathedral ceilings. all kinds of cool labyrinth rooms with different pools in size and temperature, undergrounds, totally cool concept spa rooms like a rain room, a soap steam room, a regular steam room, it was fantastic. Outside was a really sleek pool with ample seating on inside ledges to just chill and relax. The spa cuisine served was so refreshing, and plentiful. We are so happy they are opening one in NY soon!
June 2015
June 2015
After a late start due to power outage it was even more relaxing. Staff was very nice and offered a mud wrap for my long wait to start services. Great end to a long trip.
Kimberly E Italy
May 2015
One of my favorite experiences in Milan. The structure was huge, we were there for hours testing out the various rooms and pools - they never seemed to end! It wasn't overcrowded and the aperitivo did not disappoint! Plenty of wine and prosecco to go around. Due to an emergency we had to move my booking to a day later an hour before we were supposed to arrive and the customer service at the Spa didn't blink an eye and graciously honored our booking for the next day. I went with my sister and best friend, I couldn't think of a better way to have a relaxing post-flight girl's night in Milan.

April 2015
What a beautiful place, felt thoroughly relaxed. Would recommend.

March 2015
Best day of the trip! Out of this world experience! Highly recommend. We spent over 5 hours here and could easily have spent 5 more.

February 2015
Great event to relax after a long trip. Boyfriend and I finished our 11 day trip from Rome to Florence to Venice to milan. It felt so nice to sit back in the jacuzzi and the saunas after walking so much and in the winter cold. Great deal topped off with the aperitif.
Advertisement
Advertisement