Climb inside one of the luxury cars so ubiquitous in Monaco for a spin through the city with this Ferrari sports car experience. An experienced driving instructor is on hand, either to guide you as you take the wheel or to chauffeur you around Monaco, as you experience the extravagance and power of a red Ferrari convertible. Wind through the streets of Monaco and zip along the roads surrounding the town, offering both exceptional views over the Mediterranean and an adrenaline-pumping thrill of driving a Ferrari. Select either a half-hour or 1-hour tour.
Highlights
Enjoy a fast-paced sports car experience from Monaco

Ride in or drive a convertible F430 F1 Spider Ferrari with an attentive instructor or chauffeur

Choose between a 30-minute or 1-hour Ferrari tour

Turn heads as you drive or ride along the panoramic roads above Monaco, seeing Port Hercules

Follow the French Riviera's stunning Grand Corniche and Moyenne roads to Eze Village (1-hour tour only)
Experience the Monaco F1 Circuit
Recent Photos of This Tour
What You Can Expect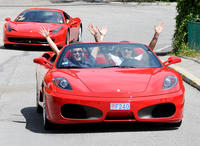 Instead of simply gazing in awe at the Ferraris in Monaco, take a driving tour of the principality in a gleaming red convertible F430 F1 Spider Ferrari. Choose from a 30-minute or 1-hour tour and – after getting a safety review – climb inside for the drive of your life.
Take the wheel of this powerful car to wind through Monaco's glamorous streets and out onto a road that offers incredible views of the Mediterranean below. Your experienced driving instructor is in the passenger seat the whole time, giving you advice on handling the Ferrari – and, if you'd rather just go along for the ride rather than drive, that's perfectly fine. Simply choose the 'Ride a Ferrari' option when booking, and you'll be treated to a unique driving tour of Monaco.
Both tour duration options include a panoramic stretch of roads above the city of Monaco, from which you can see the enormous yachts floating in Port Hercules.
With the 1-hour tour option, enjoy an opportunity to really see what a Ferrari can do on the open road. Speed along the Grand Corniche and Moyenne roads as you climb into the hills to the town of Eze and back again. The Grand Corniche is famous among car enthusiasts for its magnificent views and – primarily – for its exciting twists and turns. It's the perfect road on which to hear the growl of that V8 engine.
After you return to Monaco, your instructor presents you with a video documenting your Ferrari ride (own expense). It's a great way to re-live a unique experience that often goes by much too quickly.
November 2015
The car was fantastic. My instructor was really cool and really gave me the freedom to do my thing with the car. Definitely a five star experience. Now if my wife was this much fun, Life would be perfect.
Thanks for this great experience
October 2015
Fantastic experience, the driver Stefan was great and had a great sense of humour. He spoke good English and explained the different places has we took the tour. The tour / experience was on time and I was picked up from my hotel which was nice. I choose the hour option in which I am glad I did, the hour flew by. The car is brilliant and would do this tour again when I am next in Monaco.
September 2015
OMG!!! What a fabulous day for the 4 guys. I bought this as a Christmas gift for my husband, sons and brother-in-law and they loved every minute of it. I would highly recommend this to anyone!! don't think about it just book it.
September 2015
Fantastic....we enjoyed the whole experience of the drive and drivers were great...... want to do it again!
September 2015
Awesome!! Jean-Jacques is an amazing drive, friendly and very personable. I think he has the World's greatest job, driving people around Monaco in a Ferrari. Can't get better than that. I would highly recommend doing this drive when you are in Monaco.
August 2015
Brilliant ! My sons birthday present and he said it was the best ever! Slight mix up with timings but Natalie in the office was very accommodating with re organising and Kevin was fantastic. Thank you.
July 2015
Don't think twice....just book it.
Booked this as a birthday surprise fit my hubby. Costly but it was a once in a lifetime experience so I decided to book it. He hasn't stopped talking about it - every little detail. The man who accompanied my hubby on his little adventure was excellent. He put him at ease straight away and made the experience a lot of fun.
I would definitely recommend this experience.
July 2015
My husband really enjoyed this. Kevin was a great instructor whose knowledge of cars and the local area made this a trip to remember for a long time to come
July 2015
Excellent! Stefan the driver was brilliant, good sense of humour and gave me a ride of my time. Will do it again and again!
Kelly P USA
July 2015
This was the most fun!! At first I was interested in driving myself but the guide does not let customers drive as fast as he would himself. Being a passenger and racing around those narrow streets/curves was thrilling! The driver was not only knowledgeable about the area but he stopped wherever I reqauested for photo ops. It was fun playing lifestyles of the rich and famous for an hour and I loved how everyone moved out of our way when they heard us coming :-
Advertisement
Advertisement