See the main attractions in Monaco at your leisure with a hop-on hop-off bus tour. It's an ideal way to get an overview of the city, giving you the opportunity to disembark and explore more on your own at any of the 12 stops along the bus route. Visit the Prince's Palace, the Monaco Cathedral, the Monte Carlo Casino and more. Choose from a 1-day or 2-day ticket. Buses depart regularly from each stop, making this a great way to get around as well as sightsee.
Highlights
Monaco Hop-on Hop-off sightseeing tour

Create your own itinerary with 12 stops around the city

Choice of a one-day or two-day ticket

Listen to audio commentary when you're on the bus
See Monaco's top sights, including the Cathedral of Monaco and the Monte-Carlo Casino
Recent Photos of This Tour
Monaco Hop-on Hop-off Tour
What You Can Expect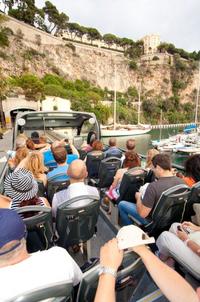 Make the most of your time in the principality with a hop-on hop-off bus tour in Monaco. Take in panoramic views from an open-top double-decker minibus, and disembark at any of the 12 stops to check out one of the main attractions or simply go for a walk. It's the ideal way to sightsee.
Visit sights like the Prince's Palace (Palais Princier) in Monaco-Ville (the old part of town). See the Monaco Cathedral, where both Princess Grace and Prince Rainier are buried. Walk along the Port of Monaco to see some of the world's most expensive yachts bobbing in the water. Do some high-class people-watching in Casino Square.
Choose any of the 12 stops to start your bus tour, including the Casino and Grimaldi Forum. A complete circuit of the entire route takes about one hour, but you can get on and off as many times as you want while your ticket is valid. Choose either a 1-day or 2-day ticket.
See the Itinerary section below for a complete list of stops.
Itinerary
Monaco Hop-On Hop-Off Tour stops:
Bateau Bus
Jardin Japonais
Sporting
Villa Sauber
Monte-Carlo Casino
Grimaldi/ SNCF
Place du Palais
Musée Océanographique
Statue Louis II
Roseraie Princesse Grace
Princesse Stéphanie (Rascasse)
Digue Croisières (cruise terminal)

Please note: During school term time, buses will not stop at the Place du Palais and Musée Océanographique stops between 11:15am and 12:20pm on Wednesdays, or between 3:45pm and 5pm on Mondays, Tuesdays, Thursdays and Fridays.
June 2016
The bus seem to have arrived at the right places at the right time and the most important features of a fantastic Monaco was covered
June 2016
It really helped show the entire country and made getting around a lot easier.
June 2016
This was absoloutely the way to see Monaco. We jumped on and off about 8 times in one day and even used the bateau bus. The stops were very convenient throughout the city and we had one just a few steps from our hotel. Definitely recommend buying online before going. I witnessed people paying full price which was double what I paid through Viator and so I didn't feel so bad about loosing money at the casino. We continued our trip to Athens and saw a Hop-On Hop-Off tour bus there too. I didn't know about it at the time or I would have gone that route instead of our city tour that didn't give us the opportunity to get off the bus when we wanted too. This helped us see so much more of Monaco that we wouldn't have seen. Thank you!!
June 2016
A great way to get around a city that is not always pedestrian-friendly. We took the bus to the palace for lunch in a café across the street, not with Prince Albert, but we did see his car and him arrive at the palace.
May 2016
super tour - very informative
April 2016
Good but a problem if you can't print off the booking as some of the older drivers wouldn't accept the screen shot of the confirmation including reference number anyhow all was good once an IT savvy driver came along
April 2016
Very informative and the perfect way to explore Monaco when you have only a one day stop. Loved it!
January 2016
Excellent service.polite and helpful staff
Bev Chislett United Kingdom
January 2016
I enjoyed every minute of the tour - which I took 3 times, seeing something new each time! I was lucky enough to be alone on the top deck of the bus on the first of the tours and enjoyed the guidance, advice and personal knowledge of my guide driver. Wonderful person.
December 2015
It enables us to get around Monaco and to go to then to get off and enjoy the places we really wanted to.
Advertisement
Advertisement