Visit the Appleton Estate rum distillery on this 6-hour tour from Montego Bay. Learn about this historic distillery, in business for more than 250 years in the lush Nassau Valley. With your rum expert guide, visit the aging house with its oak barrels and see the copper pot stills that give Appleton its rich flavor. Sample ten different types of Appleton rum and walk away with a mini bottle as a gift. Round-trip transportation from Montego Bay hotels is included in this tour.
Highlights
Appleton Estate Rum Tour from Montego Bay
View artifacts on display at the Appleton Estate
See copper pot stills in the distillery
Visit the aging house where the rums rest in oak barrels
Sample 10 types of Jamaican rum in the Appleton Estate tasting room
Hotel pickup and drop-off included
What You Can Expect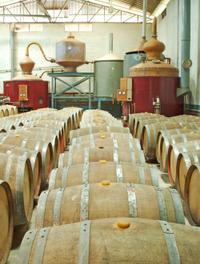 Following pickup at your Montego Bay hotel, hit the road for the Appleton Estate, Jamaica's famous rum distillery. Ride 2 hours to the south coast of the island, where the distillery has been producing quality rum in St Elizabeth parish since 1749.
Begin your 60-minute guided tour with the copper pot stills, which give the rum its famous distinctive flavor. See the oak barrels in the aging house, where some of the most sought-after rum sits for up to thirty years. Learn about the distilling process, which includes a yeast culture and sugar cane molasses mixed with limestone-filtered water.
Taste ten different samples of Appleton rum as well as some freshly-pressed sugar cane juice, a Caribbean specialty. Pick your favorite and buy a bottle to take home with you ― some varieties of Appleton are only sold in Jamaica.
At the end of your tour and tasting, board your bus for the scenic drive back to Montego Bay and drop-off at your hotel.
June 2016
Our driver was great. The tour was very fun.
April 2016
This was an excellent tour. A bit of a long way on some very bumpy roads but worth it. The place is lovely and the tour guide was excellent. The tasting of the different rums was not rushed. Stopped at a lovely Jerk Chicken place on the way back to Montego Bay. Driver was really good and told us things along the way.
Laura United Kingdom
March 2016
This was a great tour!
There were 4 of us on the tour. Our driver was very knowledgeable and kept us informed all day about what we were doing. He gave us lots of history, told us the name of the village/town/parish we were entering, and stopped for rest breaks when we needed them. The visit to Appleton itself was really great, lots of info, and lots of rum tastings. The guides there were fantastic and could answer any question.
Our tour driver took us to a local restaurant on our way back for lunch at our groups request. We had a full day out from 8am to 6pm.
We had a really great day, and I would recommend this tour company.
January 2016
The drive is a little scary, with the hills and how narrow the roads are however, this tour is so worth it.
The tour guide was so knowledgeable and sweet. Any question you asked was answered and if the answer wasn't known she found out and let you know. The samples of Appleton rum are the small bottles but good. You do get to taste test many varieties. Also, the tour guide could tell you what your favorite rum would be and she was spot on! Great tour!
November 2015
The experience of travelling the Jamaican counrty side from Montego Bay to Appleton estates was wonderful. The trip was 2.5 hour ride with a 2 hr tour. On the way back we stopped for some autentic jerk chicken and pork with some festival. Avian our driver was awesome, very informative and provided a very relaxing day trip for us.
June 2016
The tour is interesting and the grounds are beautiful, but you don' see much of the actual production. It is mainly history of how rum was made in the past. Rum tasting is crowed and uncomfortable in a very small room. The ride from Montego Bay to the Appleton Estate is long, rough, and dangerous.
Advertisement
Advertisement