Cruise down the Black River and swim in the YS Falls on this full-day tour from Montego Bay. With your local guide, explore the mangrove swamps during a trip down the longest river in Jamaica; keep your eyes open for native crocodiles in their natural habitat. Feast on a traditional Jamaican lunch, then take a rejuvenating dip in the YS Falls. This tour includes round-trip transportation from your Montego Bay hotel.
Highlights
Sightseeing cruise of the Black River and YS Falls from Montego Bay
Sail down Jamaica's longest river and watch as crocodiles soak up the Caribbean sun
Enjoy a refreshing swim in the stunning YS Falls
Hotel pickup and drop-off, English-speaking guide and a delicious lunch included

What You Can Expect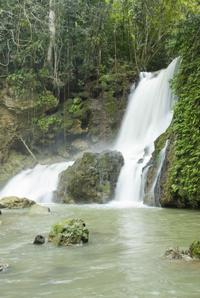 After pickup from your hotel in Montego Bay, board a bus for a ride down the island's scenic south coast. Watch out the windows as your bus passes small towns and charming fishing villages. Your guide will offer commentary about the region and its points of interest.
Arrive at the Black River, the island's longest river, and step aboard your boat. Cruise down the winding waterway through scenes of the 'real' Jamaica, far from the hubs of tourist activity. Pass local fisherman trolling for river shrimp in their dugout canoes and watch for native wildlife like crocodiles in the mangrove swamps.
After the cruise has concluded, climb ashore for a traditional Jamaican lunch.
When you've had your fill of delicious local food, continue to YS Falls, considered one of the most gorgeous spots on the island. Relax at the edge of the falls or dive in for a rejuvenating swim under the falling water.
At the conclusion of your 9-hour adventure in the region, board your bus for transportation back to your Montego Bay hotel.
March 2016
This was a fantastic tour. I even got to pet a croc. I would recommend this tour to everyone. The YS falls are a lot less crowded than Dunns River Falls and no tourist trap like Dunns River. No one doing the hard sell here.
Although, Viator messed up on the tour date and I had to get it fixed when I was in Jamaica. Good thing I called to confirm like it said to on the paper. This tour was not offered on March 10.
February 2016
This is a long day from Montego Bay, but worth it. The black river cruise was very nice, the boat guides are great and they really interact with the crocodiles. We saw many crocodiles and birds on the trip. From there it was a short drive after lunch to YS falls recreation area. The falls are beautiful with many nice swimming pools under each of the falls. We had no problems with bugs even though they say to use bug spray. This was February when we did this tour and enjoyed the day.

greenhouse USA
May 2015
Did you ever shake hands with a crocodile? Our guide did. That's what I call getting up close and personal with nature. The river trip was educational. Lunch was simple and good. But the falls! Oh my, they are fabulous! If you love waterfalls, don't miss this trip. The falls are more beautiful than Dunn's River Falls. Our guide Desrine was delightful and informative -- always willing to answer questions.
April 2015
This was great, a must to see.
I enjoyed it very must
March 2015
Very low-key tour, but so pleasant and relaxing! It's simply a pontoon boat or something like that ride up and down the river. The day I went was gorgeous for it and it was a great way to get close up to crocodiles and the birds. The guides throw food in the water to entice the crocodiles into action for your photo frenzy pleasure, but if they have already been fed, they aren't going to do much... but that's not a reflection of this tour and a matter of timing. All in all, a great trip.
June 2013
The bus tour provided us an excellent view of the real Jamaica.
The Black River cruise was very interesting with fantastic nature photo opportunities. The boat is a big pontoon boat... Sit in the front!
They focus a lot on the crocodiles, but there is so much more. The cruise takes
45 minutes followed by a lunch. The lunch was not a high point but edible.
Then an hour drive to get to the falls.
The entire YS Falls experience was a total pleasant surprise. You could spend an entire day at the falls alone with kids. In addition to the very picturesque falls, there are activities such as: rope swings, wading pond, 3 separate swimming pools-each a different temperature -all surrounding a bar, a restaurant and a gift shop.
There is also ample changing area.
Swimming shoes would be the best, but if this is not something you have, tennis
shoes would be the way to go.
Our tour guide was fun, but it would have been nicer to have history and culture
as a part of the long bus ride. Bring a couple hundred extra bucks for tips
(which they do not feel shy asking for) and drinks and or gift shop.
Would visit YS Falls again but would most likely make just a day trip of the
falls alone.
Ernel Arcangel F USA
April 2012
November 2011
Great Tour! Well worth it!
Warner L USA
February 2011
Nice relaxing trip. Great Tour to see the countryside first hand. Lots to see. The water at the falls is great and the kids all had a great time.
January 2011
Saw many crocodiles on the river trip. Lovely tour
Advertisement
Advertisement