Zoom through the Jamaican rainforest on a network of ziplines during this 2-hour adventure from Negril or Montego Bay. Climb into the forest canopy, clip on and soar between platforms built 45 feet (14 meters) high in the treetops. Accompanied by expert adventure guides, explore the jungle via zipline and some short nature walks. All safety equipment and round-trip transportation from Negril and Montego Bay hotels are included.
Highlights
Glide through the treetops of Jamaica on a canopy tour

Experience 9 traverses and scenic nature walks
Complimentary hotel pickup and drop-off
World Travel Award's 2010 winner for Leading Nature Adventure Excursion Operator in the Caribbean!
Recent Photos of This Tour
What You Can Expect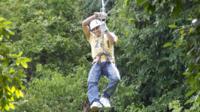 After pickup from your hotel in Negril or Montego Bay, travel into the Jamaican rainforest, where your zipline adventure begins.
When you arrive at the site, meet your expert adventure guide and listen to a safety briefing and demonstration. Learn the methods and techniques involved in safe ziplining, then get fitted for a harness and helmet.
With your guide, climb to the first platform and take off over the Great River.
Hear and see the rushing waters below as you traverse up to 35 miles (55km) an hour across springs, the Great River and a 150-year-old dam.
Complete 8 additional zipline traverses coupled with intermittent nature walks. Each traverse and platform is unique with colorful names such as 'Limestone Cliff', 'Threesome Stop' and the highlight of the tour, the 1000-foot (300-meter) long 'Inter-parish Express'.

Learn about the diversity of Jamaica's ecosystems and its interesting history while you fly through the air.
At the end of your 2-hour eco-adventure, descend back to the ground and board your vehicle for drop-off back at your Negril or Montego Bay hotel.

May 2016
Loved this experience. Me and my daughter have never done this and the guys made us feel really relaxed and comfortable. They know what they are doing and the views were amazing. We will do this again next time.
April 2016
Second year that my husband and kids have done this tour - they loved it - again. Great guides from CHUKKA and wonderful views of the island from above. Highly recommend this tour. Great value.
April 2016
Great fun! Enjoyable excursion.
April 2016
This ziplining tour was so much fun. The tour guides were hilarious but very competent. They did all the work of braking for us so all we had to do was zip along and have a blast. There is actually a fair bit of hiking up the hills which is a bit hard for me but I made it.
I brought my own helmet that had a camera in it and would have liked to wear it instead of the helmets they provide but they didn't allow me to so that was a bit disappointing. Overall I would highly recommend this tour for some fun.
December 2015
This was my first time to Jamaica, This was my first tour.
I had a great time on this tour. Fun Fun Fun. The guides where very informative. I felt like we were in good hands. never a dull moment. I can't wait to do it again.

September 2015
Amazing, Amazing, AMAZING! and that is coming from someone who hates heights. Personally I wish I was in a bit better shape so the hiking portion of the excursion didn't wind me so, but the tour was great. The team at Chukha was awesome...so personable, friendly and funny. They help ease you into the height of the ziplines and don't get mad when you run into them at the end of the line because you refuse to let go of your hand hold to grab the rope and brake. Please Note They have water about 2/3 the way through. Take a water bottle to stay hydrated. Also, they DO NOT provide bug spray. It is available to purchase from the shop. Also, since they are in the boondocks, take small bills with you if you plan to make any purchases because their dial-up for the credit cards is a slow as you remember dial-up to be and they don't have a lot of small bills to make change. The photos they take and sell are great! Very clean and crisp. Worth the purchase price.
August 2015
highlight of my holiday!
this tour was absolutely amazing. the fun was high from children of 6 to adults to 60, the guides were amazing, the zip lines were incredible it really was great. the only thing was, make sure that you bring an extra set of cloths and apply A LOT of mosquito spray, especially when it is raining, and keep it in your pocket so yon can re-apply.
the gloves were fine despite what other reviews say
even if I is raining the fun will still go on.
June 2015
My family and I are urban types. So, when I planned this tour, I expected some push back from some members of my family. However, the experience has shown us that every persons has an outdoors adventures aspect of them which is waiting to be exposed. We love, love, love ...and love this adventure! All the tour guides were helpful and safety minded.
Augustine
June 2015
Amazing tour and our tour guides were the best. They made it fun from beginning to end. I would recommend this tour to everyone.
June 2015
Incredible!!! Mikka and Tarp are hilarious! They kept us entertained the whole time. The sites we got to see from the zipline were absolutely beautiful!
Advertisement
Advertisement