Relax, unwind and immerse yourself in the cool healing properties of Montego Bay's Doctor's Cave Beach, part of the larger Montego Bay Marine Park. Along with round-trip hotel transfer your half-day admission get you access to the beach's soothing 78 – 84 degrees fahrenheit (22 – 28 degrees celsius) waters, which doctors claim helps alleviate pains and ailments. Shop for souvenirs, rent a lilo (inflatable mattress) for beach lounging, snorkel with tropical fish or participate in a game of beach volleyball. How you spend your time is up to you.
Highlights
Half-day admission pass to Doctor's Cave Beach in Montego Bay
Relax on the beach or swim in the crystal-clear Caribbean Sea
Join in the fun with water sports, beach volleyball or snorkeling in the Montego Bay Marine Park
Refresh yourself with a shower at Doctor's Cave Bathing Club
Round-trip hotel transport included
What You Can Expect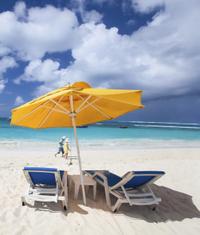 Enjoy convenient pickup from your Montego Bay hotel, then transfer to Doctor's Cave Beach, one of the area's most popular strips of sand and sun. Choose from morning or afternoon departure; either way, you'll have a 4-hour chunk of free time to spend there.

Doctor's Cave Beach was so-named by a group of physicians for its curative salt water. Test it yourself with a swim in the crystal-clear ocean or simply lounge on the white-sand beach. Beach umbrellas, chairs and inflatable mattresses are available for rental. If you're feeling adventurous, participate in some of the local water or land sports such as snorkeling in the Montego Bay Marine Park, jumping on a water trampoline or playing some beach volleyball (all at own expense).

Fuel up at the Groovy Grouper Beach Bar and Grill, offering tasty eats and drinks (own expense). Hit up the changing rooms, showers and bathrooms at the Doctor's Cave Bathing Club before returning to your Montego Bay hotel for drop-off.
June 2015
Nice Beach! Clear water, beautiful sand. And a restaurant for food and drinks!
December 2015
The pick up process was a little confusing with coming in on a cruise ship. After a half hour of waiting where we were told to wait by port workers, and making a couple calls, we finally met up with our driver, Desmond. He got us to Doctor's Cave Beach quickly and safely. When he dropped us off, we scheduled a time for him to come back to get us.
The beach was very nice, the sand was soft, and the water was warm. We arrived early in the day before the beach got too crowded so we were able to set up our chairs and umbrellas pretty close to the water. The chairs, umbrellas, and snorkeling gear all cost 6 each to rent for the day. Two trampolines are in the water for guests to enjoy. There is a bar/restaurant on the premise with waiters that come around to take your orders. The prices aren't too bad. Our daughter ordered a smoothie for 7 US and we had bottles of water for 2/each. Once we told our waiter we didn't drink, we didn't see him again for the rest of the day. There are life guards and security guards on duty all day.
The changing room/bathroom is kept nice and clean. You have to rinse off your feet before entering. There are showers, but the water is freezing cold so I wouldn't recommend planning on taking a complete shower after playing in the ocean.
The shopping wasn't great. The shop owners/workers were rude and not very welcoming. The streets were gross and very crowded. We were constantly being asked if we needed a ride back to the ship which got very old. We did see a drug deal going down as we walked by, but were never asked to buy any. Vendors aren't allowed to sell on the beach so they hide their merchandise in their bathing suits or backpacks and try to sell to you while in the water. They aren't too pushy and go away when you tell them no. One thing we did learn: Don't say maybe or maybe later if you aren't planning on buying what they are selling. They will follow you and hound you until you buy or say no.
July 2015
This trip was pretty good. Make sure that you bring cash with you. The driving service didn't have cash on them, so I had to pay my own way into the beach area 6. Otherwise, really cool place. Magaritaville is right down the street, along with shops and the first major hotel in Montego Bay. There are plenty of bars and night clubs to check out as well. Take a little time to wonder around and get an idea of where you might want to go after dark. The beach itself has great snorkeling. On the far left side of the beach by the dock, you can see the old tower that fell into the ocean during the last major hurricane I am told. The reefs are full of life! There were plenty of little schools of fish, sting rays, chub fish, and other reef dwellers to see! I had enough time to snorkel for awhile and explore the many shops up and down the street. It was a great package, I was just a little disappointed that I had to pay my way into the beach when it was supposed to be taken care of. The company did reimburse me as soon as I was picked up, so that was greatly appreciated. Besides that little hiccup, it was a great package!
June 2015
The beach was great but the return bus never showed up. Had to hitch a ride with a local back to the hotel.
February 2015
1st of all the beach was awesome second the driver never picked us back up. The company said he came twice really we were sitting right in the lobby area so it cost us another 30 to get back to the hotel so my trip with this company cost me an additional 30 dollars and they never even called to say sorry or anything....
Advertisement
Advertisement